Summary and Recommendation
Buy recommendations Total (NYSE:TOT), Statoil (NYSE:STO) and Royal Dutch Shell (NYSE:RDS.A) offer the highest current dividend yields in our large cap coverage supported by growing global businesses, strong financial positions and high rates of cash flow generation. McDep Ratios are among the lowest at 0.59, 0.64 and 0.77 respectively. Oil production is the most important contributor to present value at 67%, 63% and 55%. Strong demand with expanding economic activity and difficulties in expanding supply combine to keep oil price in an uptrend with six-year futures at $100 a barrel compared to the 40-week average of $88.
Dividends were sustained handily during the financial panic of 2008 and its aftermath in part because financial strength is high as measured by low ratios of debt to present value estimated at 0.13, 0.21, and 0.19. Rising unlevered cash flow (Ebitda) would equal enterprise value (EV) in a short time, specifically 4.2, 4.1 and 5.1 years, respectively. All that cash lends further support to specific dividend yields of 5.2%, 4.5% and 4.9% a year. Finally, the timing for new investment appears favorable with stock prices up enough to be in an uptrend, but up less than for most of the producers in our large cap coverage.

Natural Gas and Downstream Trends Up
Fourth quarter 2010 results reported February 11, 9 and 3 disclosed gains in both price and volume for natural gas. The more rapidly growing fuel accounts for 17% of present value for French TOT, 37% for Norwegian STO and 23% for Anglo-Dutch RDS. Nearly all of that natural gas value is outside North America. At the same time, each of the companies is investing in shale gas in the U.S. to understand the technology in order to apply it elsewhere. In its analyst presentation, Statoil pointed to rising demand in Europe and Asia as well as stronger price than in the U.S.
Crude oil is a cost to downstream refining, marketing and chemicals businesses. Yet, downstream profits are improving, signaling strong underlying demand despite rising price. Total and Royal Dutch Shell are 16% and 21% concentrated on downstream. Both companies are rationalizing capacity to emphasize the most efficient plants.
Click to enlarge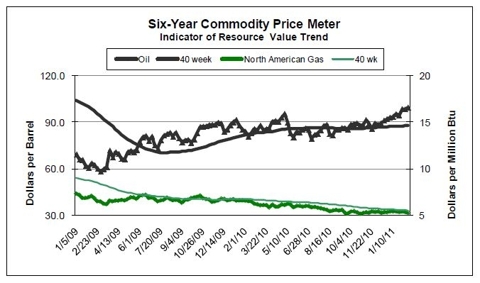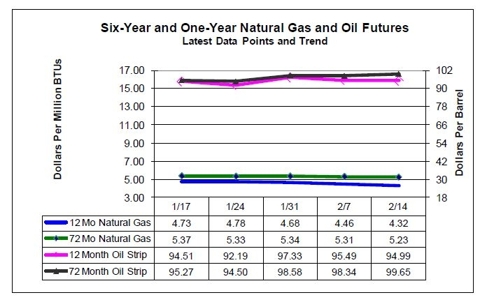 Originally published on February 15, 2011.