By David Russell
(A version of this column appeared in our newsletter of Feb. 23. References to specific trades reflect pricing and activity at that time.)


Coulda… woulda… shoulda…We all have them. Today I want to explore some trades I should have done, in the process demonstrating how our minds can work against us. This is crucial because, without training, some basic tendencies of the human psyche inevitably work against us.
Let's first consider VeriFone (NYSE:PAY), whose credit-card readers have been taking over retail locations across the Americas. I have frequently noticed this stock as it marched from the single digits in 2009 to over $40 now. The story is simple: PAY thrashes estimates virtually every time it reports earnings, and investors have sent it on a monster run in the process. Every pullback has been met with buyers.
January 31 was one such occasion, when we detected a large trade on the stock. The strategy in question was complex--a bit too fancy for my liking--but it served as a reminder: "PAY is still in an uptrend, and it's had a pullback." Disgustingly, I stood flat-footed and did nothing as the stock proceeded to rally more than 20 percent in barely two weeks.
My mistake? I didn't take my own advice. For instance, the shares had pulled back to their 50-day moving average--an indicator I gushed favorably about only days earlier!
Based on those technicals, plus the consistently strong fundamentals, PAY move was both predictable and probable --thus matching another set of criteria I laid out earlier in the year. Furthermore, the same 50-day moving average provided me with a good stop-loss level to escape if the stock had an unexpected reversal.
The second lost opportunity was in Abercrombie & Fitch (NYSE:ANF), which has repeatedly caught my attention since last summer--gapping higher on strong news, pulling back, and continuing higher. This trend unfolded again in December and January, when it climbed to its highest price in more than two years, and then fell back to the $49-$50 level where it had peaked in April. ANF started inching its way higher, and the next thing you know it had rallied more than 10 percent.
Another stock I had been watching for weeks and failed to buy around the same time was Western Refining (NYSE:WNR), which had also pulled back to its 30-day moving average (green line on chart) and then proceeded to rip higher by more than 70 percent!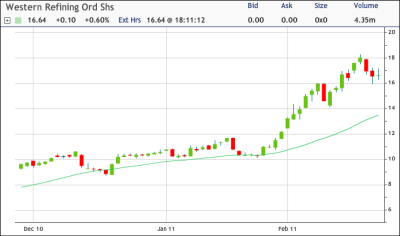 One lesson from these non-trades is the incredible power of lethargy. Yes, the history books and movies are full of heroism and action, but most of what we do in life is a whole lot of nothing. We may coldly look at a chart and have every technical and fundamental reason to buy or sell--yet never act.
Without training, our minds act on emotion and not intellect. As a result, we often do exactly the wrong thing: The stock rallies and now we're upset (emotion) because we missed the trade, and then we chase it. Then we enter in the middle of a move, without a good stop-loss or a thoroughly considered risk/reward profile. Yes, we could make money, but it's not much different from buying a lottery ticket at that point. Fortunately, I didn't chase PAY, ANF, or WNR.
The good news is that there are still plenty of opportunities out there. And, to paraphrase Warren Buffett, the great thing about the stock market is that you can take as many strikes as you want without striking out.
So I'd like to mention some stocks that have been trending higher and may now be setting up for a bounce. Each appears to be technically and fundamentally attractive, with the potential to offer a nice risk/reward profile. But they're just ideas, so please do your own research.
Hertz Global Holdings (NYSE:HTZ)

The car-rental sector has been quietly rallying, and a steady flow of buying drove HTZ from about $13.65 in mid-January to $16.50 earlier this month. Now it's pulling back. Look for it to hold support at previous resistance around $14.80, where the 30-day moving average should catch back up. It could climb to $20 or even $25 in coming months.
VeriFone Systems (PAY)

Yes, the same. Two sessions in the red have brought the shares back to just over $45. That was resistance in January, so now it should provide support. A stop-loss around $44.20 and an upside target of $50 give us a decent risk/reward profile.
SLM Corporation (NYSE:SLM)

I will not pretend to understand this company, but Barron's said in December that the student lender could return to $20. There must have been some merit in that opinion, because the stock gapped higher and has been trending upward since. Yesterday it fell hard and may have further downside--perhaps to the $14 level where it peaked in April 2010--so it's one to watch. But there is likely more upside in this name, and it should be on your list.
Stillwater Mining (NYSE:SWC)

This name has been climbing thanks to platinum and palladium, in addition to operational fixes at some of its mines. Now it's pulled back to its 30-day moving average and seems to be probing support around $22-$22.50, an area where it peaked in March 2008.
Spreadtrum Communications (NASDAQ:SPRD)

A relatively obscure mainland Chinese semiconductor maker. Taiwan is better known for chips, but SPRD has been running like a horse. Its valuations are still extremely low given its growth trajectory. It's also had a nice pullback and seems to have found support at its previous high around $20.50.
Agriculture stocks
Deere (NYSE:DE), Mosaic (NYSE:MOS), Potash, Intrepid Potash (NYSE:IPI) and Titan Machinery (NASDAQ:TITN). Learn them, study them. They're in the midst of a secular bull market and will provide many opportunities for buying the dips in coming months and years.