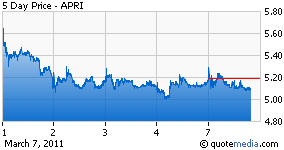 Apricus Biosciences (NASDAQ:APRI) is just beginning to capture investors' and likely big pharmaceuticals' attention as its drugs begin to reach regulatory milestones and approvals in various countries. The pipeline they have is the envy of the biotech world and could certainly put it at the top of the "acquisition wish list" for many drug manufacturers. Last year and this year mark game-changing years in which many blockbuster drugs began to lose their patents including Cozaar/Hyzaar, Lipitor, Flomax, Arimidex, Climara, Aricept, Hycamtin, Levaquin and a host of others. For those companies with a host of drugs in their pipelines, their own new drugs coming along can offset the revenue lost due to competition by generics. However, for many companies the regulatory approval process hasn't been particularly friendly. They will be scrambling for answers, and that can be where Apricus Biosciences can be a good fit to shore up their pipelines and dwindling revenues.
Apricus Biosciences was formerly called NexMed, Inc., with its name change announced at a special meeting of shareholders. Not a "one trick pony", Apricus has as diversified a pipeline as I have seen in a small biotech in quite a while. Their most advanced product in terms of regulatory approval and current revenue is the erectile dysfunction topical Vitaros. According to their website, Vitaros demonstrates clinical efficacy and an excellent safety profile versus currently approved oral medication. Vitaros is approved in Canada and is now awaiting approval in the United States. With blockbuster potential, FDA approval for marketing in the United States would provide additional revenue for Apricus in terms of a $2.5 million milestone payment from Warner Chilcott (NASDAQ:WCRX), which has purchased the marketing right to the drug in the U.S. With claims of great efficacy, a better safety profile and approval in Canada behind it this is potentially a huge product for this company. Please see this product description describing Vitaros as a "topical Viagra." Of special note in the article one should consider the comment "The FDA rejected Vitaros in 2008 because of minor concerns over rodent studies. Although Vitaros was submitted for re-assessment in the fourth quarter of 2009, there hasn't been any new word as of late — but with Canada on board, can the U.S. be far behind?" Marketing authorization for Vitaros will be filed in Europe, and certain Gulf and Middle Eastern countries during 2011. Apricus is also seeking additional ex-US partners, excluding Asia, Australia and New Zealand.
A related sexual dysfunction drug that has completed one phase III for an application with no FDA approved treatment is Femprox for female sexual arousal disorder. A product description listed here indicates a very promising phase III drug for an untapped market. According to Apricus no product is currently approved to treat female sexual arousal disorder, a persistent or recurring inability to attain, or maintain adequate sexual excitement, causing personal distress. With an approval path similar to Vitaros planned, Canada will be the first targeted regulatory hurdle with the United States and Europe following. As pertaining to market share, this could be huge with no real competition approved by the FDA. A survey conducted by the American Medical Association in 1999 indicated that sexual dysfunction affects approximately 43% of women in the United States. Similar results were indicated in a recent Japanese study. Age may not be a significant factor, as women under 20 and over 50 experience problems with arousal, orgasm, and satisfaction. However, there is evidence that a majority of female sexual dysfunction happens after menopause, when hormone production drops and vascular conditions are more common.
Apricus Bios' oncology pipeline has several promising drugs in it with the lead candidate being PrevOnco with trials targeting hepatocellular carcinoma or HCC. According to this Medscape article, in 2008 an estimated 748,000 new cases of liver cancer occurred and approximately 696,000 people died of this cancer worldwide, an increase from 626,000 new liver cancers and 598,000 deaths from liver cancer in 2002. The numbers of diagnoses and liver cancer deaths are similar because most HCCs are detected at an advanced stage in patients with an already underlying liver dysfunction, making this a highly dangerous cancer. PrevOnco contains lansoprazole, an FDA-approved commonly marketed anti-ulcer compound showing strong anti-cancer activity in mice bearing human liver tumors. Apricus is currently in discussions with the FDA to finalize the SPA for Phase 3 registration protocol for a comparator study against doxorubicin in patients who have failed treatment with Nexavar, the current front-line treatment for hepatocellular carcinoma. The FDA granted PrevOnco Orphan Drug status in 2008. Orphan status designation qualifies Apricus for the tax credit and marketing incentives of the ODA. These incentives include seven years of marketing exclusivity and allow the sponsor to apply for an accelerated review period.
Another late-stage drug in the pipeline is MycoVa. MycoVa's indication is as a topical for onychomycosis, a chronic persistent fungal infection of the nail bed resulting in thickening and discoloration of the nail which sometimes can be accompanied by serious pain and disability. According to the Merck Manual, the worldwide incidence rate of onychomycosis was approximately 10 percent in 2008. Apricus regained worldwide rights to MycoVa from Novartis (NYSE:NVS) in 2009 after the initial trial did not show clear-cut efficacy. However, subsequent analysis by Novartis did indicate equivalency to the topical Loceryl, a trademark of Galderma. Apricus claims that although MycoVa is only equivalent to and not superior to Loceryl, its direct application by patients is much easier and therefore it is more likely to have its treatment instructions adhered to. An additional trial by Apricus yielded similar results to the second Novartis trial, and a press release earlier this year indicated that filings for approval in Europe are underway with marketing plans coming down the line.
2011 looks to be a promising year for Apricus Biosciences. Investors appear to just now be warming up to the outlook for the company. According to Google Finance, the 52-week range for the company's stock is 1.60 to 9.30. As of close on Friday, March 4, the market value for Apricus was $93.6 million, which would be considered a bargain as a merger candidate or acquisition by a large pharmaceutical company needing to further its pipeline or create a brand new R&D division. Chart analysis of APRI indicates a bullish chart with some resistance at about $7.00, thirty five percent above Friday's close of 5.19. I recommend placing Apricus Biosciences on your stock watch list for additional due diligence. The company certainly appears to have a bright future as either a stand-alone biotech creating revenue off partnerships, licensing of its NexACT drug delivery platform and milestone payments or as an acquisition by a larger pharmaceutical company. With many relevant drugs in their pipeline, any FDA approval for an Apricus drug would be simply phenomenal for the company not only for the obvious milestone payments and marketing, but it would more fully validate their NexACT drug delivery platform. Approval of Vitaros via this mechanism as submitted, will enable 505(2)(b) submissions of other drug candidates that have already been approved by the FDA for the same indications but through a different means of administering the drugs. This would shorten the regulatory approval timeframe by requiring only equivalency studies instead of full clinical trials which are laborious, time-consuming and most importantly, expensive.
Additionally, the licensing of the technology to other drug companies would also represent solid, and likely significant income. Other countries other than Canada will likely be approving Vitaros which should provide for enough revenue through milestone payments and sales to more than sustain the company through its other late-stage drugs. The timeframe since the 4Q 2009 re-submission of Vitaros for approval from the FDA likely is what has kept the price of the stock at suppressed levels. This leads me to believe that a surprise approval will send the stock to new and unseen levels because approval has certainly not been priced in due to the blockbuster potential there. Each of Apricus' late-stage drugs has huge potential not to mention the other early to mid-stage products each of which could be attracting potential buyers or partners. As Canada certainly appears to be a primary early target in the approval process for their pipeline, a history of efficacy, safety and marketing will only be positives with respect to how they approach the United States market and the FDA not to mention the rest of the world.
Disclosure: I am long APRI.