Despite lopsided balance sheets and near record levels of household debt the Fed appears to have succeeded in convincing American households that it is wise to begin re-leveraging. The Fed's latest consumer credit report showed broad improvement in consumer credit trends (via Econoday):
"Consumer credit outstanding in December rose $6.1 billion showing, for the first time in the recovery, gains for both revolving and non-revolving credit. Revolving credit, up $2.3 billion, rose for the first time in 27 months. Non-revolving credit, reflecting strength in vehicle sales, extended its run of strength with a gain of $3.8 billion. Looking ahead to January's number, there may be some modest help from motor vehicle sales which edged up 0.6 percent for the month but the amount boosting consumer credit will depend in part on the share split of sales to consumers and to businesses."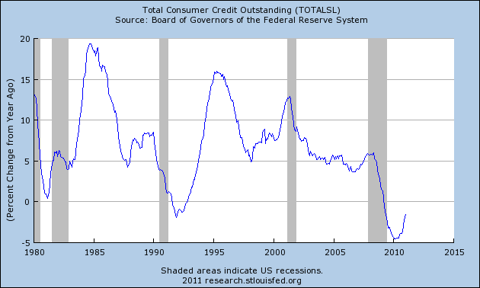 (Click to enlarge)
As I've previously mentioned, this is great news for the near-term economic outlook. A re-leveraging consumer means more spending, higher corporate revenues, etc. My hope was that a 10% deficit would result in consumers continuing to de-leverage, however, that looks like wishful thinking. Instead, the combination of easy money and no loser capitalism appears to be setting the foundation for another debt binge. At a level of 115% of debt:income, this trend is clearly unsustainable, however, the American public appears intent on sustaining its fiscal imprudence. In short, enjoy the growth, however, once the deficit shrinks or another asset bubble pops the air is going to come out of the debt bubble once again and the upside down U.S. consumer will again be exposed as the imprudent consumer that he/she is...