With gold and silver prices surging higher, some investors are questioning whether mining companies are entering their own valuation bubble. Despite the fact that some silver miners are up three or even ten-fold from their 2008 lows they are much cheaper on a relative basis to popular darling Internet stocks.
Click to enlarge



Amazon.com (NASDAQ:AMZN) currently sports a PE ratio of 69, with a 2012 expected PE ratio of 38 – which is quite high considering it has had negative earnings growth over the last year. Another Internet favorite, Apple (NASDAQ:AAPL), has a PE of 17 and 2012 expected PE of 14 with earnings growth of 58%.
Click to enlarge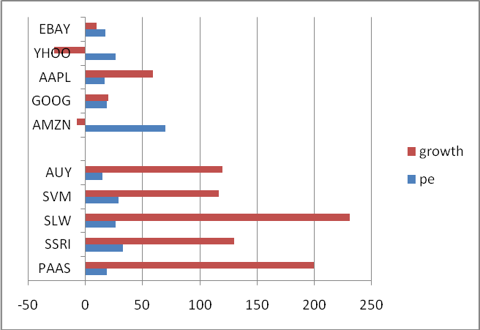 Silver mining companies, on the other hand, are seeing year-over-year revenue and earnings growth rates well north of 100%. With such rapid growth rates, one might expect their PEs to also be enormous, yet they are fairly low. Pan American Silver (NASDAQ:PAAS) has a current PE of 18, and Silver Wheaton (NYSE:SLW) has a PE of 26. Projected estimates of silver miners are using lower prices, so if the price of silver rises further these companies will dramatically exceed estimates for next year and beyond.
Despite a large run-up, investors are discounting the earnings power of silver miners, especially when compared to other sectors. There are still opportunities to accumulate positions on pullbacks of quality companies that are expanding their ounce production while precious metals prices appreciate further.
Disclosure: I am long PAAS, SSRI, SLW, SVM, SIL.