American Eagle Outfitters (NYSE:AEO) - The teen retailer will be reporting earnings that were expected to grow from 0.33 to 0.43 YoY. The company is expecting to see sales drop 5% YoY, but the reduction in costs will help. The really important news for AEO, though, may be the recovery that is underway. While Aeropostale and Abercrombie have recovered very well, they currently seem to be a step ahead of AEO. There is some speculation that the company may be looking to merge with someone, acquire, or even go private to try and jumpstart its business once again. It will be interesting to see its outlook for the coming year, and if it can report well, they have a lot of upside. The stock has not moved well as of late, and a solid earnings report would go a long way for the stock. The company reports on Wednesday.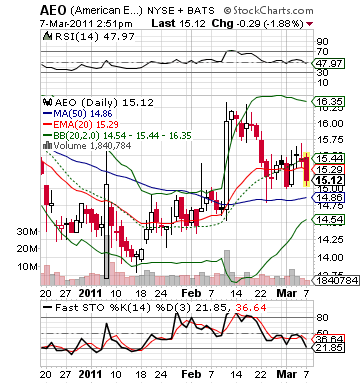 Molycorp (MCP) - One of the hottest stocks since its IPO has been Molycorp (MCP). The company, a materials company, has more than doubled since its IPO. Its first earnings report was a disappointment and in the red, but this quarter, the company is expected to halve its first report's loss. Molycorp is expected to hit a -0.07 EPS. The company, though, with no P/E ratio and overvaluation needs to start justifying its price level. The company has improved 50% since its last disappointing report, and the expectations for Molycorp are currently through the ceiling. Usually with IPOs, the first six months is the "honeymoon" period where everyone speculates just how big the stock can get. If MCP does not come out with a very nice report, it might have a very large pullback and some downgrades may be on the way. The company reports on Wednesday.

Navistar (NYSE:NAV) - On Wednesday, the transport and military vehicle manufacturer is slated to report earnings. The company is expected to improve YoYfrom 0.23 to 0.26. The company looks solid moving into earnings with three strong quarters in a row on the books and the ability to reverse its disappointment a year ago. The company looks attractive moving into earnings with a 10% pullback over the last couple weeks. Rivals like Spartan Motors (NASDAQ:SPAR), Winnebago (NYSE:WGO), and Oshkosh (NYSE:OSK) have all had very strong earnings in the past month, and we expect that Navistar should follow suit. A solid report from them would definitely increase share price well as the stock is undervalued as of recent, and the stock holds a P/E below 20.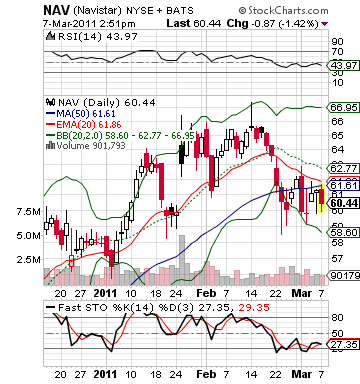 Smithfield Foods (NYSE:SFD) - Thursday will be the reporting date for the pork producer Smithfield. Following a tremendous report form Tyson Foods and decent report from Hormel, expectations should be high at SFD. The stock has retraced over 5% in the past couple trading sessions, and it looks slightly undervalued moving into its reporting date. The company is slated to triple its earnings per share from 0.22 to 0.66, which will significantly bring down its P/E, which translates into a higher price for sure. The stock is only up about 10% YoY, however, while its P/E ratio is going to drop 15%. These two numbers do not correlate, and we expect a breakout is on the way for SFD. Look for the stock to move into earnings and out of it.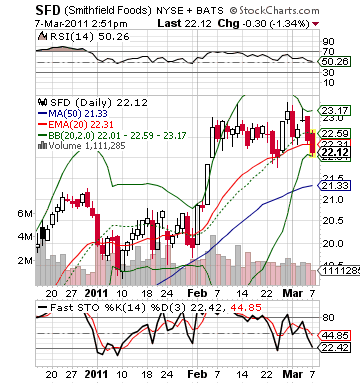 Disclosure: I have no positions in any stocks mentioned, and no plans to initiate any positions within the next 72 hours.