As 4th quarter and fiscal year results continue to trickle in from U.S. retailers, we are hardly surprised to hear executives tout the strength of their online businesses. Indeed, as we saw last week, several retailers are now including e-commerce performance in their same-store sales results. This is just a continuation of the trend of retailers recognizing that shoppers do not differentiate between which channels they use to shop, hence more chains are re-positioning themselves as omni-channel.
E-Commerce sales jumped 14.8% in 2010 to over $165 billion, representing 4.2% of total retail sales (excluding gas stations and restaurants). While online had its struggles during the recession as consumers cut back across the board, growth has still significantly outperformed overall retail over the short and long-term.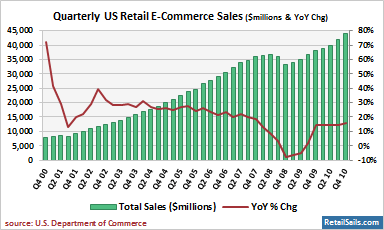 (Click to enlarge)
Following 6 quarters of sub-par growth and 3 quarters of year-over year declines, online sales have now grown by double-digits for 5 consecutive quarters. According to Forrester Research, we should expect this high-paced growth to continue as the firm predicts online sales will grow 10% compounded annually for the next 5 years, reaching $279 billion by 2015.
Below we take a look at e-commerce growth at 15 U.S. multi-channel retailers for their latest fiscal year. It's worth noting that even though this list contains 7 of the 25 largest online retailers, the total e-commerce sales for these 15 retailers combined ($25.4 billion) still only represents 75% of Amazon.com's total sales. That could change, however as many are predicting their days of tax-free selling are numbered.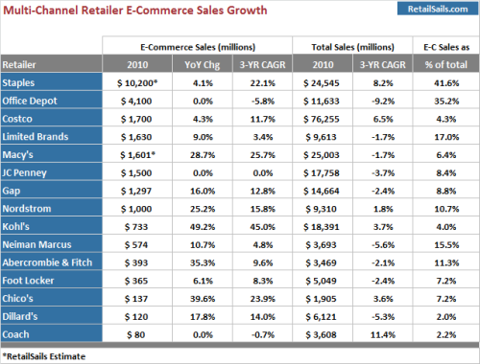 Disclosure: I have no positions in any stocks mentioned, and no plans to initiate any positions within the next 72 hours.