One of the lessons I give investors is that little-known stocks or "boring" companies can be great investments. In fact, many of these types of investments have a distinct advantage over more glamorous sectors.
The problem with investing in an embryonic industry is that there are so many players and improvements occur so rapidly that it's hard to know who will win out.
I'll give you a good example. Check out the number of defunct car companies. Not many made it past about 1922 or so. Ever since I remember, we've always talked about the Detroit's Big Three. So we went from many dozens to three, even they're not really three anymore.
That's why I tend to shy away from hi-flying stocks in popular sectors. I like predictable businesses in industries I know will be around. The lesson for investors is to concentrate of how well a business is run and not so much on finding the next "Google." It really is astonishing to see how little interest there is in well-run but dull businesses.
Recently, I gave you the example of Seaboard (NYSEMKT:SEB). Here's another little-known gem, Raven Industries (NASDAQ:RAVN).
First off, they're based in Sioux Falls, SD. I like it already.
The company has a market cap of just under $1 billion. They're not in any of the major indexes—and only a few analysts on the Street follow the stock. Raven has less than 1,000 employees and daily trading volume averages about 66,000 shares. In other words, Snoozesville.
Here's a company description from Hoovers:
Quoth the Raven, "Reinforced plastic, electronics, flow control devices, and balloons!" Raven Industries' engineered films division does make reinforced plastic sheeting for various applications, including hot air balloons! Its electronic systems division offers electronic manufacturing services, as well as design support, material procurement and management, and eco-stress testing. An applied technology leg manufactures high-tech agricultural aids, from global positioning system (GPS)-based chemical spray equipment to field computers and steering systems. Raven's Aerostar subsidiary produces high altitude research balloons, parachutes, and protective wear used by US agencies. Goodrich is a major customer.
Steering systems!
Despite Raven's low profile, the stock has been a massive performer over the last 30 years. Since March 1981, shares of RAVN are up 210-fold (that's 20,900% for liberal arts majors). That's an average of 19.5% per year. Raven has been slightly outperformed by Berkshire Hathaway (NYSE:BRK.A). Both stocks have beaten the S&P 500 so badly that the index looks like a girlie flat line in comparison.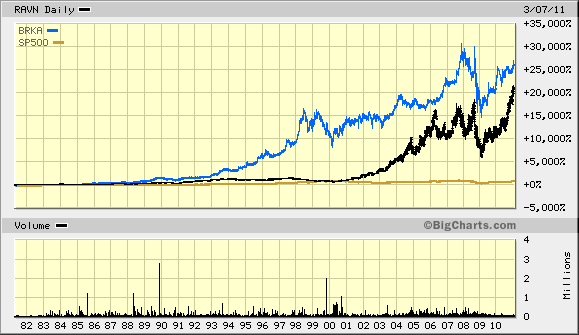 I bet Raven has done ever better than Buffett over the years since they pay out a dividend and Berkshire doesn't. The company has sweetened its dividend for the last 24 years in a row. Expect #25 very soon.
Currently, RAVN pays out a quarterly dividend of 16 cents per share which works to a yield of 1.2%. On top of that, Raven has also paid out a special every so often. I love when companies do that. They're basically saying "Yeah, we've so profitable, here's some extra cash we don't know what to do with." In 2008 and 2010, RAVN paid special dividends of $1.25 per share.
If you own Raven, the next time someone asks you where you're investing, be sure to say, "Reinforced plastic, electronics, flow control devices, and balloons!"
It'll be our inside joke.