Yesterday I highlighted stocks within the Energy Sector ETF (NYSEARCA:XLE) that were the furthest away from their respective 20-day (one trading month) moving averages. The conclusion was that it wasn't just oil companies that benefited from the recent surge in oil prices, since a number of these extreme stocks were coal and natural gas-related.
I thought it might be worth performing a similar analysis on the component holdings of the SPDR S&P Metals and Mining ETF (NYSEARCA:XME), which has not substantially underperformed the S&P 500 in recent months. Take a look at the below price ratio of Metals & Mining to the S&P 500. As a reminder, a rising ratio means the numerator/XME is outperforming (up more/down less) the denominator/IVV.
[Click all to enlarge]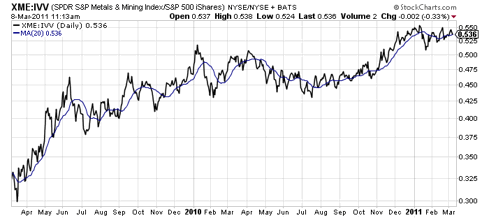 Click to enlarge
Intuitively, rising oil prices aren't good for mining companies because the cost of oil would impact the profitability of extracting those commodities. Yet the price ratio has effectively gone nowhere since mid-December, in a period where one might otherwise think that Metal & Miners are due for some kind of relative correction thanks to China's interest rate hikes and rising oil costs. Take a look below at the top 10 most extreme stocks relative to their respective 20-day moving averages within the XME ETF.


Click to enlarge
Interestingly, a good amount of the stocks within the Metals & Mining ETF are more energy plays than anything else, particularly within the Coal & Natural Gas areas of the market. Coeur D'Alene (NYSE:CDE) is the exception, after its most recent major rise.
The conclusion? The outperformance potential of XME seems to be heavily dependent upon expectations for coal and natural gas stocks.
Disclosure: I have no positions in any stocks mentioned, and no plans to initiate any positions within the next 72 hours.
Additional disclosure: Pension Partners, LLC, and/or its clients may hold positions in securities mentioned in this article at time of writing.