In the teen retailer sector, Quiksilver (NYSE:ZQK) and Pacific Sunwear (NASDAQ:PSUN) have dominated the "skateboader" clothing sector. As of late, both companies have been losing significant market share to Zumiez (NASDAQ:ZUMZ). The company, which caters to skaters, surfers, and everything else extreme, has grown significantly over the past couple years. The company is slated to release earnings on Thursday evening, and we expect the stock to tick up into them.

The company is expected to report solid YoY growth at 0.48 EPS vs. last year's 0.33. The company has beaten expectations consistently, and this quarter looks to be more of the same. ZUMZ moved significantly last week before earnings as news came out from the company that their same-store sales rose nearly 13% in February. The stock jumped to 28.25 on the news, and it has been trailing backwards since that high. Yet, a lot of that pullback came during very weak market conditions.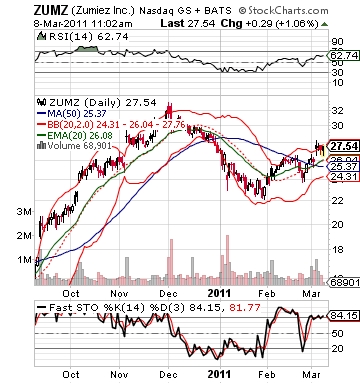 With earnings right around the corner and this news, the recent 4% pullback the stock has had over the last several days has created a definite buying opportunity moving into earnings. Further, today's news about Urban Outfitters (NASDAQ:URBN), which is another specialty young retailer, hurt the stock and is most likely weighing on it. As the stock moves closer to earnings date, with expectations high and the recent store sales news, the stock should continue to rise. The company saw sales jump 15% YoY in January.
ZUMZ had a tremendous Q3, and the stock fell after the report despite getting an upgrade from The Street as weak sector news plagued it throughout December. Now, the stock sits at about 15% of a discount from its Q3 earnings, but the company is increasing its EPS. Estimates are already higher than company estimates, but the company saw same-store sales grow between 15-20% in each month in the company's Q4.

This company has filled a void left by Pacific Sunwear as it has shifted gears towards young adults and less towards children and teenagers. The growth capabilities for ZUMZ are very attractive.

We expect big things moving forward, and the company seems to have found nice support at $27.00. The stock is a bit overvalued on RSI and fast stochastics, but this is definitely a stock with strong fundamentals and momentum. Its downside risk is very limited, while its upside potential is very strong.
Get ZUMZ!
Entry: We are looking to get involved at 27.25 – 27.50.

Exit: We are looking to exit for a 1-3% gain.

Stop Loss: 2% on bottom.

Timeline: Daytrade to Midterm.



Disclosure: I am long ZUMZ.