Ah the excitement of insurance, I love it. Actually I truly do. It's a very little changed business model that dates back to the Greeks (and probably further); insurance is safe (if done right) and very profitable (if done right). For these reasons, I love finding cheap insurance companies.

Allied World Assurance Holdings (AWH) is definitely a cheap and very profitable mid-cap insurance company. They offer the kind of insurance most cannot figure out or don't specialize in because of the small prospective market. They receive premiums for error and omission insurance for law firms, technology companies, financials, municipalities, hospitals, ect. They also offer reinsurance of property, general casualty, catastrophe, ect. Their combined ratio has been under 85% since 2008 and 84.9%, 76.1%, 84.1% in 2010, 2009, 2008 respectively. This is an incredible accomplishment in underwriting and has contributed significantly to AWH's outstanding growth. They have a ROAE (return on average equity) of 20% for the same 3 year period and actually achieved growth of nearly 50% on premiums written during the financial crisis!

The most important reason to purchase has to do with AWH's pristine balance sheet. It has approximately $9.7B (out of $10.45B in total assets) that can be valued at full value as reported on the balance sheet. These items include: cash, investments (at present value), restricted cash, receivables (minus reasonable uncollected receivables), and accrued investment income. Their total liabilities amount to $7.35B to give a net value of $2.45B in cash and investments. The company has a market cap of $3.17B (49,913,317 total dilutive shares outstanding). Enterprise Value is thus $0.72B or $720M. This compares to net income of $600M+ for the past two years at their new earnings power level. We will discuss earnings power more later in the article. Increase in retained earnings (the best estimate of book value growth for financials) was $650M last year or 90.2% of EV! The company has a float of approximately $4B which yields approximately 1% for them on top of their $8B portfolio which yields approximately 6%.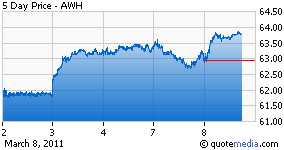 AWH leases all properties so no additional value is hidden here.

The only pending legal case is from April 4, 2006 by Cingular Wireless against AWH and an additional 80 insurance brokers. The case has stalled significantly since early 2010 due to a similar case being dismissed by the Third Circuit Court of Appeals. The company has since stopped their discovery writing which signifies to me that they do not seem concerned about potential liability.

For most, the idea of analyzing the portfolio you pay for is a daunting task. Yet, AWH releases a quarterly investor presentation to clarify exactly what you are purchasing. As of the end of 4th quarter 2010 (Dec 31, 2010): Municipal debt is 3.1%, Mortgage Backed Securities (mostly purchased in 2008 and 2009 as discounted prices) 14.9%, and CMBS 2.3%. The rest is allocated as cash (10.6%), government debt (19.8%), Corp Bonds (31.4%), and misc. investments (hedge funds, equities, ABS, ect.). I see the municipal debt, MBS, and CMBS as the most vulnerable to dramatic write-offs. As stated, the MBS have a known (as best they can) value at the moment since most of the profit gained from price appreciation has been stated and their income generated is a part of 6% yield. Municipal debt and CMBS are a small portion of the portfolio and thus I regard the portfolio as a whole as generally safe from depreciation in value from the current value of $8B.

Now to earnings power moving forward. Most would consider underwriting profits to reduce to $0 (combined ratio of 100%) since any profit would attract competition. AWH acknowledges this fact in its most recent filling with the expectation that premiums will decrease across all underwriting segments. The company earned $150M in underwriting in 2010, $260M in 2009, and $150M in 2010. Investment Income was the lowest in recent history at $250M in 2010 (with record low yields on Treasuries). We will also subtract the $285M in realized profits for 2010 since this is an inconsistent mode of profits. Assuming $0 in realized profits and $0 in underwriting profit we have an extremely conservative earnings power of $500M (6% yield on $8B portfolio). This gives an EPS of $10.00 a share. This compares to current earnings power of approximately $650M (500 + 150 underwriting profit).

To value an insurance company you must consider how cyclical earnings can be (especially in reinsurance which comprises 13% of premiums). I value earnings (minus realized earnings) at 10x or a P/E of 10. This gives a value of $5B conservatively. An additional $2.45B in net cash and investments minus total liabilities gives a conservative estimated value of the entire company at $7.45B. This amounts to a value of $149.26 per share or a 135% gain from current prices. Tangible book value is currently $2.7B or $54.09 a share. They have repurchased approximately $1.1B in shares (a mix of securities and $250M in warrants from inception from Goldman Sachs (GS)). This continues a recent trend of share buybacks that I fully support over raising the dividend (which is currently $0.80 or 1.3% annually).

This article does not and cannot fully explain all aspects of an insurance broker the size of AWH. I recommend you do your own due diligence and please add or correct any information I have represented above. I do own shares in AWH and plan to increase the position over the next 6-12 months.


Disclosure: I am long AWH.