After torching short sellers for seemingly years on end, it might be ironic that Netflix (NASDAQ:NFLX) topped within days of the date (Feb. 10) that famed fund manager Whitney Tilson finally threw in the towel on his unsuccesful short. The stock peaked four days later.
This morning's news that Facebook is moving into movie streaming has caused a ruckus on a stock that was already looking as if it lost momentum. Netflix, flirting with its 50-day moving average, has clearly broken down now and the first "gap" in the chart at the mid-$180s looks to be a formality. Of course this stock has been on such a rip-roaring ride there is more than one gap -- the next interesting level would be $150s from late October.
Put another way: There is a lot of meat on those bones, and once a "momo stock" loses momentum ... watch out. You can short versus that 50 -ay moving average near $205 and give it another whirl.
[Click to enlarge]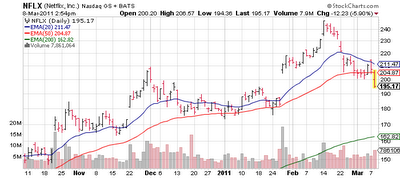 Some comments on this latest news event from Goldman Sachs (NYSE:GS) via Barron's:
Goldman Sachs's Ingrid Chung today writes that Netflix could in time be threatened by Facebook's role in movie downloads, citing the announcement today by Time Warner's (NYSE:TWX) Warner Bros. studio that it will let Facebook users pay for movie purchases or rentals with "credits" on Facebook.
Warner actually touted the Facebook offer as making it the first studio to sell and rent movies "directly." Chung thinks this is no immediate threat to Netflix, given that this is effectively "pay per view," or more like video-on-demand than Netflix's streaming subscription.
But, she adds, Facebook has more than 500 million active users, half of whom are online on any given day, versus just 20 million subscribers at Netflix. And the "wisdom of friends" can drive viewership on Facebook. Plus, the gap Facebook has in the living room — i.e., devices — may be fixed over time with new Facebook-enabled gadgets. All of which means, "Facebook could become a credible threat."
Adds Reuters:
Warner Bros is making some of its films available on Facebook, opening up a new revenue source for the Internet social network and signaling new competition for online entertainment companies.
Consumers can pay for the movies using Facebook Credits, a virtual currency so far used mainly in social games on the site, according to Warner Bros. Facebook, which makes money mostly through online advertising, takes a 30 percent cut of the revenue from sales by third parties on the website using Credits.
Rentals cost 30 Facebook Credits, or $3, for 48 hours, and viewers can pause and restart a movie whenever they log back in.
Disclosure: No position