After falling 22% over the last month and a whopping 57% from its highs less than a year and a half earlier, the S&P 500 (NYSEARCA:SPY) closed the day on March 9th, 2009, at 676.53. Had you asked 100 people that day where the index would be trading in two years, you likely could have counted on one hand the number that said higher than 1,300.
Tomorrow marks the two-year anniversary of the current bull market, and the S&P 500 is now trading at 1,324, or 96% above its closing level on 3/9/09. Below is a chart of the S&P 500 since October 9th, 2007, which is the day that the index made its all-time high of 1,565.15. The bear market from 10/9/07 to 3/9/09 is highlighted in red, and the bull market that started on 3/9/09 is highlighted in green.
(Click charts to expand)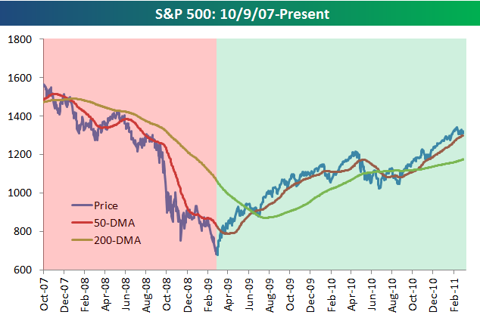 Click to enlarge
Below is a table highlighting the performance of key ETFs across asset classes since the bull market began on 3/9/09 as well as since 10/9/07 when the S&P 500 made its all-time high and the prior bear market started. For each asset class, the best and worst performing ETF is shaded in light red and light green over each time period.
While many ETFs are up more than 100% since the bull market began, only a handful are up from their 10/9/07 levels. The Nasdaq-100 tracking QQQQ is one of them with a gain of 8% since 10/9/07. The S&P Midcap 400 ETF (NYSEARCA:IJH) is also up, along with the Midcap 400 Growth ETF (NYSEARCA:IJK) and the Smallcap 600 Growth ETF (NYSEARCA:IJT). Three sector ETFs are now above the level they were at when the market made its all-time high on 10/9/07 -- Consumer Discretionary (NYSEARCA:XLY), Consumer Staples (NYSEARCA:XLP), and Energy (NYSEARCA:XLE). The Silver trust (NYSEARCA:SLV) is up the most of all securities shown since 10/9/07 with a gain of 160.47%, while Gold (NYSEARCA:GLD) is up the second most at 90.33%. And all but one (NYSEARCA:TLT) of the fixed income ETFs are in the black versus where they were trading when equities hit their all-time highs.
Since 3/9/09, the Russia ETF (NYSEARCA:RSX) has been the best performer in the entire table with a gain of 247.54%. The Smallcap 600 Growth ETF (IJT) has been the best performing US market index ETF with a gain of 144.78%, while the Financials ETF (NYSEARCA:XLF) has been the best performing sector ETF during the bull market. Unsurprisingly, UNG -- which is supposed to track natural gas -- has been the worst performer since 3/9/09 with a decline of 66.69%!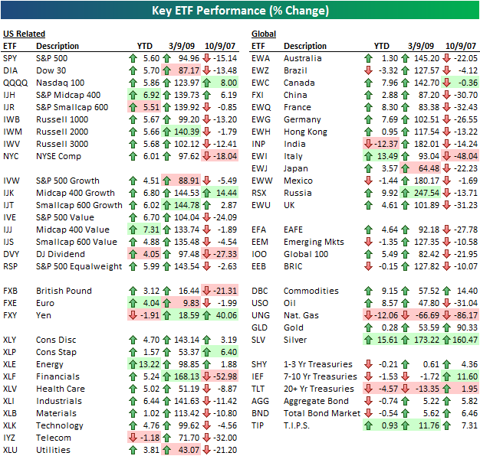 Click to enlarge