In previous commentaries, we visited railroads and economic growth in an attempt to gauge the future growth prospects for the industry. Now that we have established a reasonable basis for that conclusion last time, I will shift my focus to the companies that are most likely to benefit from improved domestic demand.
To begin my usual top-down approach, I will start with a chart of GDP plotted against the sum of quarterly intermodal rail traffic. The year-over-year GDP through 2010 was downloaded through a Bloomberg terminal and the 2011-2013 GDP was the median of the range provided by the Fed's central tendency forecast of gross domestic product. As you can see, our central bankers are calling for solid increases in demand for the coming years. With this being the case, I project a 2% increase in intermodal traffic. The increase in volume of rail traffic is sure to provide robust revenues for the transporters of raw materials and finished goods.
Click to enlarge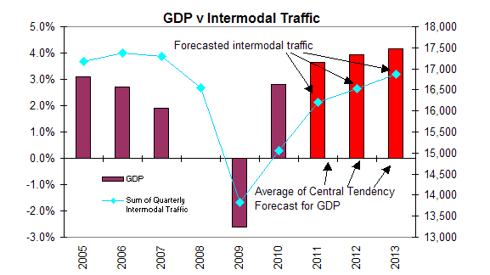 The AAR reported a 10.3% increase in intermodal carloads from February compared to the same month in 2010 and 21.4% greater than February 2009. To further my point for a strong year of intermodal traffic, I have presented a seasonality chart below, which displays where intermodal traffic stands compared to recent years. The white line represents 2011. As the chart shows, we are off to a strong start, even though weather played a factor in some earlier reported numbers. The AAR acknowledges the decline in early February was related to increased snowfall.
Click to enlarge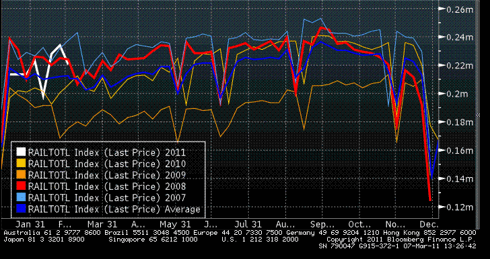 According to the Energy Information Administration, coal and petroleum were two of the three largest suppliers of energy through 2009. As our country continues to expand out of the deepest recession since the 1930s, we expect demand for finished goods and services to continue to rise. The case and point here would be the expansion of the manufacturing and industrial sector. Additionally, to produce finished goods and services, raw materials will need to be shipped to these companies. With more than two-thirds of coal shipments transported via railroads, this factor alone provides sufficient support that revenue growth will be strong for years to come. Railroads are also responsible for the transportation of grains such as corn, soybeans and wheat. All of the following are inputs into agriculture products and livestock feed, which again, will see a modest improvement in demand via the economic expansion. The chart below describes the recent surge in petroleum carloads.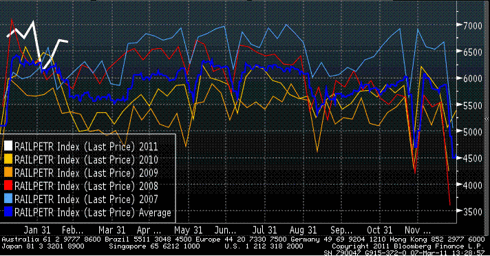 Now that we have a strong basis for an expanding rail sector, I will focus on a few companies that should be part of every investor's portfolio in order to capture to coming growth of the rail industry.
I will provide some quick background and analysis on two of my favorites, but the chart below displays four companies and their correlation to rail traffic. Although the companies I will describe below have two of the lower correlation levels of the four, I find them extremely attractive investments given their current price and future growth prospects.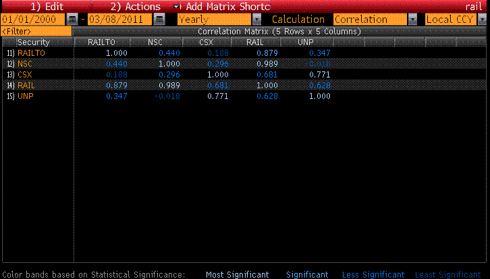 *Note: "Railtot" represents total intermodal traffic in the chart above.
CSX Corporation (CSX):
A company that transports intermodal and freight containers to most of the northern and southern states. CSX is a leader in the industry, and connects more than half of the lower 48 states via railroad. In January, the company reported strong results for 2010. With expectations for record results in 2011, CSX is a strong investment play for the future. They declared their dividend of $0.26 a share with expectations from analysts of an increase to $0.28 cents in the coming quarter. Additionally, with more than 30% of revenue coming from coal transportation, the above-mentioned recovery and use of this commodity will continue to provide a steady stream of income for years to come.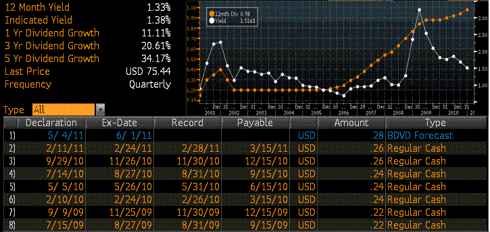 My final chart for CSX shows rising margins across the board. No explanation is necessary to describe to efficient and profitable operations of this company.
Union Pacific (UNP):
To gain exposure to the Western part of the U.S., look no further than Union Pacific. They link "23 states in the western two-thirds of the country." Union Pacific was also quite profitable in 2010, with operating income up almost than 50%. UNP is "... encouraged by signs of a slowly strengthening economy." UNP earned more than 20% of its revenue from coal transportation in 2010. As mentioned above, coal will remain a hot item in terms of industrial production, which more or less ensures steady gains for the transporter. Also the 1.5% dividend rate is not to be ignored.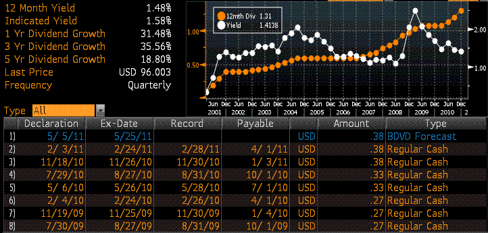 Similar to CSX, UNP has strong margin and continued opportunity for profitability.
Click to enlarge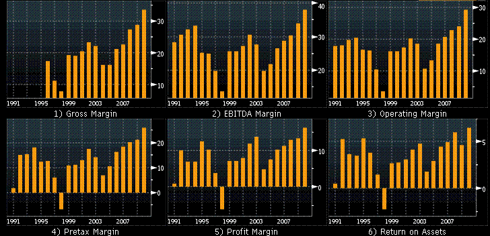 On a side note, legislation was recently passed in the Senate to remove railroads from anti-trust exemption, but I do not see this making it through the House.
All in all, the expanding economy and improving industrial demand provides a solid basis for making a play for railroad companies.
Disclosure: I have no positions in any stocks mentioned, but may initiate a long position in UNP, CSX over the next 72 hours.