In a previous post I stated that copper appeared ready to pick up the advance again after correcting off of the recent $465.75 high (basis the futures). The chart pattern gave some strength to this being the case, but that quickly evaporated after yesterday's 3.5% fall and nearly 16 point decline. Rising oil prices and the uncertainty rising out the Middle East have come home to roost as traders attempt to position themselves against any surprises.
Accelerating the decline were the breaks below the 20-day MA at 445 and then the 50-day MA at 437.
Click to enlarge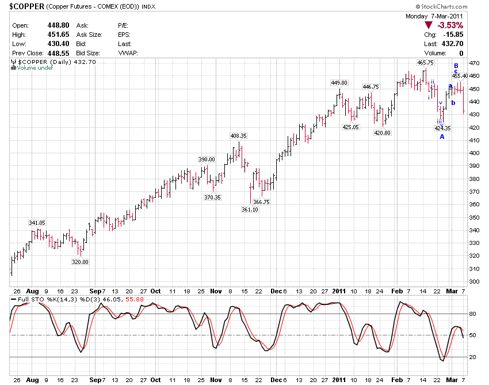 Click to enlarge
The chart above includes Elliott Wave labeling for the correction. Thus far waves A and B appear complete with the second decline - wave C in progress and if support targets contain the selling - yesterday's selling will likely be the heaviest for now. Expectations would be for wave C to find support at 414.10 (basis the futures) which is where wave C = wave A. A break there with follow through drops support to 388.40. The stochastic oscillator confirmed the turn and remains pointing lower.
Disclosure: I have no positions in any stocks mentioned, and no plans to initiate any positions within the next 72 hours.