For the past 11 trading days, the S&P 500 sported an average daily trading range of 1.3%. That's a far cry from the 7% intra-day swings of late '08. On the other hand, it's significantly more volatile than what we had been experiencing before the rebellion in Libya.
Indeed, the CBOE Volatility Index (VIX) has traded above its 50-day trendline since February 22. What's more, the VIX has hit "higher lows" in consecutive months since December 2010.
Click to enlarge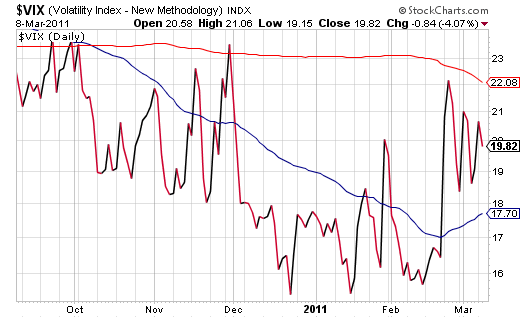 With more volatility in the equity markets, one's initial reaction might be to avoid them altogether. After all, how much Middle East instability can Mr. Dow discount? How much commodity price inflation can the NASDAQ shrug off? And how much longer will the S&P 500 ignore eurozone debt and U.S. deficits?
Yet avoiding stock assets because there's so much wrong with the world is a classic recipe for failure. It's about as foolhardy as buying-n-holding-n-hoping.
Readers already know that I will let the markets themselves reduce some of the risks associated with broad equity exposure. One needs little more than the unemotional stop-loss limit order to secure a big gain, small gain or small loss on every ETF round-trip.
However, what can an investor do with new cash that he/she wishes to put to work? (Hoping-n-waiting for a 10% correction hasn't been helpful for those who have sat on the sidelines for the past eight months.) One might still look to participate, though narrow his/her focus to quietly successful, less erratic sectors.
I define quietly successful, less erratic investments as those that meet a number of key criteria. First, the investment must have less than or equal beta risk with a corresponding benchmark. Second, the asset must possess a relative strength percentile rank that is greater than the S&P 500 SPDR Trust (SPY). Third, the investment must NOT reside in the top quartile of relative strength percentile rankings; that way, it qualifies as "quietly" flying under the radar.
Here are three that merit consideration:
1. iShares DJ Medical Devices (IHI): As stocks continue to struggle for direction with $100-plus oil, IHI managed to hit an ALL-TIME high on Tuesday, March 8. The health sub-sector ETF is slightly less volatile than the S&P 500, with Medtronic (MDT), Stryker (SYK) and Thermo Fisher Scientific (TMO) leading the way. Equally compelling, IHI may be a wise demographic investment with less government intervention than broader-based healthcare providers or pharmaceuticals.
2. Market Vectors Environmental Services (EVX): Most "green" conversations typically center on alternative energy. Yet companies like Waste Management (WM) and Stericycle (SRCL) may be doing a great deal more for investors and for environmental causes. EVX is slightly less volatile than its comparable benchmark, the Russell 3000. Equally compelling, it recently bounced higher off its 50-day simple moving average at the start of March.
3. iShares Software (IGV). This fund has stalwarts like Oracle (ORCL) and Symantec (SYMC), but it also boasts "cloud faves" like Salesforce.com (CRM) and Citrix (CTXS). It has a beta of 0.95 with the S&P 500, and may be 10% less volatile than the tech-heavy NASDAQ. Yet it has outperformed the S&P 500 over six months and one year.
Disclosure: Gary Gordon, MS, CFP is the president of Pacific Park Financial, Inc., a Registered Investment Adviser with the SEC. Gary Gordon, Pacific Park Financial, Inc, and/or its clients may hold positions in the ETFs, mutual funds, and/or any investment asset mentioned above. The commentary does not constitute individualized investment advice. The opinions offered herein are not personalized recommendations to buy, sell or hold securities. At times, issuers of exchange-traded products compensate Pacific Park Financial, Inc. or its subsidiaries for advertising at the ETF Expert web site. ETF Expert content is created independently of any advertising relationships.