AeroVironment (NASDAQ:AVAV) jumped 12% in Tuesday's evening trade after the developer of products for unmanned aircraft systems blew past Q3 estimates (see earnings results here).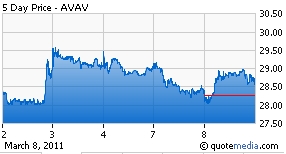 AeroVironment sells these systems to the U.S. Department of Defense, and depending on how paranoid you are, don't look up.
Instead, we're looking back, and AeroVironment's earnings history is telling us this stock has solid long prospects for Wednesday.
AVAV has recorded an earnings-driven after-hours gain in 8 of the last 11 quarters tracked in our MT Pro database. 100.0% of the time (8 out of 8 times) this stock followed through in the same direction by the close of the next day's regular session compared to the Extended Hours "effective close". When it followed through, the price closed further in the same direction on average by 7.8% (in 8 events) from the "effective close".
Such a strong history of adding to earnings-driven evening trade has us bullish on the long side on AVAV Wednesday, particularly with some rather strong upside liquidity Tuesday night that held the stock steady near 32. Early longs may want to target potential entry points close to 31.70 to 32, an area that could form as a base support through the early going Wednesday and perhaps catch some attempts to move back into the mid- to higher-32s.
In Tuesday's after-hours trade, AVAV spiked to an after-hours high of 40 immediately after it was released from a trading halt. It was quick to retreat to much lower levels, sliding to a range between 31.69 and 32.36 - an area where it stayed through most of its evening trade.
A pre-market open Wednesday looks to have potential tight to the 32 mark.
Disclosure: I have no positions in any stocks mentioned, and no plans to initiate any positions within the next 72 hours.