AutoChina (AUTC) shares have had a wild ride over the past month. AutoChina had been slowly rising to around $27 up until February 1st, when this negative research report from The Forensic Factor led shares to dive to under $23. Shares soon recovered to nearly $27 but then a bigger dump ensued after The Forensic Factor's second report, with AutoChina falling beneath $20/share by mid-February. However, AutoChina's investors were soon rewarded when a mercurial short squeeze ignited, sending shares to more than $33, a 60% gain in just two weeks.

On March 2nd, Ralph Arroyo published a negative report which sent shares down more than 10%, but the ensuing two-day recovery more than made up for that loss, sending shares to a peak of more than $35 Monday. On Tuesday, AutoChina sold off more than 5% to $33. With momentum waning (note the low volume on the entirety of the monster run off the $19.68 bottom), is AutoChina finally a good short sale candidate?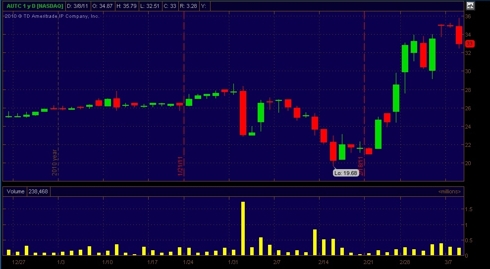 While AutoChina was able to muster a decent reply to The Forensic Factor's initial report slamming the company, both the Forensic Factor and Ralph Arroyo have raised significant issues that suggest AutoChina is badly overvalued. The most pressing of these relate to cash flow. AutoChina's business, auto leasing, is highly capital intensive, and both reports raise concerns about AutoChina's liquidity and its ability to keep growing the business at a rapid rate.

Ralph Arroyo's analysis indicates that AutoChina will need more than $300 million in new capital in 2011 and significantly more than that in 2012 to fund ongoing originations of new vehicle leases. Current estimates of AutoChina's forward earnings account for little of this burden, which should cost the company close to a dollar per share in earnings in 2011 should the company fund this shortage through debt issuance at current market rates. The company could, of course, issue new shares as an alternative. However, with the market cap at $648 million, the company would have to dilute itself substantially to raise enough capital just for 2011's needs.

Presently AutoChina has been relying on interest-free loans from related parties to pay its funding needs, but it is unclear whether the company will be able to secure more of these loans or whether this unusual situation will continue into the future. Should AutoChina have to pay market rate for its funding needs in the future, the company will experience a substantial drop in margins. The company has also had a tremendous shortfall between reported income and actual cash flow over previous quarters that raises concern.

Both research reports I cited also point to significant questions about AutoChina's aggressive revenue recognition. The company is recognizing $44,559 (Q3, 2010 figure) per vehicle immediately upon sale, which is extremely high. The company is using Gain on Sale accounting, which reports revenue upfront when payment streams will be coming in over time.

Accounting methods that aggressively recognized revenue streams have led to or contributed to lots of famous blow-ups, such as Enron and various players of the subprime sector. This sort of accounting has also destroyed smaller companies. For example, Orthodontic Centers of America (formerly OCA), had been recognizing 24% of a new patient's expected revenue stream (which lasted on average two years) in the first month of a patient's contract.

The SEC told OCA to use more conservative straight-line accounting method, which forced the company to restate its previous financial statements and shaved more than 20% of the previous year's earnings away. This led the company into a downward cycle that ended with the CFO committing fraud and the company entering bankruptcy. Don't think for a minute that accounting shenanigans involving advanced revenue recognition only occur in larger-than-life fiascoes such as the subprime debacle. Whenever a company recognizes as "revenue" future payment streams that may not actually materialize, there is great risk to investors.

Given the decent chance that AutoChina will have to restate earnings at some point, along with the various other risk factors facing the company, AutoChina's current market valuation is much too high. The company is presently trading at somewhere around an 18 Forward P/E in a sector that should not operate at such rich PEs. The average Chinese company listed in America is trading at a mere 8 PE, and yet AutoChina, which faces enormous financing needs and is highly vulnerable to changing interest rates is trading at a much higher PE than average.

The company is also trading at more than 3x book value, has only $1.42 a share in cash on the balance sheet, and is operating at a strongly negative cash flow rate. While the company is still strongly profitable and should trade at a decent valuation, the current run-up to the 30s is crazy. It was triggered not by the market's perception of AutoChina's true value but rather a monster short squeeze.

There is no options market for AutoChina and it appears that the entire pool of shortable shares for AutoChina disappeared during the massive run-up. Thus the few short sellers in the AutoChina trade were forced to cover at absolutely any price with no way to hedge. In a way, it was highly reminiscent, on a smaller scale, of the absurd 2008 short squeeze in Volkswagon (OTCPK:VLKAY) that briefly made it the world's most valuable company. Shares of Volkswagon, an entirely legitimate business, have nonetheless declined more than 80% from the peak of that short squeeze.

Volkswagon soared and soared because there was no way to hedge. There was no options market on the American listing of Volkswagon and extremely limited float. Similarly, the float at AutoChina is incredibly small. While there are nearly 20 million shares in total, only 6.37M of those shares are publicly traded as insiders control more than half the company. While AutoChina is clearly overvalued, short sellers are not able to use options or get large enough share borrowings to bring AutoChina shares back to their true value, which is closer to $15 or $20 per share.
AutoChina does appear to be worth shorting presently. There is huge downside on the horizon, which could be triggered by any of a number of potential factors such as dilution, an earnings miss, or a change to the company's aggressive accounting practices. That said, the company has soared the last two times after negative news and it is too early to say definitely that the short squeeze in AutoChina is complete. If you take a short position in AutoChina, be nimble and keep your position size small -- there will be lots of volatility in AutoChina's future.



Disclosure: I have no positions in any stocks mentioned, and no plans to initiate any positions within the next 72 hours.