With each week seemingly yielding another Middle East monarchy or dictatorship in jeopardy, the price of oil and the US Oil Fund (NYSEARCA:USO) have moved steadily higher. The dollar has continued its descent lately, supporting a higher price for West Texas Intermediate and Brent Sweet.
[Click all to enlarge]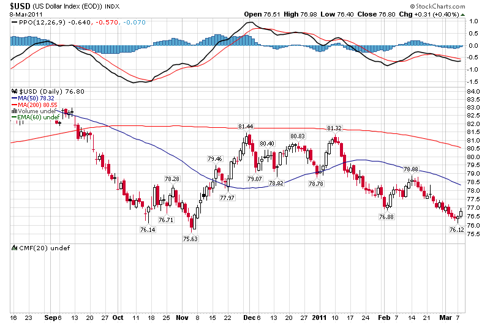 The Brent Sweet Oil Fund (NYSEARCA:BNO) looks a bit toppy here.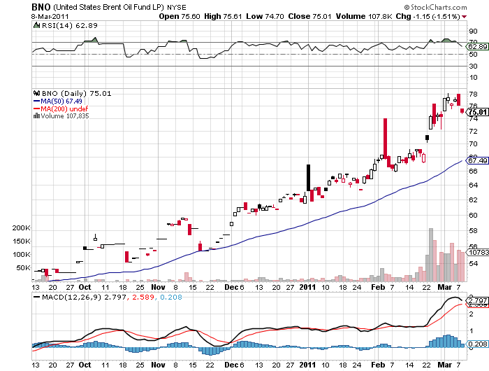 West Texas crude has been late to the party, but the shutdown of Libyan production and the jeopardization of the Suez transportation route and other production shutdowns have added interest in western oil markets.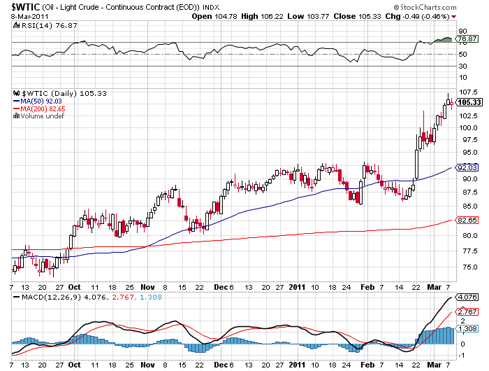 We have a few favorite names in the oil patch and are seeing significant premiums in the options markets for downside protection. Since we think higher oil prices may be here to stay, we think the risk-reward equation favors put-sales.
ATP Oil and Gas (ATPG): We like the March, April, and May contracts at strike price $20 for put-sales. ATP has a lot of good things going for it and plenty of shares are still short to maintain the rise.
Ultra Petroleum (UPL): We like the April and June 2011 contracts at the $45 strike. Time value decay and implied volatility should dampen going forward.
GMX Resources (GMXR): GMX is a newcomer to the oil markets and only in January initiated positions in the Niobrara and Bakken (Dakota) plays to extract oil. Eventually, earnings from oil should constitute over a quarter of EPS. We like the $6 strike puts for sale, for April, May and August 2011.
Exxon Mobil (NYSE:XOM): Exxon has relatively little downside, especially given higher oil prices are not yet factored into the firm's valuation. We like the more thinly traded July and October 2011 puts for sale at the $85 strike.
Chevron (NYSE:CVX): Chevron remains well-diversified and the current market price also does not factor in $100+ oil at West Texas and Brent prices. We like the less populated June and September 2011 puts for sale. Volume should pick up into the next two options expirations for March and April 2011.
TransOcean (NYSE:RIG): We like TransOcean's exposure to the deep-water worldwide. For put-sales we think downside risk remains reasonable. The more lightly traded May and August 2011 puts at strike $85 have ample premium.
Devon Energy (NYSE:DVN): Devon recently increased its quarterly dividend, showing strength in its balance sheet and cash flow statement. We like the lightly-traded July and October 2011 puts for sale at strike $90.
Apache (NYSE:APA): Apache has consistently increased North American production of oil and liquids. Last year, the company recorded a record $3 billion in earnings off of a 13% production increase. We think downside is limited. We like the July and October 2011 puts for sale at strike $120.
ConocoPhillips (NYSE:COP): We think Conoco's growth prospects remain bright and we appreciate the company's diversification. Here, we like the more lightly-traded May and August 2011 puts at the $75 strike.
British Petroleum (NYSE:BP): Volatility remains mildly elevated in this name many months after its issues at Macondo with the DeepWater Horizon rig. We think downside is reasonable and favors selling the strike $45 puts for October 2011.
Disclosure:
I am long GMXR.
Additional disclosure: Short GMXR puts; may initiate a position in ATPG over the next 72 hours.