The Social Network continues to pleasantly surprise its 500+ million users with its recent offering. The latest announcement that Facebook will stream its first movie, The Dark Knight, shouldn't seem all too surprising; after all, the technology isn't new, the partnership with Warner Brothers is fairly easy to establish, and Facebook is connected to about 8% of the entire world, making the site an attractive base for media companies. Facebook's users will be able to pay for the movies with the site's Facebook Credits (70% revenue to Warner Brothers, 30% to Facebook). 30 credits, or $3, gets you a 48-hour Dark Knight rental.
The Facebook Model
What does this mean for Facebook? Two months ago, I projected that Facebook will hit $100 by 2013 ($200+ billion market cap). At the time, Goldman Sachs had just invested $500 million into the company, giving Facebook a value of $25/share and roughly $50 billion in market cap on ~$2 billion of revenue. Facebook's 2010 revenues were split between 3 forms of advertising and virtual gifts and credits (credits from here on).
While the credits space was 6% ($120 million) of overall revenue in 2010, my bull-case projection was that credits would be the "cash cow" of the business, which will by 2014 contribute $8+ billion to the company's top line. As we continued to learn that Facebook had extremely attractive operating margins (40+%) and beat my already optimistic advertising projections in 2010, I've made adjustments to my model.
Assuming a base-case scenario with a continuous, slightly declining growth in credits and a more rapid slowdown in advertising growth, advertising revenue through the end of 2011 should surpass $4 billion and credit growth will see a 200% increase, allowing the social media giant to reach $360 million in credit revenues. The following model further shows my projections:
click to enlarge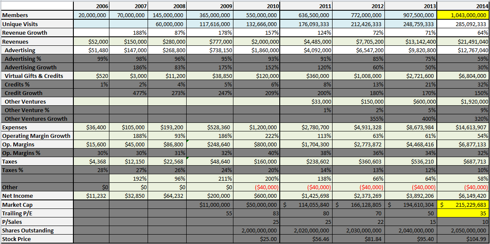 Click to enlarge
Though some found it difficult to understand how credits could possibly reach billions of dollars as the majority of tokens were only spent on games (and 400+ other apps), The Dark Knight now shows us the wide range of possibilities Facebook has as the movie marks the beginning of an important Facebook entry into the monetized video streaming space. The Facebook shares most recently sold in the private market auction at $33/share, giving the site a $75 billion implied valuation, or a 48% increase in market cap since Goldman's purchase.
What The New Streaming Offering Means for Rivals
The obvious victim of this announcement is the new King of Streaming, also known as Netflix (NASDAQ:NFLX). The news sent Netflix investors for the exits as the stock dropped by almost 6% intraday, shaving off nearly $635 million in market cap value on an otherwise strong Nasdaq day. The stock is down almost 20% since mid-February after hitting a 52 week-high of $247.55.
A longer-term outlook would suggest that Facebook's ability to offer movies through the most visited site on the internet could be, and most likely will be, troublesome to Netflix's subscriber base, especially since Netflix has taken recent steps to align themselves against Facebook. The extreme risk that I've warned about in the past is the suppliers' ability to forward integrate in this space. It appears that Warner Brothers is the first such content streaming supplier to reach its clients via a Facebook page. If EPIX and Starz decide to offer their own content via Facebook, that could certainly place a burden on the Netflix growth. Additionally, some of the Whitney Tilson short arguments still stand, that being that Netflix still has an extremely rich valuation (66x trailing P/E), is a part of a very competitive environment (Apple (NASDAQ:AAPL), Google (NASDAQ:GOOG), Cisco (NASDAQ:CSCO), Amazon (NASDAQ:AMZN), Coinstar (CSTR), Comcast (NASDAQ:CMCSA), Time Warner (NYSE:TWX)), has low relative margins (13%), and relies heavily on its suppliers.
Netflix Competitors
Though Netflix's competitors are not exactly the streaming provider's equivalents, that could actually place Netflix at an additional marginal disadvantage. The financial data below shows 5 companies, which are either already involved or are entering the streaming content space. Not only does Netflix rank 4th out of the 5 in operating margins and P/E, but the other companies are also extremely cash rich and could easily afford to redistribute cash and income into one of the hottest spaces today - the extremely popular streaming content market. What that means is that the companies could use their higher margin products to subsidize the lower margin streaming content space to squeeze the Netflix margins.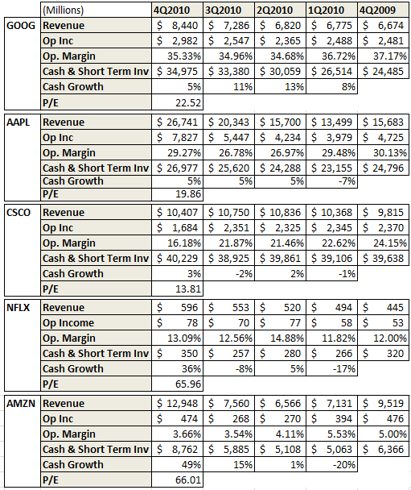 Click to enlarge
Risks to Facebook Valuation
Dilution: Earlier start-ups tend to pay their employees in stock options. Those stock options punish the later shareholders - not the company value - as they dilute the company shares. This could potentially significantly alter the price per share depending on the amount of options handed out to employees and/or investors.
Users: The 500+ million Facebook users are still not nearly as engaged as the public believes. It is difficult to assess how many of the users are actually active and if advertisers will continue to use Facebook as their medium to reach audiences.
Privacy: Privacy remains one of the most serious risks to users and could potentially cause users to discontinue from using the site.
Conclusion
Though the short-term effects could vary significantly, the longer-term winners here are clearly Facebook, Apple, Google and the content providers. As the competitive space becomes more aggressive and Netflix subscription rates begin to stagnate and even deteriorate, the longer-term loser would then be Netflix.
Disclosure: I am long AAPL, CSCO.
Additional disclosure: This article is intended for informational and educational purposes only and shall not be construed to constitute investment advice. Nothing contained herein shall constitute a solicitation, recommendation, or endorsement to buy or sell any security or private fund.