Today is the two year anniversary of the March 9, 2009 market low of 666, otherwise known as the Devil's Low, or as I affectionately refer to it, the "Haines Bottom" - being a fan of Mark Haines from CNBC's Squawk on the Street. The Street is fixated on the "Million Dollar Question" as Carter Worth of Oppenheimer put it Tuesday on Fast Money during the Chart Center segment of the show.
The bear case put forth by the ever present Dr. Doom, Nouriel Roubini, was presented on Tuesday at an investment conference in Dubai. "Ongoing political and macroeconomic uncertainties will continue to have a negative impact on the global economy and markets," Roubini stated. Dr. Doom got his moniker by being a perennial pessimist. Roubini predicted the credit crisis of 2007. He believes the global economy will continue to face pressures. "There are many positives in the global economy but significant uncertainties still remain," stated Roubini, who went on to say, "for the next few years, we will be living in a world where these uncertainties may have a negative impact on the economy and financial markets."
I have a few reservations regarding Dr. Doom's predictions, though. Everyone only remembers the times he is right. As my father likes to say, "David, even a broken clock is right two times a day." If you predict a downturn in the market over and over, you are bound to be right once in a while. Roubini was warning of a double dip in August of 2009 after we recovered somewhat from the low in March of 2009. If you listened to Doom's rhetoric and got out of the market, you missed out on a major portion of the two year Bull Run. No wonder Dr. Doom is so full of gloom.
I have faith in the insights of historically successful business people rather than economists or academics. Warren Buffett's opinion far outweighs Dr. Doom's constant calls for market misery. Warren Buffett told CNBC that when it comes to possible acquisitions, there aren't many "elephants" out there and not all of them want to be in the Berkshire Hathaway (NYSE:BRK.A) "zoo." That's a reference to his letter to shareholders over the weekend, in which he said his "elephant gun" has been reloaded and he has an "itchy trigger finger" for a major acquisition. Buffett says he thinks the U.S. economy is "coming back", and in the long-run "you can't stop" the United States, but most of Berkshire Hathaway's businesses are closer to "inching along" than "chugging along." Still, some units are doing well. He says Berkshire's railroad business is about 60 percent back from the bottom and Iscar, the company's Israeli tool maker, had a record month in January.
According to Carter Worth's bullish results from 100 years of technical analysis, the markets will trade much higher. On a recent episode of Fast Money during the Chart Center segment he stated, "1400 is our objective for this year on the S&P." He also performed technical analysis of the DOW performance going back to 1900. Worth concluded that regardless of whether this is a cyclical or secular bull market, we will reach the previous highs by the end of this year. This would be 14,012 for the Dow achieved on November 2, 2007, giving us a 15% increase in the Dow by year's end. Please review the 5 Year DOW 30 chart below provided by CNBC.
5 Year Dow 30 chart as of March 7th, 2011 provided by CNBC:
click to enlarge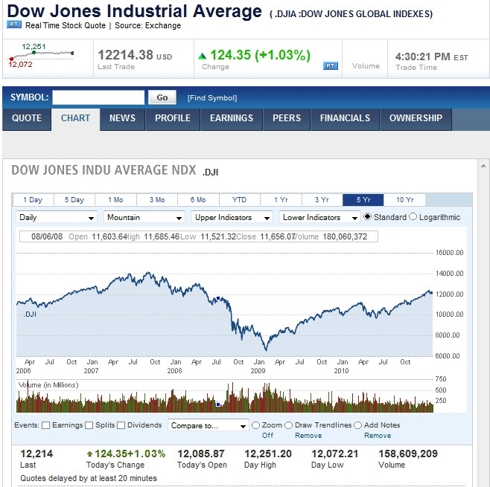 Click to enlarge
As stated above, I am bullish on the DOW 30 and agree with Buffett, Worth, Cramer and the majority street consensus that we go higher from this "two year double" birthday of the DOW 30. The million dollar question is, how do we get there? Below is a list of the DOW 30 components and a mini bull case for each of them. One thing I've learned is, there are always two sides to every story, today we are focusing on the positive scenarios.
(NYSE:AA) - Alcoa Inc. – With aluminum prices rising, emerging market demand growth and the stock undervalued, expect Alcoa to go much higher.
(AXP) - American Express Company – Cramer said, "I want to own it ...I think that is the cheapest financial right now with the least risk."
(BA) - Boeing Company – Just signed a $19 billion deal in which China will purchase 200 Boeing aircrafts.
(BAC) - Bank of America Corporation - CEO Brian Moynihan spoke at the company's investor day conference and stated he thinks "BAC can earn between $35 and $40 billion a year in pretax earnings when its business normalizes."
(CAT) - Caterpillar, Inc. – With the growing middle class of the emerging market and the improving US economy, Caterpillar should be very busy keeping farmers around the world supplied with state of the art equipment to improve crop yields.
(CSCO) - Cisco Systems, Inc. - The stock is undervalued based on Warren Buffett's "Owner Earnings" formula.
(CVX) - Chevron Corporation - With the current Middle East situation and possibility of the Peak Oil Theory coming to fruition, I see nothing but further profits for oil companies long-term.
(DD) - E.I. DuPont de Nemours – Over the last 2 years, DuPont has gone through major restructuring to cut costs. The improving global and US economies will allow profits to spring higher.
(DIS) - Walt Disney Company – Investor "mwlove" wrote last month on The Motley Fool:
New films, Pixar, Disney channel, cross-marketing. There are so many channels for growth here that the future looks very bright. The management team is now top-notch and taking care of the business. Don't doubt the Mouse.

(GE) - General Electric Company - CEO Jeffrey Immelt bought 40,000 shares on March 1, totaling $844,000. Immelt has made bullish comments regarding the company's prospects and is putting his money where his mouth is.
(HD) - Home Depot, Inc. – With the housing market stalled, Home Depot stands to gain from people performing more remodeling and maintenance projects on their current home rather than looking to buy a new one.
(HPQ) - Hewlett-Packard Company – The company took a 12% dive after last quarter's earnings report. Hedge funds spent approximately $1 billion to acquire HPQ shares during the fourth quarter. This is a comeback play.
(IBM) - International Business Machines – The company's executives recently stated, "The success of our long-term roadmap has changed the way the company operates and has helped us post record results." They reiterated their 2015 targets.
(INTC) - Intel Corporation – On a recent episode of Fast Money, analyst David Wong stated, "One of the best opportunities is Intel." Wong said Intel has "particularly strong fundamentals and has recovered nicely from the glitch in its Sandy Bridge chip set."
(JNJ) - Johnson & Johnson – The company has had some issues and performed poorly compared to the S&P. The stock priced at this level makes it one of the best values in its sector. Look for JNJ to bounce back.
(JPM) - JP Morgan Chase & Co. – Hedge funds like the stock and are placing bullish bets. JPM has a median price target of $54 by 25 brokers. This provides a possible 16% return on investment.
(KFT) - Kraft Foods Inc. – The median price target by 16 brokers is $35, suggesting an 11% return on investment in 12 months. Kraft has recently implemented a "power-brands" strategy and sees potential upside with their recent acquisition of Cadbury. Overseas business is increasing swiftly.
(KO) - Coca-Cola Company – The company recently acquiring their bottlers should allow them to cut costs to the bone, increasing profit margins and invigorating the bottom line.
(MCD) - McDonald's Corporation – McDonald's dominates its competitors by providing a myriad of menu items to meet its customers varying taste buds and trades at a mere 13 times forward earnings. Expect Mickey D's to go higher.
(MMM) - 3M Company - Barron's reported MMM is a buy thanks to increasing sales, profits and promising emerging markets growth.
(MRK) - Merck & Company, Inc. – Merck recently stated in a press release,
Merck is committed to building on its strong legacy in the field of viral hepatitis by continuing to discover, develop and deliver vaccines and medicines to help prevent and treat viral hepatitis. In addition to ongoing studies with VICTRELIS, extensive research efforts are underway to develop additional innovative oral therapies for viral hepatitis care.
If they execute on these plans they should do well.
(MSFT) - Microsoft Corporation - Microsoft is trading at 10.4 times the $2.55 a share it is predicted to earn. Additionally, Microsoft has a huge cash hoard, which makes the stock an even better value. The company has a cash balance of about $41 billion which gives you approximately a $5 discount on the share price. Microsoft's shares offer a safe return for investors who have a long term outlook.
(PFE) - Pfizer, Inc. – "A discounted cash flow analysis depicts Pfizer as undervalued. The discounted cash flow model says that a company is worth the total of all future cash flows," says Seeking Alpha's Analytical Chemist.
(PG) - Procter & Gamble Company – Says Seeking Alpha's Dividends4life:
PG is one of the few premier dividend growth stocks. As a company, it is a leader in understanding consumer needs, innovative marketing and building brand loyalty. The company enjoys a tremendous benefit of scale, providing enhanced sales opportunities and cost savings compared to its smaller peers.
(T) - AT&T Inc. – The excitement over the news that Verizon (NYSE:VZ) wireless will now have the iPhone has created an imbalance between the price of AT&T's stock and Verizon's. This has had the effect of undervaluing AT&T. AT&T offers a high dividend yield which will bring the iPhone maniacs back to their senses.
(TRV) - The Travelers Companies, Inc. - The company announced the buyback of $5.0 billion of its outstanding stock on January 25th 2011. This represents approximately 19.59% of the company's current market cap.
(UTX) - United Technologies Corporation - In a recent article by Investment Underground, UTX was stated as having one of the "Top 5 Management Teams in the Industrials Sector." Investment Underground said, "with this all-star cast, ROE was 21.1% in 2010, and was 21.28% in 2009."
(VZ) - Verizon Communications Inc. – John Tobey wrote in a recent article on Seeking Alpha:
Occasionally a stock classified as "income" dons "growth" garb. With its 6% dividend yield and burgeoning wireless growth prospects, Verizon Communications appears to have done that.
(WMT) - Wal-Mart Stores, Inc. - WMT expects earnings for fy 2011 of 4.05 followed by fy 2012 of 4.45. Free cash flow has shown strong growth, averaging 29.4% over the past 10 years.
(XOM) - Exxon Mobil Corporation - With the current Middle East situation and possibility of the Peak Oil Theory coming to fruition, I see nothing but further profits for oil companies long-term.
Now, I know what you are thinking. Dave, no way all the Dow 30 stocks will fulfill these grand expectations you have espoused. My argument is more of them will than won't, and that's all the edge I need to be bullish on the future of the Dow 30. Sure, we will have some bumps along the way, but the Middle East tensions will subside and the Fed will engineer a soft landing as we ease out of the current QE2 program.
I believe in America and the power of the emerging markets to keep these Dow 30 companies growing and the stock prices moving in a positive direction. Fortunately, history is on my side. If you told someone in 1987 on Black Monday the DOW would be almost ten times higher within 20 years, they would have called you crazy. Who is to say how high the market can climb from here? Sometimes it just might pay to be crazy. Crazy like a fox.
Disclosure: I have no positions in any stocks mentioned, but may initiate a long position in AA, AXP, BAC, BA, CAT, CSCO, CVX, DD, DIS, GE, HD, HPQ, IBM, INTC, JNJ, JPM, KFT, KO, MCD, MMM, MRK, MSFT, PFE, PG, T, TRV, UTX, VZ, WMT, XOM over the next 72 hours.
Additional disclosure: These long ideas may or may not be suitable for your current financial status. Please consult a professional before making any investment decisions. Information was gathered from company websites, Yahoo Finance, CNBC.com, Fool.com, and Seeking Alpha.