By David Russell
SRA International (NYSE:SRX) started the year with a bang, and the bulls are looking for the rally to continue.
Our Heat Seeker tracking system detected a surge of call volume in the defense contractor, which surged earlier in the year amid takeover speculation. Two large transactions, both bullish, account for most of the activity.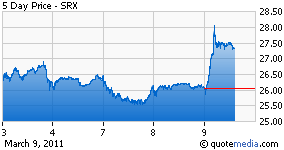 The first entailed the purchase of about 2,600 June 30 calls for $1.60 and the sale of an equal number of June 35 call for $0.50. The trade, a vertical call spread, cost $1.10 and will earn a maximum profit of 355 percent if SRX closes at or above $35 on expiration.
The second trade occurred 10 minutes later and involved the sale of about 3,000 March 30 calls for $0.20 against existing open interest. They then rolled that position into a new spread, purchasing April 30 calls for $1.25 and selling the April 35s for $0.30.
The transactions pushed total options volume in SRX to 12 times greater than average, with calls accounting for a bullish 87 percent of the activity.
The stock climbed 5.30 percent to $27.45 in morning trading despite any apparent news event. A pullback over the last month has returned the stock to its 50-day moving average, and some traders may now be buying the dip.
The company also seems to be in the midst of considering various takeover offers made last month, though one big sticking point has been reluctance to sell out by founder Ernst Volgenau. So today's bullishness could indicate that some investors expect a deal has been reached or is imminent.