Brokerage firms used to recommend a category of stocks called 'Income and Appreciation'. This concept remains valid. Below are four stocks with those characteristics. Each is an S&P 500 Dividend Aristocrat with a yield around 3%. Higher yields cause some investors to think that those companies do not take growth seriously. These yields give an optimum balance (blend) of yield and growth.
Coca-Cola (NYSE:KO)
After 125 years in the business, Coca-Cola is the world's largest beverage company, with consumers in more than 200 countries. Last year, KO acquired the North American assets and liabilities of Coca-Cola Enterprises (NYSE:CCE), the largest bottler in the world, to integrate five business components into a complete bottling and service operation. Over $350 million of operational synergies are expected annually over the next four years.

Coca-Cola operates two divisions: sparkling beverages (colas) and still beverages (types of water). Global sparkling beverage volume increased 5% in Q4 2010, with worldwide brand Coca-Cola volume up 4% driven by growth of 37% in Russia, 20% in Turkey, 10% in India, 8% in Brazil, 7% in South Africa, 5% in Japan, 5% in Mexico and 2% in France. Worldwide still beverage volume increased 9%, led by growth of juice drinks, sports drinks, teas and water brands. Still beverage volume in Q4 increased 11% internationally and 7% in North America. Minute Maid Pulpy, a beverage introduced five years ago, became the 14th billion dollar brand as Coca-Cola continues to expand globally.

Net revenue was $35 billion in 2010 and EPS was $5.06, with comparable EPS of $3.49 (excluding the CCE transaction)). Analysts expect EPS will rise 11% to $3.88 this year and are looking for a 10% increase to $4.27 next year. Quarterly dividends have been paid since the IPO in 1920. Last month the annual dividend was increased for the 49th consecutive year (one of the longest streaks for any company) to $1.88 providing a yield of 2.9%.

Coca Cola --- 10 years (Click to enlarge)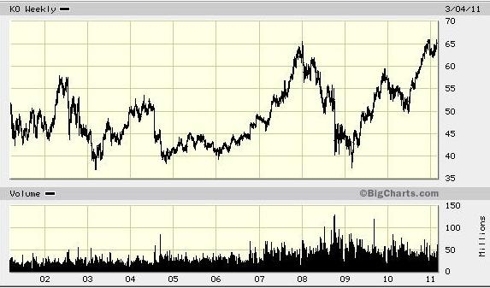 McDonald's (NYSE:MCD)

McDonald's (MCD) is the world's leading global foodservice retailer, with more than 32,000 locations serving 64 million customers in 117 countries, every day. More than 80% of the restaurants are owned and operated by independent owners. In 2010, sales rose 6% to a record $24 billion with positive comparable sales across all geographic segments in every quarter. EPS grew 11% to $4.58. McDonald's just reported softer-than-expected same-restaurant sales for February, up only 2.7%. U.S. sales account for about 35% of total revenue. In Europe, 40% of revenue, same-restaurant sales grew 5.1%, a second consecutive month of strong gains after a decline in December. Meanwhile same-restaurant sales rose 4% in Asia/Pacific, Middle East and Africa. In recent years Asia/Pacific-MidEast and Africa (APMEA) revenues have climbed the fastest.

In 2011 McDonald's will invest $2½ billion, roughly half to open 1,100 new restaurants, and the other half allocated to investing in existing locations. Analysts forecast EPS of $5.02 for this year and $5.50 next year on $27 billion in sales. Dividends have been paid since the IPO in 1976 and increased annually since then. The $2.44 dividend provides a 3.2% yield.

McDonald's --- 10 years (Click to enlarge)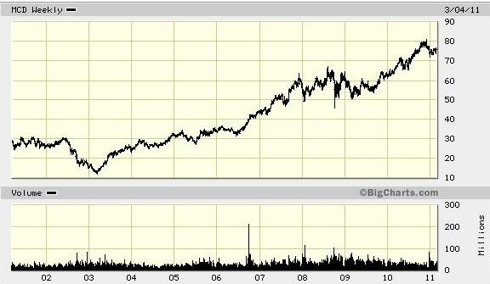 Clorox (NYSE:CLX)
Clorox (CLX) makes popular household brands with 88% of the U.S. brands holding a #1 or #2 market share. Clorox was founded in 1913, began paying dividends in 1968 and dividends have been increased annually since 1977. Its business model is building share brands in mid-sized categories globally.

Clorox anticipates improved performance in H2 of FY2011 (ending in June). For the fiscal year, Clorox guided sales of flat to 1% growth as it should benefit from recent market share gains and a new-product pipeline. Company guidance given for FY2011 is: Minimal sales growth, 25-50 basis points gross margin growth and diluted EPS from continuing operations of $4.05-$4.20 (above analysts' estimates of $3.95). Analysts forecast $4.43 for Fiscal 2012.

Clorox goals are (1) Double-digit profit growth, (2) Organic sales growth of 3-5%, (3) EBIT margin improvement of 75-100 bps and (4) Free Cash Flow of 10-12% of sales. After trading in the mid 60s, Carl Icahn bought a 9% position in Clorox last month, adding excitement to a low beta stock. On Tuesday, he announced he will return all the money managed for outside investors in his hedge funds, adding further confusion regarding his intentions for the Clorox investment. The company is considered well managed, it's unclear what he can do for Clorox. The $2.20 dividend provides a yield 3.2%.

Clorox --- 10 years (Click to enlarge)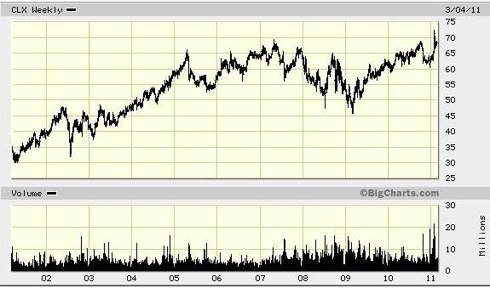 Bemis (NYSE:BMS)
Bemis (BMS) is a major global supplier of flexible packaging and supplies and pressure-sensitive adhesive coated materials used around the world. Bemis has 81 facilities in 13 countries

In 2010 it had record sales of $4.84 billion reflecting organic sales growth of 7% and acquisition related growth of 31%. Diluted adjusted EPS increased 14% to a record $2.12. The integration of Food Americas (acquired on March 1, 2010) was successfully completed. Bemis expects capital spending of $150 million in 2011 and depreciation of $215 million. Diluted EPS for 2011 is guiding $2.33-$2.48. Analysts are forecasting $2.40 this year and $2.68 next year. Annual dividends have been paid since 1922, 2011 marks the 28th consecutive year that the dividend has been increased. A 96¢ dividend provides a 2.9% yield.

Bemis --- 10 years (Click to enlarge)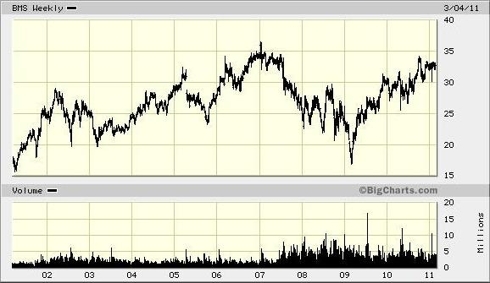 These companies have increased dividends for years. Their 3% yields (with growing dividends) give an excellent start on earning a desired rate of return. Their stocks have done well over the last 10 years when many major companies have floundered. Coca Cola stock has risen 30% while the others have pretty much doubled. These companies share common business themes of growing existing brands in developed countries and expanding rapidly in emerging markets. They have continued increasing dividends, even in the last three years when some prominent companies did not. With excellent records of returning money to stockholders from dividend and Treasury stock purchases, these stocks should be considered core holdings for long term investors.
Disclosure: I am long KO.
Sources:
www.thecoca-colacompany.com/investors/in...
www.aboutmcdonalds.com/mcd/investors.html
www.thecloroxcompany.com/
www.bemis.com/