Hudson City Bancorp (NASDAQ:HCBK) has gapped down twice so far this year, most recently on the announcement that its regulator may require it to reduce funding concentration and interest rate risk. Shares are now trading in the 10 area. The bank may need to raise capital. If past history is a guide, the announcement of a resolution to the capital issue will spike the shares.

Two Bank Recapitalization Announcements

Webster Bank received a capital infusion from Warburg Pincus, announced on 7/21/2009. More recently, Sun Bancorp (NASDAQ:SNBC) received an infusion from Wilbur Ross, announced on 7/8/2010. Here's how the share prices behaved: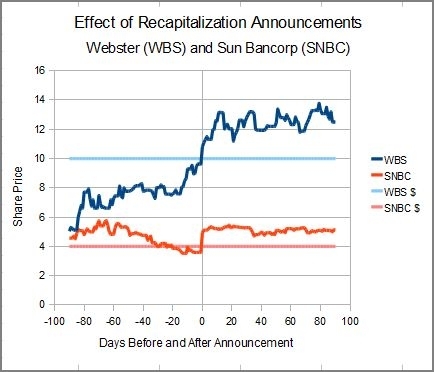 The results were swift and dramatic, an increase of approximately 20% from the share price at which the new capital was added, 4 in the case of SNBC, 10 for WBS. Whatever the problems were, the market had discounted the shares sufficiently that a resolution of the issue was good for a very quick rise of 20%.

Issues

Chuck Carnevale recently posted a very informative article on the situation, and there were many useful comments from readers. Rather than rehash the issues, this article moves past them to express an opinion about the future trajectory of share prices and ultimate valuation, based on reading the article and commentary.

Valuation

FBR Capital estimated the damage to TBV (tangible book value) at 1.50 to 2.10 per share. TBV stood at 10.85 as of the 4th quarter: reducing that by 1.80 and applying a multiple of 1.40, I develop a price target of 13, within two years. That requires a successful resolution of the capital issues and continued economic recovery.

Trajectory

Based on what happened with WBS and SNBC, an announcement might generate a gap upward of about 20%, most likely followed by a plateau until future earning power is demonstrated.

Strategy

Shares are optionable, to include LEAPS, with implied volatility at 46.4%. The HCBK Jan 2012 7.5 calls make sense to me as a way to play for a pop and limit downside risk. I sold covered calls at 11 in order to fund the time premium.

Disclosure: I am long HCBK, WBS.

Additional disclosure: I'm net long HCBK and WBS, by diagonal call spreads. No position in SNBC although I would be a buyer at 4.00.