The worldwide bull market for stocks turned two-years-old on March 9, 2011. And so far, there's been two meaningful corrections - one in 2009 and one in 2010.
Some in the media have suggested that the Dow might not experience any significant pullback ... like the way U.S. stocks behaved in 1995. Others believe that stock assets will get knocked for a major headache, but eventually stake a claim to new heights.
There is a third possibility. Commodity price inflation, real estate struggles, Middle East uncertainty, eurozone debt, rising interest rates and U.S. deficit woes collectively undermine faith in the toddling bull. After all, they don't call it the "terrible twos" for nothing!
In truth, it doesn't make sense to fall in love with any prognostication. Stocks may move sideways. They may climb the proverbial "Wall" of worry. Or the pressures may become too much to bear.
That said, there are several indicators with reasonable forward-looking track records. For example, in an October 2009 feature, "Chile ETF, Copper ETN: These ETFs Tell the Whole Tale," I explained why the bull was very likely to charge ahead; in part, copper prices and the iShares Chile ETF (NYSEARCA:ECH) had both been hitting 52-week highs.
I said it then and I will say it again: You can't have a major economic downturn unless copper, one of the world's most used metals, falters. And while copper can only give you a snapshot of the world's macro-economic picture, it's a view to a potential kill-shot for equities.
So here are a few tidbits that are worth considering. iPath Copper (NYSEARCA:JJC) closed at an 11-week low today, March 9, 2011. What's more, the last time that JJC closed more than 5% below its 50-day trendline was in late April of 2010. In fact, the time that JJC spent below its 50-day moving average almost perfectly corresponds with 2010's 15% stock market correction.
Click to enlarge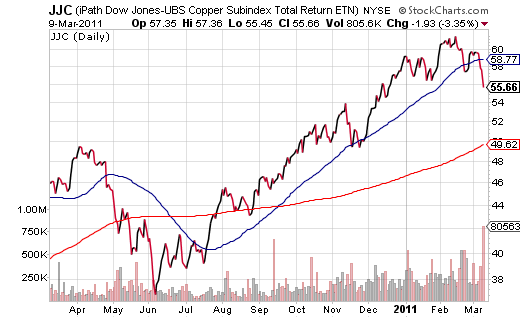 Okay, so what? Maybe stocks and commodities both sold off together in 2010. Why should you pay any attention to copper in 2011?
For one thing, there are whispers of China stockpiling. If the world's second largest economy doesn't need that much of the most popular industrial metal in existence, then the global economy may not grow as much as people believed that it would. What's more, lack of demand for copper can impact other economies.
Chile's economic success is largely dependent on world demand for copper. And if Chile's big picture is less clear, then the share prices of its corporations may become cloudy as well. Indeed, iShares Chile (ECH) is fighting off a possible downtrend, as its price currently resides below a long-term 200-day moving average.
Click to enlarge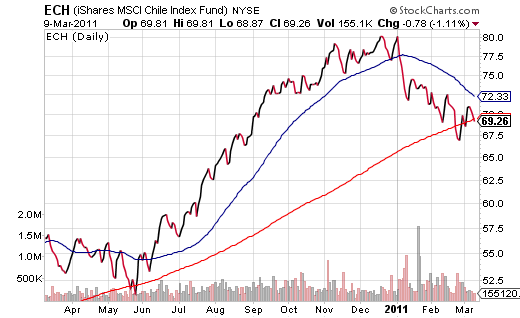 If three is a crowd, then the recent corrective activity for Global X Copper Miners (NYSEARCA:COPX) makes for a tight fit. Not only did COPX experience a drawdown of -10% on a month-over-month basis, but the fund has met resistance in its bid to reclaim its 50-day MA.
Click to enlarge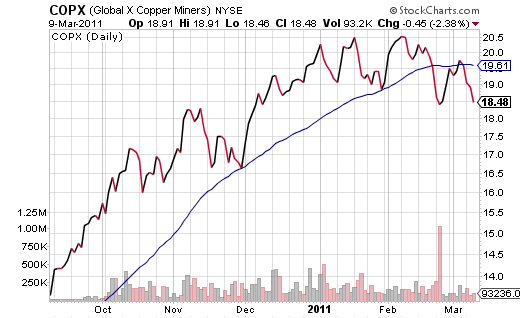 Dr. Copper - the metal with a Ph.D. in Economics - is not necessarily portending gloom. He may just be taking a moment to catch his breath after an Olympic-style sprint.
Similarly, Dr. Copper may prescribe a "breather" for stock assets. That wouldn't be such a bad thing, would it?
Disclosure: Gary Gordon, MS, CFP is the president of Pacific Park Financial, Inc., a Registered Investment Adviser with the SEC. Gary Gordon, Pacific Park Financial, Inc, and/or its clients may hold positions in the ETFs, mutual funds, and/or any investment asset mentioned above. The commentary does not constitute individualized investment advice. The opinions offered herein are not personalized recommendations to buy, sell or hold securities. At times, issuers of exchange-traded products compensate Pacific Park Financial, Inc. or its subsidiaries for advertising at the ETF Expert web site. ETF Expert content is created independently of any advertising relationships.