"When a country reaches a certain debt level, confidence in that country's ability to repay that debt becomes jeopardized," - Bill Gross
Yesterday, my friend Alex sent me this article detailing that Bill Gross of PIMCO, "The Bond King", has supposedly sold off all of his Total Return Fund's holding in U.S. Treasuries and has gone to a large position in cash.
In my opinion, this is a seriously important negative catalyst for the markets and I was hoping to start a debate among Income investors here on Seeking Alpha as to what this all means. For me, this is the equivalent of Warren Buffett announcing - as he did in 2008, just before the crash - that we were in an "Economic Pearl Harbor". After reading the article on Bill Gross, I started researching this a little further and found this amazing video which I missed yesterday.
After watching that video, it's important to take a realistic view and ask yourself, "What do I do now as an income investor? What happens to Treasuries when QE2 finally ends? Do I get out now and go short Treasuries as well as the US dollar?"
Obviously I find it very hard to imagine that there will be enough buyers to pick up the $600 billion void that will be left behind when the Fed stops their "Irrational Intervention". As an income investor, your principal is definitely at risk here. Do you combat that by investing in ETFs that short Treasuries, like ProShares UltraShort 20+ Year Treasury ETF (TBT), or go into ETFs that short the US dollar, like PowerShares DB USD Bear ETF (UDN)? But that would be a mistake if you get in too early and then the Fed starts QE3.
Below is a table from the article I linked to above: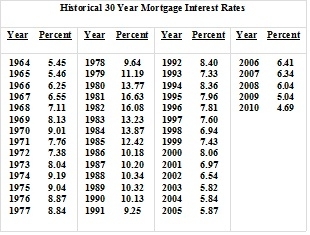 That table clearly shows that once interest rates start to go up, they tend to go up for years. So your principal on any long term debt maturities that you may own could continue to go down for years and that would neutralize any yield gain that you could have hoped for. On top of that, we will also have the U.S. dollar tanking as people pull their money out of Treasuries and search for other investments in a "flight to quality", which further erodes your principal.
But if all this happens, the question you need to ask yourself is, "Where will the standard flight to quality investments be found?" It may be in investing in foreclosed properties, but that is if you can get the loan to buy them in the first place. The way banks are lending money these days, you will need an 800 credit score, put 25% down and then have collateral as well to back it up, before a bank will even talk to you.
That then brings up another point. If banks are not loaning out their money, but instead are borrowing from the Fed, investing that borrowed money into Treasuries and then pocketing the spread, what happens to those bank investments, when Treasuries start to tank? Banks, which are known for making the wrong moves at the wrong time, will probably dump their holdings as well and cause further problems.
Because of its irrational intervention, the Fed is setting a bad example to others and is forcing everyone else to act like lemmings. When QE2 (3 or 4) eventually ends there will be no more buyers and the greatest Ponzi scheme in history will come to an end. The farther out the Fed kicks the can down the road, the greater the pain will be.
With the stock markets going up for two years straight with hardly any correction at all, we could see a large sell off in equities as well since the Fed is not allowing the markets to ever go down. In trying to combat the recession, they could eventually create a depression. When you are constantly running on credit and using additional credit to pay your previous bills, then you will get to the point where no one else will give you credit and thus you will not be able to pay your bills. Just as this nightmare scenario is happening at the state and municipal levels, it could someday happen to the Federal Government as well.
As for me I have invested in low priced to owner earnings investments that are already beaten down with a mixture of stock of strong dividend paying drug stocks that are priced as they are already bankrupt.
Here are some names of companies that I am using to protect my clients:
Bristol Myers Squibb (BMY)
International Business Machines (IBM)
Merck (MRK)
Microsoft (MSFT)
Cisco Systems (CSCO)
Intel (INTC)
Eli Lilly (LLY)
That list is my idea of flight to quality stocks that will survive no matter what happens. In quoting a friend, stocks like Johnson & Johnson (JNJ) and Procter & Gamble (PG) will be selling bandaids and Tide for generations to come, no matter what happens.
This is a dangerous world we live in and Bill Gross is not the type of person to normally take such drastic actions as those he is currently forced to take. We are entering a new world order where debt is rampant and where fiscal responsibility is nowhere to be found. We, as investors, have to think outside of the box just to survive. It's very hard to feel patriotic when your government officials are kicking the can of responsibility down the road to the next generation. Thank God there are people like Bill Gross in the world, who, as the American Indians say, "does not speak with a forked tongue" like our politicians and Fed officials do.