Bad news seems to be hitting Johnson & Johnson (NYSE:JNJ) from all angles these days, and much of it is wholly justified, but many fail to realize the long term reasons for holding this stock and buying more on weakness.
JNJ operates in the medical device, prescription pharmaceuticals, and consumer health products. It's an industry with many a setback but JNJ has been doing this since 1886 and has learned to deal with adversity. Listed below are some of the issues that JNJ investors need to be concerned with, but should not ultimately defer you from purchasing the stock.
Product Recalls
The Journal has put together a nice list of all of the recent recalls on the docket for JNJ. Yes, it is extremely disconcerting. The most recent developments are from subsidiaries, Animus (insulin pumps) and Cordis (factory in Puerto Rico in violation of FDA procedures). The Cordis issue is one factory of the more than 140 that JNJ operates. Medical devices due account for well over a third of total sales and recalls are indeed costly, but as it has been noted by JNJ execs, recalls are just part of the game. They're a part of many industries; look at Ford (NYSE:F) or Skippy peanut butter (NYSE:UL). Combined these three companies have been around for over 300 years, and I'll be damned if Skippy is not here 50 years from now (I don't really care if F-150's are here in the future).
Furthermore, the recalls are not as widespread as the public panic leads on. It's not like every single Tylenol and Motrin is being called back, it's a small segment. JNJ spends almost $7 billion a year on research and development. That's a lot of money going in a lot of directions and the chance of everything coming out perfect is very slim. Luckily the FDA is there to monitor this or many of these recalls could result in what is discussed below.
Lawsuits
It has become oddly vogue to sue JNJ or any number of their subsidiaries right now. As stated above, they have three different segments and are being sued often in regards to the top two. Even Tylenol, which falls in the consumer products segment, is currently subject to litigation. Seeger Weiss is also attacking the medical devices segment with a class action against DePuy Ortho who is JNJ's replacement hip subsidiary. DePuy is/was JNJ's largest earner in the medical devices segment. It's tough to predict how these types of things are going to work out; settlements, plaintiffs crawling out of the woodwork (since they have bad hips), long term litigation, jury awarded damages. The good news is that insurance will cover a large chunk of this and since this isn't news it should already be priced into the stock. The bad news is that this is pretty serious since DePuy president, David Floyd announced he was leaving a few days ago.
Products Coming Off Patent
JNJ is going to lose two of their big pharma names this year: Levaquin and Concerta. This represents approximately $2.7 billion in sales but this will not be totally lost. The drugs can go OTC and hope that the strength of their names carries over. Think Allegra (NYSE:SNY) which just went OTC last week; their name is up there in antihistamines and people will likely continue to buy it over generics. And these products will just be replaced with the next hot drug. As stated, JNJ spends a significant amount of money on research; with enough lines out you're bound to catch something.
The Good News
JNJ has a market cap of $165 billion, meaning they are one of the biggest companies in the world. Their earnings have not taken a big hit despite decreasing sales and diminishing margins. And who's to say if the drop from $64 to $60 is due to these negative announcements or the market as a whole. JNJ is on the DOW so it's going to move with the rest of them most of the time. The price did fall below the 50-day moving average without so much as a how do ya do; but there has been some support at $60, with the exception of one day at the end of February. Their next earnings is in a little over a month and could certainly create some waves but if I were you, I would buy now, and if the earnings are bad, buy more.
click to enlarge image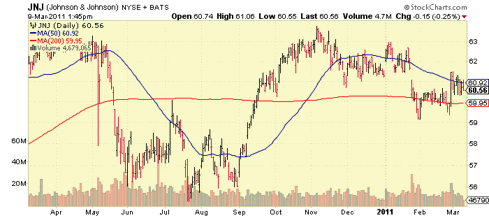 Click to enlarge
The biggest reason for owning JNJ is of course, the dividend. Their current payout ratio is 44% meaning that the dividend is sustainable. This mini-selloff has risen the yield to 3.6%. The next one comes payable on the 15th (a terrible choice of dates from a Shakespearian perspective) and you can bank on it rising afterwards. JNJ has been increasing its dividend for nearly half a century, so we can be 100% sure that the 54 cent dividend is going to go up.
This streak puts them in the top 15 companies for current dividend increases. I would guess it's going to 57 or 58 cents next quarter which would bring the yield to 3.77% to 3.84%. It would be prudent to lock in this rate now and let the re-invested dividends do their work for the next quarter-century or so.
With all of that being said, bring on the bad news, it opens up buying opportunities for long term investors and will decrease my price point when the March 15th dividend pays out.
Disclosure: I am long JNJ.