Structure depends on strategy; strategy is determined according to events
-- Sun Tsu / Cao Cao, The Art of War
While Oclaro (NASDAQ:
OCLR
) didn't do anything wrong yesterday, it was convicted just the same of being guilty by association. While the punishment was not as harsh for OCLR as it was for Finisar (NASDAQ:
FNSR
), things may be dicey for investors of OCLR until the earnings release that is
expected April 25
th
.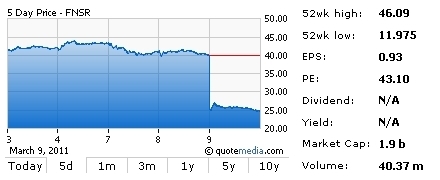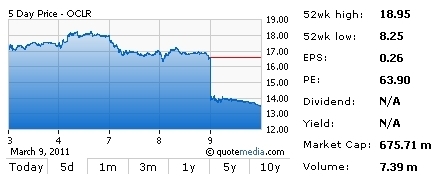 As for Finisar, the network and storage area component producer, it committed one of the worst crimes a company can commit on Wall Street. After building up hopes for continued light-speed growth, it guided lower than expected. Some traders are happier than others about the sharp fall off in price. FNSR
last reported
about 10% of its stock float as being shorted.
The
short interest
was almost as high for OCLR. The next question to ask about short interest is: Did the shorts cover near the opening of trading Wednesday, fueling the initial move higher-- or did more shorts pile on, pushing the price back down to the lows of the day when the trading day ended? Relatively speaking, the price is getting close to $22.24, which is the simple 200-day moving average. At a price of $25 a share, shorts could be thinking that they may be able to push the price down to test the 200-day moving average or that it is time to start covering. With such an extreme windfall, I tend to believe the latter is the more likely event.
To me, Wednesday's price action looked more like bargain hunters that became skittish along with prior investors that just simply could not take the pain any longer with fear of lower prices setting in. The earnings report, while bad, was maybe not all that bad. Let's take a look at the numbers:
Revenues were a record $263 million, which exceeded the revenue guidance of $247-262 million. There is no big surprise there, as companies usually try to under-promise and over-deliver.

The revenue resulted in a bottom line number of non-GAAP earnings of $.47 per diluted share. This too was a record amount for FNSR, and so far so good.

Cash balance at the end of the quarter is above $300 million, and again, this looks good.

Gross margins are up slightly from last year during the same period (up to 32% from 31% last year).
Now the bad news:
For the fourth quarter, FNSR expects revenue to be in the range of $235-250 million. Operating margin is expected to be between 13 and 15%, compared to the street estimate of about $267 million.

With the increased dilution of shares from debt to equity, the non-GAAP earnings are expected to be between $.31 to $.35 per share. This compares to the street estimate of $.48 per share. There is simply no way to get around that kind of miss, and investors scrambled to get out of what must have felt like a house of horrors at an amusement park (only a lot more expensive).

Both FNSR and OCLR showed very little ability to attract new investors and the price of both stocks closed near the low, with both companies trading in after hours at or below the low of the day. Perhaps the street has it wrong, and maybe both companies have been sold off more than they should. For one thing, OCLR, while not suffering as severe of a selloff as FNSR, may not report as bad, and this could lead to a very attractive bounce in price now that expectations are so low. Regardless of the numbers, I suspect that accountants working at OCLR will be working overtime trying to window-dress the earnings report in any legitimate way they can, lest they suffer the fate that FNSR did today. What I find interesting is that not long ago I was short JDSU, as I believed the price of the stock to be higher than what the company justified.
Click to enlarge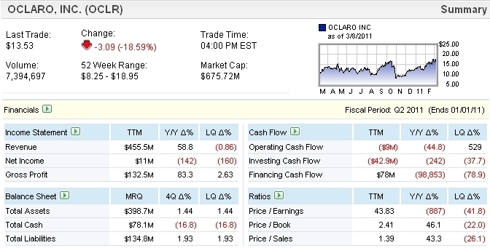 Reading over the reported earnings, I found some interesting information:
"We achieved new company records for quarterly revenues, non-GAAP operating income and non-GAAP net income during the quarter. Our revenues for WSS/ROADM line card products grew 22.7% from the second quarter," said Eitan Gertel, Finisar's Chief Executive Officer. "We continue to execute on our new product development programs, including tunable XFP, to generate a significant pipeline of products, which we expect will enable us to win new opportunities with customers and expand our market share."

(FNSR Financial Highlights)


"Subsequent to the end of the quarter, Finisar exchanged an aggregate of an additional $17.8 million of the notes for approximately 1.7 million shares of the company's common stock, based on the conversion price of the notes of approximately $10.68, plus a total of about 75,000 additional shares, which included about 8,000 shares issued in payment of accrued and unpaid interest. After such additional exchanges, there was approximately $40.0 million in principal amount of the notes remaining outstanding. Under Finisar's $70.0 million secured credit facility with Wells Fargo Foothill, LLC, no borrowings were outstanding and $66.6 million was available to borrow at the end of the third quarter."
I use a proprietary blend of technical analysis, financial crowd behavior, and fundamentals in my short-term trades, and while not totally the same in longer swing trades to investments, the concepts used are pretty similar. Based on my criteria, I have come to the following conclusion:
I am now turning my bias long, as I believe the sell-off may be overdone and offering an opportunity. Looking at the option premium for both
FNSR
and
OCLR
, it is no small wonder that the implied volatility shot up higher Wednesday – so high, in fact, that if an investor was already looking at buying either OCLR or FNSR believing that the worst has been priced in selling put options for either March or April, expiration may make more sense. The upside is limited to the option premium, but it is my experience that after a kick in the head like these two stocks took yesterday, it takes a few days to recover anyway. Also, writing puts has lower risk than buying the stock outright. Another combination that I am currently exploring is doing both. I am currently bidding for stock and will be looking to offer out put options. OCLR probably has the best chance of quickly moving higher. If OCLR reports better than expected earnings after being kicked around, it could really fly higher.
Disclosure:
I have no positions in any stocks mentioned, but may initiate a long position in FNSR, OCLR over the next 72 hours.