The bloody drug war in Mexico clouds an otherwise growing economy.
Mexican GDP was up 5.5% in 2010 and is expected strong this year. Many emerging markets are caught between high food and energy inflation and the threat of higher interest rates. Not Mexico. Its inflation rate, at 3.8%, is unchanged from mid-2010 when the commodity rally started. Early action by the central bank curbed demand and hurt GDP by 8% in 2009.
But as a result, the country has better growth prospects now than its high-inflation neighbors. Government austerity after the 1994 Ppeso crisis cut national deficits and debt, leaving it well-positioned when the 2008 crisis hit.
Señor Mulroney's legacy has also helped. Car exports, at 500k/yr, are above pre-2008 levels. Global firms like VW and Nissan are expanding operations to NAFTAccess the US market.
The iShares Mexico ETF (
EWW
), with 46 names, is heavy on domestic consumption. Cellphones, Walmart (
WMT
), Coca-Cola (
KO
), and TV make up 55% of the ETF. Unlike the Brazil ETF (
EWZ
), EWW has little commodity exposure. Groupo Mexico, a big copper miner, makes up 7% of EWW. Oil major PEMEX is a cash-cow, but completely state-owned.
With the emerging market rally maturing, we are becoming more selective, looking for individual markets like Mexico which offer better potential returns.
click to enlarge images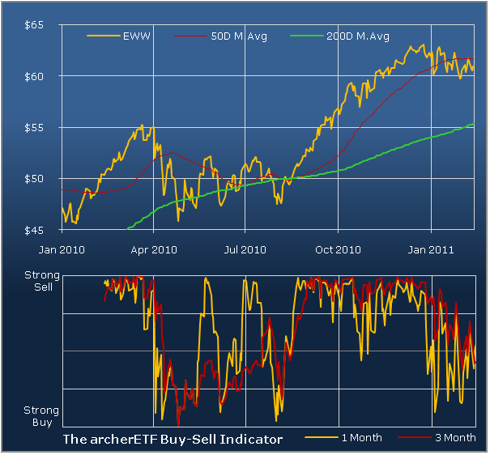 | archerETF Metrix | EWW |
| --- | --- |
| Category | EM Markets |
| Benchmark | MSCI Mexico Investable |
| Total Holdings | 46 |
| 52 Week High | $63.04 |
| Recent Price | $60.92 |
| 52 Week Low | $45.82 |
| Avg Daily Volume | 2.57 Million Shrs |
| Avg Daily Volume ($) | $156.58 Million |
| Total Market Cap | $1.55 Billion |
| ETF Annual Fee | 0.53% |
| ETF Trading Currency | USD |
| ETF FX Exposure | MXN PESO |
| Annual Volatility | 36.46% |
| Correlation to S&P 500 | 83.48% |
| Return to Risk Ratio | 192.16% |
| Use of Leverage | No |
| Use of Futures | No |
| 6 month Return | 28.09% |
| 1 Year Return | 20.14% |
| 2 Year Return | 170.98% |
| 3 Year Return | 17.93% |
| Dividend Yield (TTM) | 0.89% |