On March 2, Northern Oil and Gas announced (.pdf) (NYSEMKT:NOG) 2010 fiscal year and fourth quarter results. The oil and natural gas exploration and production company saw Q4 EPS jump 333% to 13 cents along with record production volumes and record reserves.
So why have shares been trading lower since? Has the market lost confidence in the oil exploration company? Not a chance.
Investors Business Daily continues to rank the firm among the market's best stocks by measuring a company's key characteristics like earnings growth, profit margins, share price performance and other traits. As of this report, the publication continues to list Northern Oil and Gas as an IBD 50 stock, along with other domestic explorers like Concho Resources (NYSE: CXO) and Whiting Petroleum (NYSE: WLL).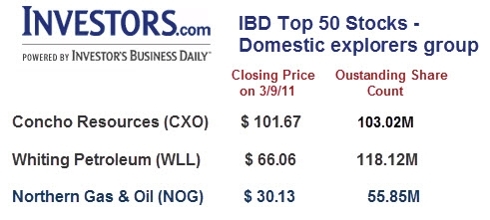 click to enlarge
Our bullish sentiment towards the stock continues and we feel confident that shares will continue trending higher from these levels - especially when investors consider that Northern Oil and Gas has outperformed 90% of the other stocks in the market in terms of earnings growth.
While the stock continues being priced within a strong uptrend, during the past few days, shares have traded lower after experiencing some profit taking -- the same type of action we've observed during the past couple of years after earnings announcements.
Now, investors should take note that from both a technical and fundamental standpoint, we believe prices are due for their in-channel trend bounce (see chart).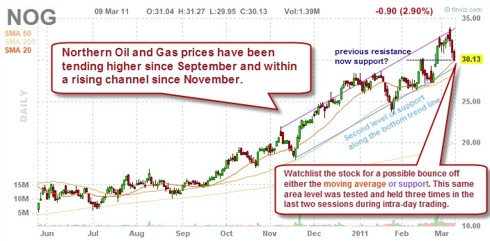 Consider also that the stock market's reaction to surging oil prices has so far been far more muted than in 2008, the first time oil topped $100 a barrel. With crude prices increasingly comfortable atop $100 a barrel, Northern Oil investors should also note the sentiment expressed while Exxon Mobil (NYSE:XOM) executives were speaking to analysts Wednesday in New York. That company said they aim to pump more money into finding oil.
According to industry experts, Exxon has been outpaced by a lot of smaller, independent companies willing to take bigger risks, while Exxon's more conservative strategy is yielding only modest production growth of 3% to 4% this year.
Northern Oil is very well positioned to take advantage of these market conditions and some of their own rare opportunities. This quarter alone (.pdf), the company expects to spud approximately 10.6 net wells and they have reaffirmed their previous guidance of 36 net wells expected to be spud during 2011. The first quarter expectations would represent a nearly 80% increase in net wells since during the fourth quarter of 2010, production was added from an additional 5.85 net wells.
In addition, Northern Oil reaffirmed their guidance (.pdf) to produce an average of 6,500 barrels of oil equivalent per day in 2011. That marks a 25% production increase given that the company exited the fourth quarter of 2010 with production volumes of approximately 5,204 BOE per day.
Northern Oil has maintained a 100% drilling success rate in the Williston Basin Bakken and Three Forks trends since the company's inception and perhaps more importantly, going forward, they continue to develop its core Bakken and Three Forks acreage positions at an accelerating pace. According to the North Dakota Industrial Commission, approximately 168 rigs are currently drilling in the North Dakota Bakken and Three Forks plays, up from approximately 99 rigs drilling last year at this time. The significant rig increase in the play continues to accelerate the development of Northern Oil's core acreage position.
Based on current, yet, evolving conditions in the field, Northern Oil expects to deploy additional funds toward further strategic acreage acquisitions during 2011. Northern Oil currently expects to fund all 2011 drilling commitments using cash-on-hand, cash flow and its currently undrawn credit facility.
These are some of the reasons why institutional and mutual fund investors have been net purchasers of the company's shares over the last two quarters. Smart money clearly believes there's more upside to the stock as institutional investors have been net buyers of 11.0M shares during the most recent quarter vs. 1.8M net shares purchased in the previous quarter. Further, we expect those holdings to increase again next time filings are revealed.
SmarTrend News Watch also has Northern Oil listed at the top of the five companies in the Oil & Gas Exploration & Production industry with the highest enterprise value (EV) to sales ratios. EV/sales gives investors an idea of how much it costs to buy the company's sales and the lower the ratio, the more undervalued the company is believed to be.
Disclosure: I have no positions in any stocks mentioned, but may initiate a long position in NOG over the next 72 hours.