The market continued to trade in a sideways fashion Wednesday as the broad index, S&P 500 (SPY) finished the day flat. Historically, when the market trades in a tight range, particularly over the short-term, the more violent the move is outside of the range.
There are several large gaps that have yet to close in several of the major market indexes, so I am leaning towards a sharp downside move, but of course it truly doesn't matter to the High-Probability, Mean-Reversion strategy. The strategy doesn't care about how the market performs, that is, until an extreme overbought/oversold reading occurs. It is really quite simple. The performance speaks for itself.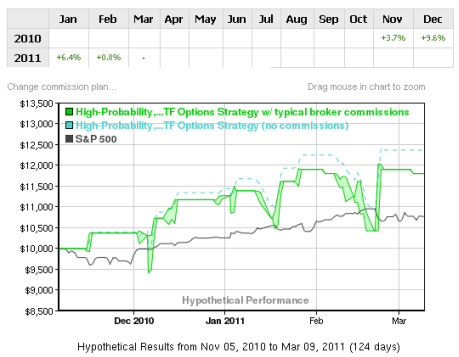 Chart courtesy of Collective2.com.
Short-Term High-Probability, Mean-Reversion Indicator – as of close 3/08/11
Benchmark ETFs
* S&P 500 (SPY) – 51.8 (neutral)
* Dow Jones (DIA) 56.8 (neutral)
*Russell 2000 (IWM) – 53.0 (neutral)
* NASDAQ 100 (QQQQ) – 39.7 (neutral)
Sector ETFs
* Biotech (IBB) – 72.5 (overbought)
* Consumer Discretionary (XLY) – 54.4 (neutral)
* Health Care (XLV) – 66.1 (neutral)
* Financial (XLF) – 57.3 (neutral)
* Energy (XLE) – 37.3 (neutral)
* Gold Miners (GDX) – 38.8 (neutral)
* Industrial (XLI) – 53.4 (neutral)
* Materials (XLB) – 36.1 (neutral)
* Real Estate (IYR) – 53.8 (neutral)
* Retail (RTH) – 58.1 (neutral)
* Semiconductor (SMH) – 26.4 (oversold)
* United States Oil Fund (USO) – 72.6 (overbought)
* Utilities (XLU) –80.6 (very overbought)
International ETFs
* Brazil (EWZ) – 49.2 (neutral)
* China 25 (FXI) – 80.6 (very overbought)
* EAFE (EFA) – 46.5 (neutral)
* South Korea (EWY) – 61.7 (neutral)
Commodity ETFs
* Gold (GLD) – 63.2 (neutral)
Ultra Extremes
* Small Cap Bear 3x (TZA) – 45.0 (neutral)
* Small-Cap Bull 3x (TNA) – 51.9 (neutral)
* UltraLong QQQQ (QLD) – 38.9 (neutral)
* Ultra Long S&P 500 (SSO) – 51.4 (neutral)
* Ultra Short S&P 500 (SDS) – 46.9 (neutral)
* UltraShort 20+ Treasury (TBT) – 48.7 (neutral)