Company Overview
Becton, Dickinson & Co. (NYSE:BDX) is engaged in the development, manufacture and sale of medical devices, instrument systems and reagents used by healthcare institutions. However, BDX is better known for having built an empire in the needle and syringes business. The Company has provided investors with robust return on capital for years, mainly because of management's dedication towards efficient deployment of capital. As a result, average EPS growth over the past 10 years has been 13.9%.

Investment Thesis
This neutrally ranked stock is a good selection for most investors. The yield is decent (trading around 2.0% yield), and long-term capital appreciation potential is well-defined. More importantly, 2011 growth expectations of approximately 5% organic growth on the top-line and 10% in EPS leave the stock more or less fairly valued at the current multiple. Finally, a lowered three year growth outlook will work to set expectations more appropriately, which is a positive. However, near term challenges remain.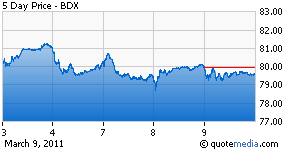 We are worried that management will not meet the guidance for the remainder of FY11 and FY12. We believe that there is evidence that points out BDX's lack of sustainability in its revenue guidance. (6% top line growth rate into FY12). BD pointed to several drivers of a growth inflection through FY11, including (i) stronger growth from pharmaceutical systems, which faced a tough comp in FY1Q11 (FYE in Sept.), (ii) launch of new pen needles in the back half of FY11, and (iii) launch of BD MAX in CY3Q11. However, we are less confident of the company's ability to drive a revenue inflection, and we now project 5% organic sales growth in FY11, 1% lower than guidance. Over the long term, the company's ability to drive solid mid-single digit sales growth once it anniversaries FY10-11 comparable issues is important to the multiple.

We believe that these events have given us opportunity to purchase BDX at a discount to its normal trading valuations.

Our 1-Year Price Limits
| | |
| --- | --- |
| Buy at | $78.8 |
| Fairly Valued at | $88.5 |
| Sell at | $96.2 |

* Our review price is set to $67.95.

Valuation [click to enlarge]




Key Value Drivers
New product cycle in flow
Disciplined capital deployment from buybacks
Insulated business with #1 or #2 position in most major markets

Risks
Waning growth drivers with safety penetration high in the US and Biosciences slowing
Unclear opportunities for mix upgrades
Rise in raw material costs add uncertainty to numbers.
Resurgence of USD


Disclosure: I am long BDX.