The long wait is over for Human Genome Sciences (HGSI), partner GlaxoSmithKline (NYSE:GSK) and investors of both companies as the FDA announced on Wednesday that Benlysta has been granted approval for the treatment of lupus.
The decision had been pushed back by three months from the original decision date of December.
Aside from being a huge milestone for Human Genome, it's also a historical marker for medicine as Benlysta becomes the first FDA approved drug for lupus in over fifty years.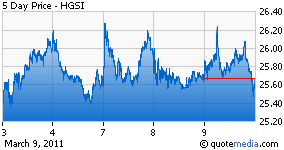 It has been generally assumed that the FDA would grant approval for Benlysta, but there were some concerns about whether there would be restrictions placed on the label that would inhibit the huge sales potential of the product, which is projected to take in over a billion dollars on an annual basis in just a few years time.
That turned out not to be the case, as the only labeling restriction in place, according the press release issued by the company, will read as follows:
The efficacy of belimumab has not been evaluated in patients with severe active lupus nephritis or severe active central nervous system lupus, and has not been studied in combination with other biologics or intravenous cyclophosphamide. Use of belimumab is therefore not recommended in these situations.
It should be off to the races for Benlysta, as previous comments made by Human Genome have indicated that the product is ready to hit the streets by later this year.
That bodes well for long time shareholders of HGSI who are still along for the ride, and also for those suffering from lupus who now have a new option for treatment.
Those who might have been waiting on the sidelines until a Benlysta decision was announced may find themselves chasing the price upon Thursday's market open, but there have been some instances over the past year of stock actually dropping during the immediate trading days following positive approval news.
If that's the case, then that could be a good time to jump in.
Congrats to those that have followed HGSI from its days trading for under a buck - it's always good to see a great success story.
Disclosure: I have no positions in any stocks mentioned, and no plans to initiate any positions within the next 72 hours.