The crisis in Libya has put a number of market sectors in focus as of late as oil prices have surged to levels unseen in several years. With the economic recovery still in a fragile state, some are growing increasingly worried that the high prices for crude could sink global markets and push the world back into a recession. While the recent events have impacted all nations around the world, the crisis has severely impacted the Italian market due to the country's historic and economic ties to the area, putting Italian equities under the spotlight.
Libya was once a colony of Italy and now the African nation exports close to two-fifths of its oil across the Mediterranean to the Italian peninsula. Due to this, investors should not be surprised to find out that the Italian stock market has been hit hard and that events in the region are having a particularly large impact on the country's securities.
On top of that, one of the country's largest companies, Eni Spa (NYSE:E), is scheduled to report earnings today, hopefully clarifying the Italian market's precarious situation. This earnings report looks to be especially important given the company's operations which include oil and gas production across Italy and the broader Mediterranean as well. In total, the mega-cap firm has operations in over 70 countries with operations stretching across multiple segments including; exploration and production, natural gas, power markets, and engineering.
Investors expect the company to report earnings of $1.3 a share, a decent increase from the past quarter in which the Italian giant reported earnings of $1.21 a share. While this bottom line figure is likely to be important to investors, the real volatility will come from the company's report on the situation in Libya. Eni SpA currently has 13 mining permits in Libya and produces just over 300,000 boe/day (48% of which were liquids). The company also has a natural gas pipeline that connects Libya to Sicily in order to bring in this popular cooling and heating fuel from Africa into Italy. However, this pipeline has been shutdown in recent weeks, forcing the country to look for supplies in countries such as Russia or Norway. News on further disruptions from either of these projects or the prospects of longer-term issues could weigh on the stock since Libya represents a very close source of fuel for the company and one that is unlikely to be easily replaced in the short-term.
Thanks to ongoing conflict in the region and the important earnings report from Eni SpA, investors should look for the iShares MSCI Italy Index Fund (NYSEARCA:EWI) to remain in focus throughout Thursday's trading session. EWI, which tracks the MSCI Italy Index, offers its top allocation to the in-focus Eni SpA, a company that should be able to offer guidance not only on the Libyan situation but on the broad Italian economy as well, thanks to its near 20% weighting in EWI and its market cap which is now approaching $100 billion.
Should the important oil and gas giant be able to soothe investor fears regarding both its current earnings report and the situation in Libya, the stock and EWI could advance sharply on the day. If, however, the Libyan situation remains tense or if Eni SpA fails to deliver on its earnings report– or warns investors about future production output– it could spell a rough day not only for the company, but for the broader Italian stock market as well, putting investors in the indebted country on notice for Thursday's trading session.
click to enlarge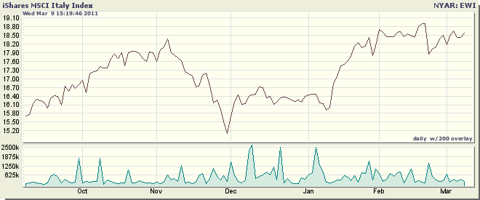 Disclosure: No positions at time of writing.
Disclaimer: ETF Database is not an investment advisor, and any content published by ETF Database does not constitute individual investment advice. The opinions offered herein are not personalized recommendations to buy, sell or hold securities. From time to time, issuers of exchange-traded products mentioned herein may place paid advertisements with ETF Database. All content on ETF Database is produced independently of any advertising relationships.