One of the many ironies of markets last year was the extent to which inflation occupied investors' attention, despite its near universal absence. While inflation has recently accelerated in emerging markets and a few developed ones – the UK and Singapore, for example – by and large, inflation was and is still largely absent in the developed world. In mid-2010, inflation in OECD countries hit a record low of 1.60%, while U.S. core inflation, which excludes food and energy prices, bottomed at 0.60%, the lowest reading since records began back in 1957. Yet, record low inflation did not stop investors from worrying about it. Last year gold and silver gained 30% and 83% respectively.
So far in 2011 gold has taken a bit of a respite and is relatively flat. However, silver's run continues with the metal up more than 20% so far year-to-date. While investor demand has certainly been a strong driver, part of this outperformance can be attributed to the fact that silver, unlike gold, has industrial uses, with roughly 50% of demand coming from industry. As the global economy has continued to recover in 2011, silver has benefited from increasing industrial demand.
While silver's inflation hedging properties and leverage to a recovering global economy help make it an attractive investment, the good news appears to be in the price. Over the past 40 years silver has typically traded at around 1/55th the price of gold. Today the ratio is down to 1/40th, making silver more expensive relative to gold than at any point since 1981. Over the past 30 years, when silver prices have been close to this level relative to gold, silver has typically peaked. While we like silver as a long-term play, we would prefer a better entry point.
Gold and Silver Relative Price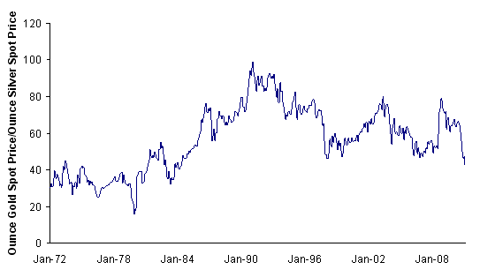 Source: Bloomberg 2/28/11