By David Russell
Sprint Nextel (NYSE:S) has been riding a bullish wave in recent weeks, and investors continue to look for more upside.
Our Heat Seeker tracking system shows a heavy concentration of call buying in the mobile-phone carrier, which has been treading water for the last year. The activity is a continuation of a pattern that began on Feb. 23 when investors snapped up the May 4.50 calls for $0.20 to $0.23 and the May 5s for $0.08. The shares have been climbing since, and those calls have now appreciated by more than 100 percent and 250 percent, respectively.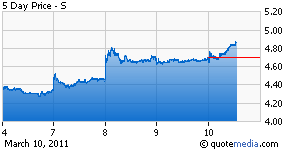 Today traders purchased more than 20,000 May 6 calls for $0.08 against open interest of just 3,751 contracts. The May 5s and April 5s are also seeing buying activity, though volume remains below open interest in the strike. Overall calls have outnumbered puts in the name by a bullish ratio of 7 to 1 so far today, according to the Heat Seeker.
The shares are up 2.77 percent to $4.83 in early afternoon trading. They got a shot in the arm on Tuesday after Reuters reported deal talk involving Deutsche Telekom (OTCQX:DTEGY), but there are other positive factors supporting the stock.
For instance, Sprint's last earnings report on Feb. 10 showed subscriber growth for the first time in three years, and the stock trades at a discount to book value. There has also been a bullish trend developing for more than a year in the pre-paid wireless space as customers gravitate away from traditional contract-based carriers.