With some sharp pullbacks as of late, this is a great time to reload as we believe that market conditions are setting up for a nice rally rather than more losses. Oil is declining once again and the market is adjusting, and we had a round of economic news that was not great but comes in the middle of a lot of positive news throughout the world. Further, we are at the end of all earnings, and now, traders/investors will be looking to enter stocks that have sold off, given up gains, and are setting up for a nice rally into the next quarter.

Here are some stocks we like right now that we are watching and/or going to pull the trigger on soon:


Bank of America (NYSE:BAC) - After a bullish announcement on Wednesday that the company was looking to support dividends, share buybacks and refocus on its consumer, the stock over the past two days have given back all of its gains. Yet, Bank of America is looking quite strong right now. The company is moving right along its 50-day SMA, and that is pointing up. The stock has a nice upward trend that it has had for the past four months, and we believe this company should have a nice movement up from its current pullback as soon as the market recovers. Buying this stock at the beginning of any green day can pay off well, and it looks to be a nice swing trade with the ability to move to 15 in the next two weeks.

Click to enlarge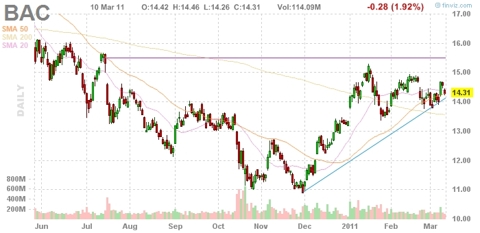 Click to enlarge

Freeport-McMoran (NYSE:FCX) - This major copper producer has been hit hard recently by woes in the materials sector. The stock has moved down significantly and has broken support as of recently. Yet, this stock could make a huge move on any day when copper prices decide to recover. We would not recommend any entry on this until we see copper prices make a recovery, but as soon as copper prices show a tick up, buyers will definitely be willing to load back up on FCX. The stock's fast stochastics have been scraping the bottom for weeks now, and it definitely is time for a recovery. Wait until you see copper prices tick up, and get into FCX.

Click to enlarge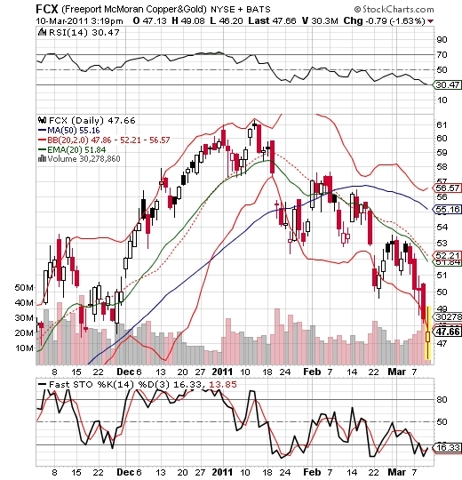 Click to enlarge

Rue21 Inc. (NASDAQ:RUE) - This is a good looking earnings trade that is setting up right now. RUE was one of the hottest retail companies of 2010, and it is an expanding company. They are looking to open over 100 new stores in 2011, and increase the size of the company by 20%. Earnings are due out at the beginning of next week, and the stock may be setting up for a nice mid-term trade into earnings. The company is expecting to see EPS growth from 0.36 to 0.43. The company has had solid earnings beat for each quarter, and the retail sector has shown strong earnings throughout this season. If the market does not cooperate, then this trade will not work, but if you see a nice green day tomorrow or at the beginning of next week, RUE makes for a nice trade for a quick 2-3%.

Click to enlarge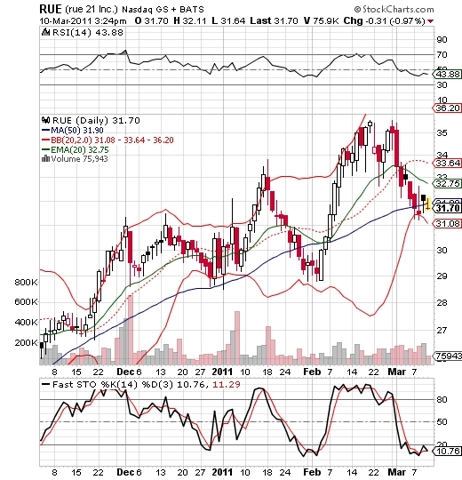 Click to enlarge

Disclosure: I have no positions in any stocks mentioned, but may initiate a long position in RUE, FCX, BAC over the next 72 hours.