Analysts like Bob Doll at Blackrock believe that U.S. economic growth will accelerate, with GDP likely to come in at a vibrant 3.5% for 2011. Economists polled at the Economist Intelligence Unit may be a little less enthusiastic, but they have raised their forecasts from 3.0% to 3.1%.
So here's my question: If the U.S. economy is accelerating, then why are the majority of economically sensitive sector ETFs experiencing near-term downtrends? Specifically, Technology (NYSEARCA:XLK), Materials (NYSEARCA:XLB), Industrials (NYSEARCA:XLI) and Financials (NYSEARCA:XLF) are all below respective 50-day trendlines.
It is true that a few cyclicals have managed to hold up. Both Consumer Discretionary (NYSEARCA:XLY) and Energy (NYSEARCA:XLE) remain above individual short-term moving averages. However, when the strongest segments are the safer haven plays like Health Care (NYSEARCA:XLV), Utilities (NYSEARCA:XLU) and Staples (NYSEARCA:XLP), investors may need to rethink the viability of the "recovery-to-expansion" thesis.
Sector ETFs Above and Below 50-Day Simple Moving Average (3/10/11)
Approx % Above or Below
Utilities Select Sector SPDR (XLU)
1.9%
Energy Select Sector SPDR (XLE)
1.0%
Health Care Select Sector SPDR (XLV)
1.0%
Consumer Staples Select SPDR (XLP)
1.0%
Consumer Discretion Select SPDR (XLY)
0.9%
Industrials Select Sector SPDR (XLI)
-0.4%
Financials Select Sector SPDR (XLF)
-1.0%
iShares Dow Jones Telecom (NYSEARCA:IYZ)
-1.4%
Technology Select Sector SPDR (XLK)
-1.9%
Materials Select Sector SPDR (XLB)
-3.9%
Granted, we could easily blame unforeseen events in the Middle East. Indeed, we could lay stock market woes at the feet of a barrel of crude oil. On the other hand, that would be dismissing the adverse impact of the "real economy."
What do I mean? Well, for one thing, unemployment sure isn't 9%. The "U6″ measure of 16.7% includes marginally attached workers as well as those who have stopped looking. And as Anthony Mihaydari at MSN Money explained vis-a-vis seasonality, unemployment may be as high as 22%. Bob Doll may be correct in his prediction that the U.S. economy will create 2-3 million jobs this year, but right now ... lackluster job growth is as dangerous as $100 oil.
Another reality? Our economy is highly interconnected with every other. Southeast Asia's inflation is our inflation; the eurozone's sovereign debt catastrophe is our crisis too.
In fact, I made the argument in early February that decoupling stock markets are temporary, and that the emerging markets will determine the fate of U.S. stock ETFs. Judging by the trouble Vanguard Emerging Markets (NYSEARCA:VWO) has experienced below its 50-day trendline since I wrote the piece, I'd say that the "recoupling" may already have occurred.
Click to enlarge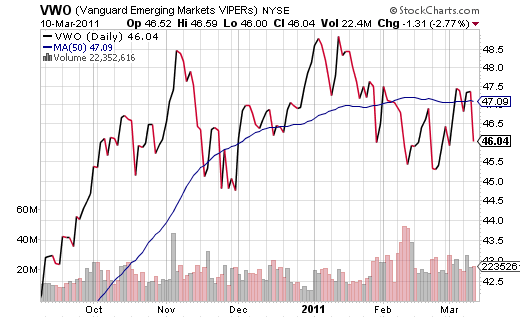 True, there are those who believe the market will catapult, if and when Gaddafi is removed from power. Yet I think the stock markets may demand a little more, including: (1) better employment data, (2) a pick-up in copper demand, and (3) evidence that commodity price inflation doesn't squeeze the life out of profit margins.
Disclosure: Gary Gordon, MS, CFP is the president of Pacific Park Financial, Inc., a Registered Investment Adviser with the SEC. Gary Gordon, Pacific Park Financial, Inc, and/or its clients may hold positions in the ETFs, mutual funds, and/or any investment asset mentioned above. The commentary does not constitute individualized investment advice. The opinions offered herein are not personalized recommendations to buy, sell or hold securities. At times, issuers of exchange-traded products compensate Pacific Park Financial, Inc. or its subsidiaries for advertising at the ETF Expert web site. ETF Expert content is created independently of any advertising relationships.