Most investors would probably agree that today (March 10) was a pretty rough in the markets -- biggest drop in the Dow since August and worse drops in emerging markets.

Spain's credit rating was dowgraded by Moody's. The ECB and EU ministers are torn between anti-inflation measures and bail-out programs for Portugal and some other EU countries that are in debt and fiscal difficulty. China reported a trade deficit for February which was the largest in 7 years (nearly $8 billion versus an expectation of nearly ($5 billion). US military intelligence projected a win for Libya's dictator. Reports were received of shots fired by Saudi police to disperse a crowd of protesters. If Saudi Arabia falls apart, look out below for stocks.

On March 7, we published saying that risks abound, but the up trend was still in place -- that it ain't over 'til its over.

On March 9, we published an article saying that we were positioned as bulls, but beginning to feel like bears.

Well, it sort of feels like it's over for the short-term -- a real correction setting in. Today we lightened up and are now about 1/3 cash in those accounts that do not mandate full risk exposure at all times. We may get lighter yet.

The S&P 500 today closed down 1.85% at 1295.

On March 4, we projected the range of S&P 500 price based on the VIX and VXV, as well as recent historical volatility. The options volatility projections saw downside potential to low 1100's (about 10% down from where we are today).

The VXV (a 3-month volatility view by options trades) at about 22, suggests there could be a bottom of about 1120 for the 80% price probability range.

The reader reception of our past discussions of price projection based on implied volatility of options has been somewhere between a yawn and suggestion that it akin to VooDoo logic. Options traders aren't necessarily dumb. They are betting real money. Their bets in combination with today's market action, and today's additional negative macro-news, makes another 100+ point drop in the S&P 500 seem not all that unreasonable to us.

This chart shows the 80% price probability range for the next 3 months based on a VXV value today of about 22. Statistically, the range goes up and down, but right now the lower half of that range seems more likely than the upper, given all that is going on in the world.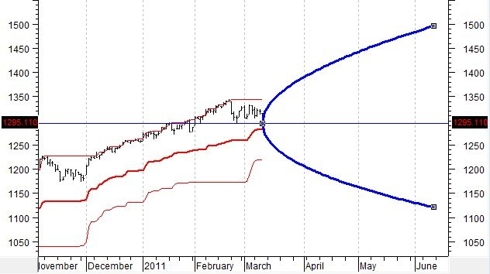 Today, we identified all ETFs, royalty trusts, REITs and MLPs with an average dollar trading volume of $25,000 per minute.

There were 270 securities. Of those 16 had a positive day today -- mostly REITs. There were 3 zero change securities, and 251 with negative returns. Of the negative returns, there were 133 with negative price changes greater than the negative 1.85% of the S&P 500. Of those, 46 has negative price changes greater than 3%.

An Excel file containing all of those securities, with price change for 1-day, 1-week, 1-month, half-year, and a year is available for download at our blog.

This is a clip from the top of that list (click to enlarge).





Relevant Securities: SPY, IVV, VFINX, IEF, TLT, BND, LQD, AGG

Disclosure: We hold SPY in some but not all managed accounts as of the publication date of this article.
Disclaimer: This article provides opinions and information, but does not contain recommendations or personal investment advise to any specific person for any particular purpose. Do your own research or obtain suitable personal advice. You are responsible for your own investment decisions. This article is presented subject to our full disclaimer found on our site available here.