"The time to buy is when there is blood in the streets, even if the blood is your own." This famous investing quote is credited to Baron Rothschild, a member of the Rothschild banking family who made a fortune buying during the chaos following the Battle of Waterloo.
Times of market turmoil often present the best buying opportunities for savvy investors. Contrarians find their best investment opportunities during times of panic. Cramer says "No one ever made a dime panicking." The bear market of 1974 gave Warren Buffett the opportunity to purchase a stake in the Washington Post Company (WPO). This one investment subsequently provided Buffett with more than a hundred fold return. One of Buffett's famous quotes is "Look at market fluctuations as your friend rather than your enemy; profit from folly rather than participate in it."
Our innate instincts encourage us to depart a sinking ship. This survival tactic impacts the way we invest. When market panic creates opportunities to buy stock in solid companies with sound prospects, hopefully you have powder dry and take advantage. The market is clearly at an inflection point. To open a position you must have courage in your convictions, just remember, fortune favors the bold. A market correction provides opportunity to buy great names at a discount price.
The table below lists ten energy stocks providing potential buying opportunities due to possible oversold conditions and a discount to consensus estimates. I will stay keenly aware of any sentiment change based on the so called "Day of Rage" in Saudi Arabia. My instincts tell me it won't be as bad as some have predicted. Once everyone realizes Saudi Arabia is fine, European debt issues are being solved, the street's profit taking is over, and the global economic recovery continues, I see energy stocks regaining past glory and reaching new highs. By the way, do these events give you a sense of deja vu? They should, practically the exact scenario occurred twice before in the last twelve months.
Is the sentiment change regarding these stocks justified, or is this a case of the baby being thrown out with the bath water? Considering the broad based sell off, I submit it is the latter.
Here is the watch list image of ten energy stocks possibly oversold on March 10, 2011:
click to enlarge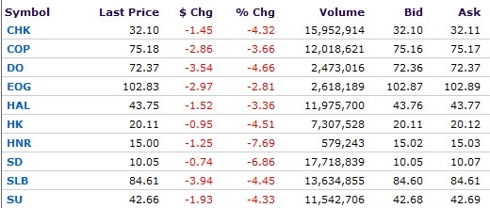 Please review the following details regarding the energy stocks on the above watch list. Consensus estimates were provided by Yahoo Finance. I believe these stocks were unjustly sold off and present excellent buying opportunities. I am considering starting a position in one or all of these stocks depending on the market"s reaction to events in Saudi Arabia and other news items today.
Chesapeake Energy (NYSE:CHK) – is the second largest natural gas producer in the US. Median price target by 24 brokers is $37.75. High target $49.
Conoco Phillips (NYSE:COP) - is an international, integrated energy company. Median price target by 16 brokers is $78. High target $83.
Diamond Offshore (NYSE:DO) – is a leading, global offshore oil and gas drilling contractor. Median Price target by 27 brokers is $72. High target $92.
EOG Resources, Inc. (NYSE:EOG) - explores for, develops, produces and markets natural gas and crude oil. Median Price target by 24 brokers is $113.5. High target $138.
Halliburton Co. (NYSE:HAL) - provides a variety of services and products to customers in the energy industry related to the exploration, development, and production of oil and natural gas. Median Price target by 31 brokers is $56. High target $81.
Petrohawk Energy (NYSE:HK) - is an independent oil and natural gas company engaged in the exploration, development and production of predominately natural gas properties located onshore in the United States. Median Price target by 25 brokers is $25. High target $37.
Harvest Natural Resources Inc. (NYSE:HNR) – is an independent energy company, engages in the acquisition, exploration, development, production, and disposition of oil and natural gas properties. Median Price target by 2 brokers is $17.5. High target $19.
SandRidge Energy Inc. (NYSE:SD) - is an independent natural gas and oil company concentrating on exploration, development and production of oil and natural gas. Median Price target by 19 brokers is $12. High target $16.
Schlumberger (NYSE:SLB) - is the world's leading supplier of technology, integrated project management and information solutions to the international oil and gas exploration and production industry. Median Price target by 30 brokers is $103. High target $160.
Suncor Energy Inc. (NYSE:SU) - is an integrated Energy company. Median Price target by 5 brokers is $44. High target $49.
Disclosure: I have no positions in any stocks mentioned, but may initiate a long position in CHK, SD, COP, EOG, HK, HNR, SU, SLB, HAL over the next 72 hours.