Therefore I have heard of military operations that were clumsy but swift, but I have never seen one that was skillful and lasted a long time. It is never beneficial to a nation to have a military operation continue for a long time
.
--Sun Tsu,
The Art of War
Pharmasset, Inc. (
VRUS
) shares have moved over 30% in the past few days as a result of the not-so-secret
release
of the European Association for the Study of the Liver (EASL) data on VRUS's PSI-7977 and PSI-938 studies. The two drugs being tested are for treatment of Hepatitis C and have received
headlines
that include statements like "Pharmasset Hep C Data Wows Investors," which sounds very promising.
Reading further into the data of the interim results, we find a very large red herring that just may upset the apple cart. The study included a sample size of 16 -- so the glowing 94% represents 15 out of 16. Anyone who has taken a Statistics 101 class knows that a small sample size can give very different results than what occurs in a larger population.
In addition, making a conclusion based on less than two negatives (or positives) can be very risky. Based on the data so far, it is clear that the drugs are worth researching further, but it appears to me that it is far from a foregone conclusion that VRUS has found the "Holy Grail" in Hepatitis C treatment.
The motivation for the EASL to request that journalists not report the findings is logical enough. The EASL would like to provide doctors ample time to research and review the data before its annual meeting. Investors obviously didn't care about silly things like peer review and the possibilities that there might be issues with the treatment that may prevent it from actually making money any time soon. It was clearly "damn the torpedoes, full speed ahead" with investors and
some analysts
as well.
Not everyone jumped on the band wagon singing "Let the good times roll," though. One notable analyst, Goldman Sachs (NYSE:
GS
), had a
comment
concerning the combo study. While GS anticipates a high response rate, that is not what is of real importance. There are other drugs in the pipeline from companies like Vertex (NASDAQ:
VRTX
) that have been moving higher based on results of their Hepatitis C treatment study results.
The real point that needs to be stated (and was commented upon by GS) is: "While the VRUS combo data should be interesting, it still does not answer the billion-dollar question in hepC – if it is possible to generate SVRs (cures) with an all-oral combo regimen without PEG-interferon."
Other possible issues that GS has commented about the treatment include:
Whether the treatment can be successful in demonstrating the ability to suppress the hepatitis C virus over a longer period of 14 days without interferon.

The tolerability over longer treatment durations for more than 16 patients.

Whether the treatment will provide "comparable or better relapse rates (particularly in early responders, eRVR patients) to protease and non-nuke polymerase regimens."
After reviewing the data, GS maintained its neutral rating on VRUS, and I believe for good reason. We have been
down this road before,
looking for the "golden goose" in the treatment of hepatitis C treatment. An oral treatment that does not require interferon is considered by many to be the "Holy Grail" of hepatitis C treatment; this is what all are in search of.
It doesn't take long to figure out why being able to treat hepatitis C without using interferon is desirable. With after-injection side effects of fever, chills, headaches, muscle aches, pains, and flu-like feelings, being able to end the treatment with a new drug is highly desired.
The problem is that we have heard this before, and just because 15 out of a sample size of 16 patients over a 14-day period from a phase I study show promising results, it is still an open question and a long way away from confirmation that the objective has been reached. What has happened in the past with hepatitis C drugs is that the virus becomes undetectable and/or appears to be gone, but what remains develops a resistance to the drug and has what is known as a "viral breakthrough" and all bets are off.
As
recently as
the end of 2010, VRTX stopped the combination of VX-222 with Telaprvir because of "viral breakthrough." What was experienced with VX-222 is the viral count would go down, only to become resistant to the medication and the count would jump right back up.
VRTX recently released data from its phase 2 study with Teleprevir, and it was impressive. With Teleprevir, 70% of patients after four weeks had undetectable Hepatitis C virus; the stock soared higher, in part based on the news release. VRTX has backed off since, which may be providing investors with an opportunity to buy at a better value. I didn't believe VRTX was a good buy at $50 or higher and worth chasing, but now that it has pulled back to under $46, it is worth looking at again.
With the help of EDGAR Online and Yahoo Finance, I am able to take a look at the financial numbers and company statements to try to gain a full understanding of the value received for the stock. Some of the highlights based on EDGAR and Yahoo that I feel are important include: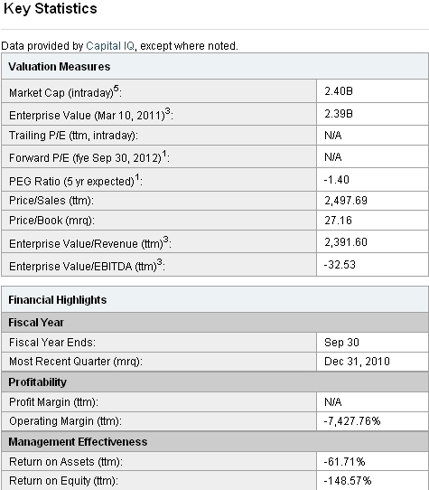 A market cap of about $2.4 billion.

VRUS has a book value of about $2.50 per share or about $93 million dollars that the market is currently pricing in at $65 per share to give us the $2.4 billion market cap.

TTM

revenue of about $1 million dollars.

Quarterly revenue growth year over year of – 8.2%.

TTM

EBITDA of - $73 million.

Diluted earnings per share of about -$2.30.

From the November 2010
10-K filing
to the SEC, I found the following risk factors that I believe should be considered in particular, as well as the entire filing.
"We or our collaborators have conducted preclinical studies and clinical trials of RG7128, PSI-7977 and PSI-938 and preclinical studies of PSI-661. Many of these trials were not primarily designed to demonstrate the efficacy of these product candidates but, rather, to collect data on safety and assist in determining the appropriate dose. Even if our product candidates achieve positive results in preclinical and clinical trials, similar results may not be observed in subsequent trials and results may not prove to be statistically significant or demonstrate safety and efficacy to the satisfaction of the FDA or other regulatory agencies."

"We have limited experience conducting clinical trials, which could impair our timing or ability to obtain regulatory approval for our product candidates.We have limited experience conducting and managing the clinical trials necessary to obtain FDA approval or approval by other regulatory authorities. Our past clinical experience has been limited to a small number of product candidates in a limited number of therapeutic areas. By contrast, larger pharmaceutical companies often have substantial staffs experienced in conducting clinical trials with multiple product candidates across multiple indications. As a result, we may be at a competitive disadvantage that could, for example result in delays in obtaining regulatory approvals, if at all, for our product candidates for which we conduct or manage the clinical trial process."
"Our product candidates may demonstrate or be associated with undesirable side effects when used alone or in combination with other products that prevent their regulatory approval or limit their use if approved. We must adequately define the safety profile of our product candidates to obtain regulatory approval. Although in clinical trials completed to date, RG7128, PSI-7977 and PSI-938 were generally well tolerated, these trials involved a relatively small number of subjects and we may observe significant adverse events for these product candidates in the future. Roche (OTCQX:RHHBY) is currently conducting larger clinical studies of RG7128 and we are conducting, and planning to conduct, additional larger clinical studies of PSI-7977, PSI-938 and PSI-661. It is possible that any side effects associated with our product candidates may outweigh the benefits of our product candidates and prevent regulatory approval or demonstrate a risk/reward profile which would limit their market acceptance if they are approved. Recent developments in the pharmaceutical industry have prompted heightened government focus on safety reporting during both pre- and post-approval time periods and pharmacovigilance. Global health authorities may impose regulatory requirements to monitor safety that may burden our ability to commercialize our drug products."

"We have no sales, marketing, or distribution experience. We will be required to invest significant amounts of financial and management resources in developing these resources."

"If PSI-7977, PSI-938, and PSI-661 receive marketing approval in the United States, we intend to promote and commercialize certain of these products, in certain cases without a partner. To develop internal sales, distribution, and marketing capabilities, we will have to invest significant amounts of financial and management resources …."

To be sure, there are many other risk factors that investors should read about as well as all the recent relevant filings to best understand the company.
I use a proprietary mix of technical analysis, financial crowd behavior, and fundamentals in my short-term trades. While not exactly the same in longer swing trades to investments, the concepts used are similar. I believe the company and the company stock correlation have separated, thus leaving the stock to be over-priced relative to the performance of the company. Just like VRTX was
about a week ago
, I do not believe VRUS is worth chasing at this time.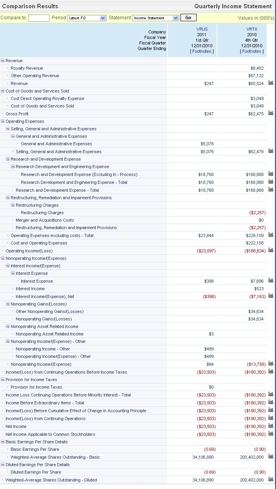 When VRUS stock entered what I believe is "over-bought" territory, I looked to see how the options were being traded. I sold call options so that I could capture time decay in addition to what I believe will be the inability of VRUS to maintain the current pace to higher levels. The implied volatility was high enough to justify for me the limited reward if correct and risk if wrong. I am currently short the April 55 calls as a substitute short for stock and the April 70 calls for collection of option premium. I have traded the stock both long and short as part of my overall short to capture the wide price movements that would appear to be putting some on the edge of their chair. Volume in the last few days has been falling fast compared to the day of news, and I believe the excitement is over.
Another way I have been looking at this is by using a pair trade with either VRTX or Bristol-Myers Squibb (NYSE:
BMY
). It may be an effective strategy to buy VRTX and short VRUS outright. If more cautious comments come out as the data is reviewed I would not be surprised to see VRTX move back higher and VRUS stock fall quickly.
Disclosure: I am short VRUS.