I remember the first time I laid eyes on Builders FirstSource (NASDAQ:
BLDR
). It was trading in the 20s and had sales of over $2 billion, a star among the building supplies stocks. Its growth was strong since its IPO in 2005, bolstered by the robust housing market, and it was one of the southeast region's leading building suppliers. That was in 2006. Then came the housing meltdown, the global financial crisis and a precipitous fall to the bottom which occurred for BLDR in the spring of 2009 when the stock went below $1. The stock rebounded in 2010 only to sink to a low of $1.43 late in the year. With its fortunes tied to the southeastern housing market and the overall U.S. economy, BLDR is certainly a risky play going forward but one worth taking a look at for the long-term investor.
Click to enlarge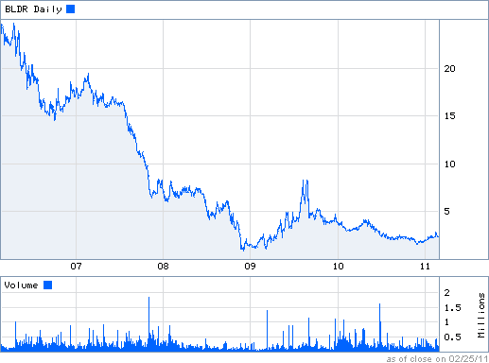 For a company that has posted losses in its last nine quarters, BLDR doesn't look like an attractive company to invest in. In fact if you were just looking at the numbers, with no thought of the building supplies industry or housing market as a whole, BLDR would appear to be a company with a bankrupt business model. This is hardly the case.
Source: Fidelity Research
Builders FirstSource, the fifth largest supplier of building products in an estimated $105 billion industry, has had a rough couple of years since 2008. Despite help from a rising stock market and the homebuilder tax credit, which temporarily boosted home starts (it expired in early 2010), BLDR has been losing millions quarterly. Although it's difficult to back a company that is consistently losing money, I believe BLDR may be worth a shot for buy and hold investors for the following reasons:
Click to enlarge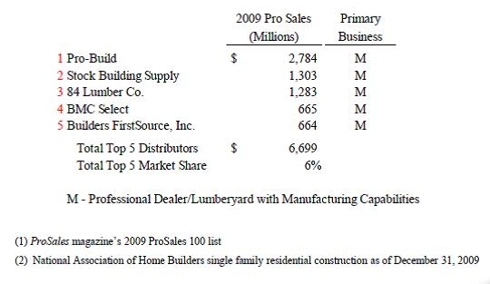 Strong Management
One of the many things that sets BLDR apart from its competitors is its management. Since its founding in 1998, top management and directorship positions have been held by longtime insiders of the company with many years of management experience in the building products industry. The tenures of Floyd Sherman, CEO (2001- present), Chad Crow, CFO (1999 – present), Donald McAleenan, Senior Vice President (1998-present), Morris E. Tolly, Senior Vice President Operations (1998-present), and Fred Schenkel, VP Manufacturing (1998-present), have contributed to BLDR's ability to cut costs and survive the worst housing recession in history. The continuity in its leadership has allowed BLDR to complete a successful recapitalization in January 2010 as well as a cost saving amendment to its credit facility with Wells Fargo in November 2010. The backing of private equity firms Warburg Pincus LLC and JLL Partners LLC, who collectively own over 50% of the outstanding shares, has also contributed to stability in upper management and directorship positions.
Cost Cutting and Operational Efficiency
Since the onset of the housing crisis and subsequent recession many companies have been forced to radically change their operating strategies in order to accommodate the lower levels of cash flow they have to work with. BLDR is no exception and has taken steps throughout the crisis to ensure that it can remain solvent until the housing market rebounds. BLDR has reduced SG&A expenses, reduced working capital, closed non-performing locations in mid-Atlantic markets, and laid off employees in order to lower costs. The fact that BLDR's employees are not unionized has also allowed them the flexibility to cut jobs and benefits where necessary to preserve cash. BLDR's focus on efficiency and cost cutting helped it conserve cash during 2010 and has left it in favorable position once the housing market does rebound.
Improved Liquidity/Balance Sheet
As previously mentioned, BLDR completed both a recapitalization and a re-financing of its revolving credit facility in 2010 with the aim of reducing borrowing costs and improving liquidity. The recapitalization resulted in the exchange of $270 million in 2012 floating rates notes for $140 million in 2016 floating rate notes, $100 million in cash and 7 million shares of common stock. The recap itself reduced BLDR's long term debt as well as its borrowing costs for the coming years. At year-end, 2010 BLDR had over $100 million in cash with an additional $20 million available in its revolving credit facility. With over $1 per share in cash and little short term debt, BLDR should be able to weather the difficult housing crisis and be well positioned to take advantage of the improved housing market expected in 2011. Large institutional investors such as Warburg Pincus and JLL Partners, which have majority ownership and voting power, will be unwilling to let BLDR go bankrupt and will certainly accept re-capitalizations/stock dilutions should they be necessary to keep the company afloat. As a small time investor, I feel much more confident about BLDR's prospects knowing that these large private equity firms are risking millions at an increasingly difficult time for the housing market.
Recovery in Housing
After a year in which actual single family housing starts increased for the first time in five years, according to the U.S. Census Bureau, 2011 may appear to be an even stronger year for home sales with the NAHB predicting home starts to increase by approximately 550,000, a 17.8% increase over 2010 housing starts. A recovery in housing starts, regardless of how big, will undoubtedly benefit BLDR, whose main source of revenue comes from the construction of new homes.
Click to enlarge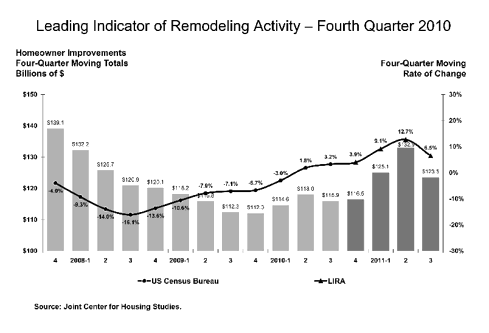 Although less dependent on home improvement and remodeling spending, BLDR will benefit from a "sustainable recovery in the remodeling industry expected in 2011," according to the Remodeling Futures Program at the Joint Center for Housing Studies at Harvard University. According to the Leading Indicator of Remodeling Activity (LIRA), annual growth in home improvement spending will rise to 12% before dropping to 6.5% in the third quarter, signaling a that the recovery may lose steam in the second half of the year.
Conclusion
BLDR's stock has been beaten up over the last few years amidst the gloom and doom of the housing crisis and recession and has not benefited greatly from the recent run up in the stock market. The housing market has only marginally improved but with unemployment sinking and other economic indicators picking up, new home sales, new home starts and home remodeling may begin to pick up as well. BLDR has already survived the worst of the recession and has become a leaner, tougher company focused on organic growth as opposed to growth through acquisition. The large ownership stake held by Warburg Pincus and JLL Partners demonstrates their faith in management's ability to return the company to profitability. I believe the combination of strong management, large institutional investors willing to go far to ensure solvency, positive economic developments, favorable demographic trends including population growth in BLDR's operating region, and a more efficient operating strategy based on less leverage and lower costs creates a unique opportunity for the long term investor.
Disclosure: I have no positions in any stocks mentioned, and no plans to initiate any positions within the next 72 hours.