Phase 2 FV-100 Data Show Potential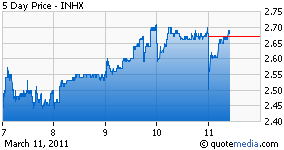 In December 2010, Inhibitex (NASDAQ:INHX) announced results from the company's Phase 2 trial studying FV-100 as a treatment for herpes zoster, commonly known as shingles. The trial was a well-controlled, double-blind, clinical trial evaluating FV-100 against an active control of Glaxo's (NYSE:GSK) Valtrex (valacyclovir). Roughly 350 patients, aged 50 years and older, were randomized to one of three treatment arms: 200 mg FV-100 administered once daily; 400 mg FV-100 administered once daily; and 1,000 mg valacyclovir administered three times per day. The primary endpoint of the study was a reduction in herpes zoster associated pain and severity as measured by the Zoster burden of illness (BOI) scale after 30 days of treatment. Secondary endpoints included the BOI after 90 days, incidence of post herpetic neuralgia (PHN), mean time to lesion crusting and healing, and use of concomitant pain medications.
For FV-100 200mg QD: The data show a 3% reduction on the BOI-30 primary endpoint and a 4% reduction on the BOI-90 endpoint vs. valacyclovir 1000mg TID. Patients on FV-100 200mg also had a 12% reduce incidence of PHN (17.8% vs. 20.2%) vs. valacyclovir.
For FV-100 400mg QD: The data show a 7% reduction on the BOI-30 primary endpoint and a 14% reduction on the BOI-90 endpoint vs. valacyclovir 1000mg TID. Patients on FV-100 400mg also had a 39% reduce incidence of PHN (12.4% vs. 20.2%) vs. valacyclovir.
Unfortunately, the trial missed the primary endpoint of a 20-25% difference between the FV-100 cohorts vs. Valtrex on the BOI-30 scale. In fact, results weren't even close on the BOI-30 endpoint. But we believe the trial was far from a failure. On the contrary, we are highly encouraged by some of the key secondary findings, which include:
Continued separation from the FV-100 cohorts and valacyclovir between BOI-30 and BOI-90 endpoints. In our view, this shows the drug continues to work over time. We note the BOI composite endpoint is a measure of both severity and duration. We believe severity clearly trended in FV-100's favor.
Clear dose response. The FV-100 400mg arm showed reduced BOI-30 and BOI-90 scores vs. the FV-100 200mg arm. This present the opportunity to test even higher doses in the future, potentially up to 800mg. Does response is one of the key things we look for during a Phase 2 proof-of-concept program.
Reduced incidence of PHN. This is the most clinically meaningful endpoint in our view. PHN is the paramount concern for physicians and patients treating a zoster infection. Onset of PHN brings use of additional pain medications, including opioids, added cost potential complications. We believe a 39% reduced risk of PHN for patients taking FV-100 400mg is enough alone to drive prescription use if approved.
Roughly 20% more patients on valacyclovir used opioids (52% vs. 42%) than on FV-100. We think this is important to note because the BOI-30 and BOI-90 data accounts for pain severity and duration regardless of the use of concomitant pain medications. For FV-100 400mg the BOI-90 showed a 14% reduction vs. valacyclovir despite the fact that 20% more on valacyclovir were also on opioids.
Adverse events in any cohort that exceeded 10% were headache and nausea. Serious adverse events were low and generally not related to drug treatment. Given the similar safety and tolerability profile of FV-100 vs. valacyclovir, we do not believe there is any limitation that would prohibit use if approved. Management has additional safety data of FV-100 800mg QD as well. Given the clear dose response seen in the Phase 2 data above, testing a higher dose for the Phase 2b or Phase 3 program may be appropriate.
Next Steps For FV-100
Management continues to analyze the data from the Phase 2 program. We expect to see the full data at a medical conference during 2011. Inhibitex is currently performing various analyses of the full data set and an evaluation of various clinical, regulatory and commercial pathways for the potential future development of FV-100, which it anticipates concluding in the first half of 2011. Based on the results of the Phase 2 program, FV-100 has potential to reduce sub-acute pain and incidence of PHN following a shingles outbreak. Inhibitex will meet with the FDA to discuss these finds and potentially seek to move forward with PHN reduction or severity and duration of pain reduction as a primary label indication for the drug.
The next step for management following discussions with the FDA will most likely be another Phase 2b program looking to quantify the dose response around the severity and duration of pain reduction. We expect management may look to test even higher doses than the 400mg dose, potentially up to 800mg. Phase 1 studies justify the safety of an 800mg dose, but questions remain on if it will be 400mg twice daily or 800mg once daily. Questions also remain on the endpoints for the Phase 2b program. FV-100 was originally developed as an anti-viral medication, but the development pathway seems to be shifting from anti-viral to anti-pain / anti-PHN.
Seeking A Partner For FV-100
Inhibitex eventually plans to seek a partner for FV-100. However, before we expect a partnership, we believe management must qualify the dose response and determine what endpoints, be they burden of illness BOI, reduction in duration and severity of pain, or reduction in PHN, will be the key pathway forward. We expect Inhibitex to look to conduct the second Phase 2b program alone to better pave the path forward into Phase 3. Assuming positive Phase 2b data and clear guidance from the FDA on the future regulatory pathway, we believe that FV-100 is a very attractive drug for a pharmaceutical partner to license.
Positive Preliminary Phase 1b on INX-189 On January 9, 2011, Inhibitex reported positive preliminary interim safety and antiviral data from the first two monotherapy cohorts of its ongoing Phase 1b clinical trial of INX-189. INX-189 dosed once-daily at 9mg and 25mg for seven days, demonstrated potent, statistically significant, antiviral activity. In addition to the mean observed reductions in viral load, clinically meaningful decreases in alanine transaminase (ALT) levels were observed for patients receiving INX-189 at both dose levels, and no patients experienced viral breakthrough. Management also noted that patients whose ALT started at elevated levels saw declines toward normal ranges after only one week on INX-189 therapy. This is highly encouraging data.
Mean HCV log10 IU/mL RNA Viral Load Decline:

Patients With

> 1 log10 Decline

Day 3

Day 7

25mg INX-189 QD (n=8)

-0.88

-1.03

5

9mg INX-189 QD (n=7)

-0.47

-0.71

1

Placebo (n=4)

-0.05

-0.03

0
Preliminary assessments of the data available from the first two cohorts in the Phase 1b study indicate that INX-189 was well tolerated. All reported adverse events were mild or moderate and were not dose dependent. In addition, the pharmacokinetics of the 9mg and 25mg doses in HCV-infected patients were comparable to those observed in healthy volunteers, and continue to support the evaluation of INX-189 as a once-daily therapy.
No serious adverse events reported.
No discontinuations due to an adverse events.
No adverse events related to changes in clinical laboratory evaluations.
As a reminder, the Phase 1b program is a double-blind, placebo-controlled, dose escalation study designed to evaluate the safety, tolerability, pharmacokinetics and antiviral activity of INX-189, administered orally once-daily for seven days, for the treatment of HCV genotype 1 treatment naïve patients. Each treatment cohort in the study is comprised of 10 patients, eight that receive INX-189 and two that receive placebo. In addition to the 9 mg and 25 mg dose cohorts, the company plans to enroll up to three more INX-189 monotherapy cohorts in the study, as well as two cohorts that will receive different doses of INX-189 once daily for seven days in combination with ribavirin (RBV).
The additional monotherapy cohorts will include a 50mg loading dose, followed by 9mg or 25mg for six days. The 100mg monotherapy cohort is intriguing considering the strong efficacy and clean safety profile demonstrated with 25mg dose. However, we are particularly interested in the combination studies with ribavirin, as this will give a better sense of the potential for real-world use of INX-189 as part of the standard-of-care for HCV treatment.
We expect the Phase 1b program to complete later this month, with a top-line data presentation to follow shortly thereafter, potentially at the EASL meeting held between March 30 and April 3, 2011 in Berlin, Germany. This could be a significant catalyst for the shares.
Next Up, Phase 2a
By the third quarter 2011, we expect management should be in position to advance INX-189 in a Phase 2a, 12+ week clinical trial in combination with standard of care and other complementary direct antiviral compounds. Development plans are a little up-in-the-air considering we have yet to see the Phase 1b data, but we are anticipating that management will look to study INX-189 in combination therapy with protease inhibitor such as Vertex/J&Js (NASDAQ:VRTX)/(NYSE:JNJ) telaprevir or Merck's (NYSE:MRK) boceprevir if approved later in 2011. The combination of a protease inhibitor such as telaprevir along with a nucleotide polymerase inhibitor like INX-189 could prove to be a powerful treatment option for HCV. Management also expects to study the drug in genotypes -2 and -3 in Phase 2.
Inhibitex would love to partner INX-189 for these Phase 2a studies, but we believe that the company has the financial flexibility to push into Phase 2a without a partner. With strong Phase 2a data showing a synergistic benefit in combination with ribavirin or protease inhibitors, INX-189 could attract a sizable pharmaceutical licensing deal later in 2011 or in 2012. We note that Inhibitex has several back-up candidates to INX-189, with the most advanced heading into pre-IND studies later this year. Management plans to file an IND on the lead backup candidate in early 2012. This could present upside to the partnering discussions.
INX-189 Background Info
INX-189 is a nucleoside polymerase inhibitor under development for the treatment of chronic hepatitis C caused by the hepatitis C virus (HCV). More specifically, the drug is a phosphoramidate nucleoside analogue, also referred to as pronucleotides or protides, which targets the RNA-dependent RNA polymerase ("NS5b") of HCV. We believe this protide approach possesses several pharmacological advantages over earlier, first generation approaches that use the parent nucleoside (non-phosphorylated) alone. These include a significant increase in antiviral activity, higher concentrations of the anti-virally active triphosphate in liver, and potentially less toxicity due to reduced systemic exposure. The preclinical profile of INX-189 suggests: rapid onset of anti-viral activity, a long half-life that could allow for once daily dosing, low toxicity, and a potential synergistic mechanism with ribavirin. The mechanism also presents potential for combination therapy with protease inhibitors nearing market approval. This is certainly something to be excited about.
Inhibitex Remains Well Positioned
Inhibitex exited the 2010 with $19.6 million in cash and investments. This should be enough to fund operations, including presenting the full data from the Phase 2 FV-100 program and completing a Phase 1b monotherapy and ribavirin combination program on INX-189. We expect management to look to push forward with another Phase 2b program with FV-100 and a Phase 2a program with INX-189 during the second half of the year. Both candidates represent significant partnering opportunities.
Inhibitex may be in need of cash at some point in late 2011 if they plan to internally fund both the Phase 2b program on FV-100 and the Phase 2a on INX-189. However, with the potential to partner both FV-100 and INX-189, as well as receive additional milestone from Pfizer (NYSE:PFE) on SA3Ag, we believe there is opportunity to raise non-dilutive cash in 2011. We think there will be significant interest from partners on both molecules.
We think that 2011 has the potential to be a big year for Inhibitex with signing major development collaborations its two pipeline candidates. Accordingly, we recommend investors 'Buy' at today's price. Our target is $4 per share, with meaningful upside beyond this level based on positive Phase 1b data from the 100mg monotherapy or combination with ribavirin cohorts on INX-189, or a well-defined path forward with the FDA on potential pain or PHN reduction indications on FV-100.
Disclosure: I have no positions in any stocks mentioned, and no plans to initiate any positions within the next 72 hours.