The market grinded lower yesterday, but most of the descent took place in the opening five minutes. Then the market moved laterally on noticeably smaller volume for the remainder of the session. Energy was rocked again, even as oil prices held near previous highs. Thus far the week is going about as planned: Nothing is happening. We came into the week expecting the indices to move back and forth until 1301 or 1335 could break.
The trading range we're watching is less than 3%, which is not a lot. Yet the SPX has traded in that range for over two weeks. Also, the index started out in the middle of that trading range this week. So it only had to move 1.5% in either direction to break out, and it hasn't.
It is my belief that the longer the indices keep support intact, the more likely an upside break out becomes. Although as I've mentioned before, even though 1301 is near term support, 1250 is the bulls' "must hold" price. That's another 4% lower, and it may be tested.
SPX is trading right at channel support. It can either find support on the channel and rally to a new high, or break down and rush towards 1250. As long as 1250 holds, I would expect the index to rally higher to a marginal higher high. If it stays in the channel, higher highs are expected, but the rate of the climb will likely be slower.
As we can see below, the bullish trend is firmly intact, but it's losing momentum. I think we see one more rally high, but it could take a few weeks.

[Click to enlarge]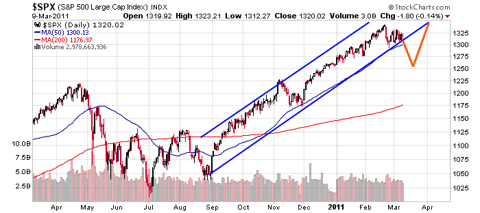 If the channel breaks and 1250 holds, the index should rally to a new high and peak in the first/second week of April.
I should have taken my own advice two weeks ago and gone into cash. This is a stressful market to trade, and honestly one most people should stay away from. At least until a better rally develops.
On a short-term basis, we should be short the market. But I really don't see much downside and you are also fighting a strong long-term trend. So you risk fighting a long-term bull trend to make 6-7% on the downside.
Alternatively, the upside is closer to 10%, but in the near term, all long positions will likely trade lower, so the probability of being stopped out of a long is high if the market pulls back over the upcoming week.
I think the best approach is to stay long-focused, but on stocks that have 20% or more upside. Additionally, you must be aware that any trade you make has a low probability (25%) of being correct to the long side.