Hum as you read the following ... How much is that dividend-doggie in the window? The one with good dividends trailing. How much is that dividend-doggie in the window ... is it over-priced or at a good sale?
Sometimes it can be a bit difficult for new income investors to separate a good dividend paying company from a mediocre one. Yields are insignificant if capital losses feast on your total portfolio worth. You may even end up paying tax on supposed income, while sitting at a net loss.
We are going to attack a couple of dividend-doggies (not used in a derogatory sense, but instead a cute puppy waiting to be bought) and come up with a rough valuation for the stock, and some general guidelines for how much the stock could earn in the future. We will start with a utility company and then end with a technology stock.
The Southern Company (NYSE:SO)
Over the past five years this stock has bounced between $26 - $40 per share, and it currently is making another run at all time highs. The forward annual dividend yield is 4.8%. What we want to know is if this is a fair price for the stock and how much we can expect to earn over the next 10 years.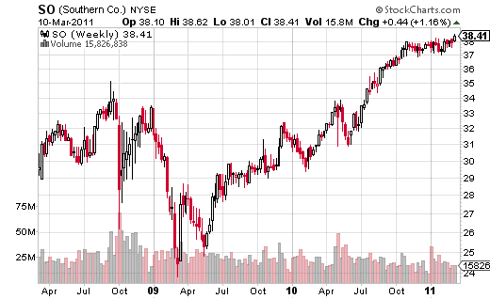 The ratios and data. First we will look at return on equity. How much profit was made when compared to shareholder equity? The 10-year average is 13.2 while the current ratio is 11.8. We will use the longer-term averages for our calculations. Over the past 7 years the payout ratio has moved between 69% - 84%. The current payout ratio is 76% and the 5-year average is 75.1% which is what we will use. The average 5-year yield is 4.8%.
This means that we can expect our book value to grow at a sustainable rate of 3.3% because while the average ROE is 13.2, 75.1% of that is not re-invested into the company but paid out as a dividend. Only 3.3% of the ROE is left for the company to increase net equity value. In 10 years time we would expect our book value to climb from $19.21 to $26.54 per share. But how much will that be when looking at share price? The average price to book value over the past five years is 1.99. What does this all mean?
Capital Gains and Dividends. The share price works out to being $52.81 per share using the average book value estimate. I also did this using estimated PE ratios, which you can read about in the Buffettology method here, and came out with a similar $53.61 price in 10 years. Assuming a constant 4.8% dividend yield rate, you also receive total dividends of $22.34 per share. So from a $38.41 purchase price to a total of $75.15 gives you an annual average compounded gain of 6.94%. Of course, this is assuming you don't re-invest your dividends.
A Good Buy? Lastly, we look at a quick valuation tool. The dividend has been growing by an average of 4% per year. The price to dividend ratio has averaged 20.8. So if we take the trend to project next year's dividend at 1.87 and multiply this by the price to dividend ratio, our price next year is at $39. While hardcore dividend investors might buy this stock with a long-term compounded expected gain of 6.94%, I simply do not find current prices at enough of a bargain to warrant buying. If fundamentals stayed the same and share prices were at $29, this would give a compounded gain of 10% per year, which is more to my liking. Buffett likes 15% or more sustained growth.
Intel Corporation (NASDAQ:INTC)
We are quite familiar with the big name brand of this semiconductor chip maker. How do the long-term prospects look for this company based on historical averages?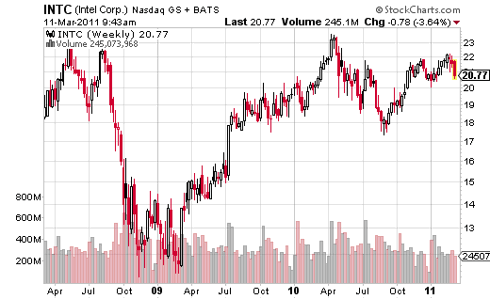 The Ratios and Data. Although return on equity has popped recently, we will use the 5-year average of 15.42. With a 5-year average payout ratio of 48.8%, we have sustained growth of 7.9% annually. I also use an average PE ratio of 19.4 when computing over the last half-decade, and an average dividend yield of 2.6%.
Capital Gains and Dividends. Using our average PE method to calculate future price in 10 years, we arrive at $57.37. Using average price to book value we get a lower $53.51. Price volatility has led to this discrepancy in valuations. Our total dividends, assuming a constant 2.6% yield, would be $10.85 per share. This gives us an 11.96% compounded rate of return annually when computing over the next 10 years using average price to book value. Using our PE method we could get up to 12.62% total gain (capital gain + dividends).
A Good Buy? Due to volatility we have a range of price to dividend ratios. If we look at the average 5-year dividend growth rate of 14.5%, and use the current price-to-dividend ratio to calculate a fair price target, it comes to $21.86. If we use a 5-year average price-to-dividend we get a much higher valuation of $27.74. While I don't think this is worthy of the higher valuation, I do think that it is at fair valuations right now.
Other Potential Dividend-Doggies
What are a few other dividend-paying doggies worth our while to look at? We should lay out a few scanning rules first:
7 years of increasing dividends
7 year average dividend growth greater than 3%
Payout ratio below 85% for utilities and below 50% for all others
Diluted EPS growth 3-year average beats industry average
Liabilities to asset ratio is below industry average
Listed in the S&P 500 index
| | | |
| --- | --- | --- |
| Company | Ticker | Yield |
| C.H. Robinson Worldwide, Inc. | | 1.6 |
| Chubb Corporation, The | | 2.6 |
| Coca-Cola Company, The | | 2.9 |
| Expeditors International of Wa | | 0.8 |
| General Dynamics Corporation | | 2.5 |
| Johnson & Johnson | | 3.6 |
| McDonald's Corporation | | 3.2 |
| Murphy Oil Corporation | | 1.6 |
| Northrop Grumman Corporation | | 2.8 |
| T. Rowe Price Group, Inc. | | 1.9 |
| Procter & Gamble Company, The | | 3.1 |
| Public Service Enterprise Grou | | 4.3 |
| Raytheon Company | | 2.9 |
| J.M. Smucker Company, The | | 2.5 |
| Texas Instruments Incorporated | | 1.5 |
| Tiffany & Co. | | 1.6 |
If you like big stocks with hidden growth flying below the radar, you might want to read up on these 17 stocks. Which of these stocks in the list do you recommend as having good current valuations plus a decent long-term annual growth rate?
Disclosure: I have no positions in any stocks mentioned, and no plans to initiate any positions within the next 72 hours.