Microsoft (NASDAQ:
MSFT
) has ruled the past couple of decades due to its own encompassing advantage over rivals: the Windows operating system. Windows has been a cash cow with no rival in the world of software, and allowed Microsoft to survive even when it made poor choices; it was and is the company's ultimate weapon.
Even if someone had made a large scale OS worth anything, Windows was so entrenched and MSFT so deft at squeezing competitors (remember Netscape?) that they would have probably been left to the geeks such as the likes of Linux. So what is the next company that may have the opportunity to seize such an advantage? I would submit Google (NASDAQ:
GOOG
) as a candidate for that title.
The proliferation of mobile computing is the future of technology, and the company that has the best and most accepted mobile operating system stands to gain a similar advantage to that of Microsoft throughout the 90s. This article serves to take a look at the computing landscape and points out several reasons I feel that mobile has truly arrived and why Google is positioned over competitors like Apple (NASDAQ:
AAPL
) to take advantage of this environment.
The Future of Personal Computing
The face of personal computing is changing rapidly. The advent of touch screen technology and the systematic dwarfing of computational power have made it easier to carry a fully functional computer in your pocket. The next step may be the extinction of these dinosaurs we have sitting on our desks.
Gartner Inc.
lowered its PC unit forecast for 2011
and 2012 due to an increase in the presence of mobile PC alternatives in the home. PC units shipped increased only 10.5% in 2010, which is below Gartner Inc.'s initial projection of 15.9% growth. The increased enthusiasm for alternative computing devices has had a negative impact on the PC community as a whole. George Shiffler, research director at Gartner, had this to say about the future of PC sales:
We expect growing consumer enthusiasm for mobile PC alternatives, such as the iPad and other media tablets, to dramatically slow home mobile PC sales, especially in mature markets. We once thought that mobile PC growth would continue to be sustained by consumers buying second and third mobile PCs as personal devices. However, we now believe that consumers are not only likely to forgo additional mobile PC buys but are also likely to extend the lifetimes of the mobile PCs they retain as they adopt media tablets and other mobile PC alternatives as their primary mobile device. Overall, we now expect home mobile PCs to average less than 10% annual growth in mature markets from 2011 through 2015.
So, PC sales are becoming less important in a rapidly expanding mobile computing market. Touchscreens will become more effective as they increase productivity in the workplace. Additionally, the software provider who can gain a "Windows" like edge in touchscreen OS stands to gain as well. This onset of touchscreen has happened more quickly than many anticipated, as illustrated by the lowered estimates. With Android able to eat and destroy the market share of mobile OS operators like Research in Motion (RIMM), I feel it will be able to take advantage of the next stages of mobile proliferation.
Mobile Proliferation
Why does Google stand to gain so much from this mobile proliferation? It is simple. Tablets offer an opportunity for Google to entrench themselves as the leading OS provider for the long haul. Now, Windows has long been the leader in PC OS, but its mobile offering was designed to get people in and out of their phones quickly, something less vital to a tablet OS. Additionally, the market seems to think the Windows Mobile OS is more of a long shot; that is, if you assume the drubbing Nokia (NYSE:
NOK
) is
taking after releasing the details of its $1B
mobile contract with Microsoft is any indication of the market's opinion.
Regardless, all this makes Android more appealing for manufacturers and hurts the chances of Windows becoming the OS of the future.
Additionally, the arrival of powerful devices like the iPad has spurred a race to become the No. one manufacturer in the tablet sphere. Most would agree that Apple is firmly entrenched as the tablet leader, despite only moderate improvements in the iPad2 from the original. However, as indicated by the relatively fragmented mobile device manufacturer market, there is room for more than one major player. Google is perfectly positioned as the tablet OS provider for multiple manufacturers, and benefits from any single one of them gaining market share on Apple.
Aruba Networks (NASDAQ:
ARUN
), a leading provider of wireless networking services for corporations, recently referred to this "mobile proliferation" in its earnings call. The CEO, Dominic Orr, eloquently stated that:
The proliferation of smart phones and tablets in addition to laptops is radically changing how enterprises and organizations approach the network edge ... Forrester predicts 82 million U.S. consumers will have tablet PCs by the year 2015, with roughly half of them being used at work. Add in over 700 million smart phones as predicted by IDC over the same period.
With as much of a forward looking eye on spending strategies as any company operating in a corporate environment, Aruba has keen insight into where businesses are heading. The answer is surprisingly simple: mobile. Millions of tablets, smart phones and other mobile devices are beginning to be utilized by companies notoriously slow on the uptake. Productivity gains can be realized by leveraging these technologies, and Google is at the center of this.
Is Google Ready for the Move From Search?
So, how does this position in mobile and personal computing compliment Google's other lines of business? One way is through leveraging search services. Google already controls
97% of mobile paid search
, despite being a late arrival to the mobile OS party. Android is also now the leading mobile OS provider, jumping to 29%-31% of the market, depending on which research you choose.
Click to enlarge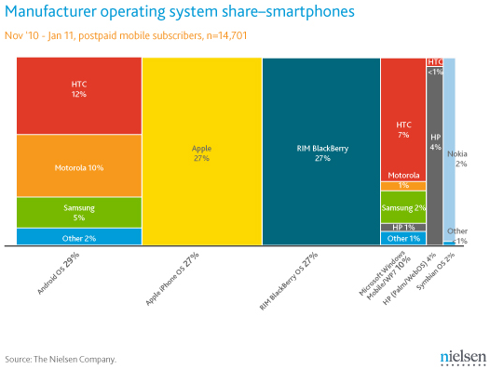 Click to enlarge
Android has not only taken the lead in mobile OS, they have done it with a diversified portfolio of manufacturers. Now this may be a disadvantage in the eyes of some, with the iPhone seemingly poised to increase share now that it is in multiple markets. However, if trends with next gen phones continue, the iPhone will continue to lose its luster as the one and only tech savvy phone of choice.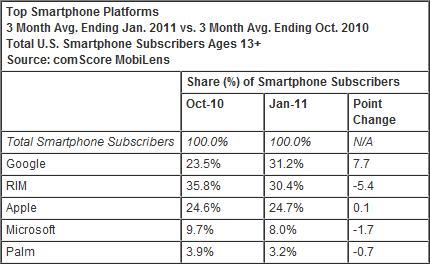 Source:
ComScore
This dominance has occurred in only a couple years, and mostly at the expense of RIMM. Furthermore, this doesn't take into account email, document sharing, search improvements, Google Apps and more places where Google dominates and can easily integrate into a mobile OS. I believe eventually this diversification will alleviate some of the concerns surrounding the vanilla nature of its revenues; just a short time from now, Google will have a varied approach to generating cash that will put investors at ease.
Speaking of cash, another reason Google is sitting pretty is its current cash holdings. According to Kapitall, Google has current cash holdings of $34.98B, or enough to cover 7-plus quarters of operating expenses using the past four quarters' average. To clarify, Google could go 7.4 quarters without generating any revenue and still cover all of its operating expenses. This is a luxury that provides Google with security and flexibility; of course GOOG will be generating cash in the coming quarters, but this is a warm security blanket with which investors can wrap themselves.
Apple iOS vs. Android OS
So, with RIMM flailing and floundering helplessly, it seems like a two horse race. I really enjoy debating about this topic. Blood pressures increase, voices are raised, and the tectonic plates of technology shudder violently. The story reeks of MacGyver, and as we all know there can be only one.
Both of these companies, Apple and Google, are equipped with heavy hitters; Steve Jobs (his frail health and general hubris notwithstanding) is a genius and so is the management at Google (although its genius seems more spread out). Both companies are well positioned in the mobile sphere and both have customer cult followings, although Apple's seems more passionate. However, I think over the long run Google will prevail for one main reason:
Google is more open – Google is undeniably more "open" and accessible. While Apple operates under a smothering blanket of rules, Google is more open source in its approach to development. This is an advantage that it will need to leverage if it expects its app store to approach the library that Apple currently possesses.
But wait, what about security? Recently people have started to question the approach Google uses with applications. This approach is laissez faire in nature and relies on the wisdom of the herd to assess risks and make rational decisions. This is an admittedly dangerous approach in many situations, but in this case it is perfectly acceptable. Think of the PC.
With personal computers, there is a risk of malware and viruses that a user takes on when downloading, installing and using applications. For the most part, neither manufacturers or Microsoft vet or approve any programs that are designed for use on these computers. This is similar to Google, which accepts all applications and assumes the community will self regulate. So when it was released that there were malicious programs on the app market (no duh), people started to get frantic. I think this reaction is overblown, and will be fixed with a few new layers of security and self regulation by users. Better that than the alternative of a canvas of rules smothering innovation in the app market.
Conclusions
So that is my opinion of how Google will position itself in the mobile OS market over the next 10 years. I believe that while Apple was the first innovator in this field, its reliance on its own hardware will prevent the company from being the majority leader as tablets evolve. Apple may dominate over the short term, but the hardware in the end will be commodified, and the UI will be the differentiators. Apple's closed approach will prevent it from capitalizing on its current market dominance, and the trend in Android growth will continue. Despite its position with iTunes and other entrenched media systems, I believe that Apple is being too closed minded to outside influence.
Disclosure: I have no positions in any stocks mentioned, and no plans to initiate any positions within the next 72 hours.