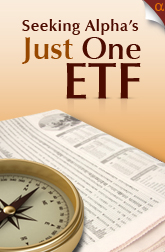 Several times a week, Seeking Alpha's Jason Aycock asks money managers about their single highest-conviction position - what they would own (or short) if they could choose just one stock or ETF.
---
Kim Arthur is founding partner, CEO and portfolio manager at Main Management, a San Francisco-based RIA with AUM of $450 million, working with high-net-worth individuals and institutional investors. He began his career at Montgomery Securities in 1987.
Which single asset class are you most bullish/bearish about in the coming year? What ETF position would you choose to best capture that?
We are constructive on the U.S. telecom sector for this year. Telecom is one of the minor global industry classification standards (GICS) with a 3% weighting of the S&P 500. The sector includes household names like AT&T (NYSE:T), and Verizon (NYSE:VZ), and smaller names like Shenandoah Telecommunications (NASDAQ:SHEN) and Cbeyond (NASDAQ:CBEY). The sector includes fixed-line communications and wireless communications, and is a play on smartphone adoption and increased data use.
Our ACTIVE strategy has 12-15 ETF positions with overweights in telecom, industrials, and healthcare. Our overweights are relative to the S&P 500 benchmark weightings, and can be 1.5-3x weightings depending on the size of the GICS. We have run this strategy since 2002 and have generated almost 400 basis points per year of outperformance against the S&P 500.
Telecom carriers are best expressed through the iShares Dow Jones U.S. Telecom ETF (NYSEARCA:IYZ). Over the past six months the semi exposure has outperformed the carriers by 27 points. The carriers have better yield, depressed margins, price under performance, and a catalyst in increased smartphone adoption and data usage.
How does IYZ fit into your overall investment approach? Tell us a bit about your strategy and goals.
We run a sector rotation strategy that overweights and underweights sectors. We are fundamental reversion-to-the-mean (RTM) investors. What this means is we look for value where the market hasn't priced in future catalysts. We realize that price and proof rarely happen at the same time, and if we have valuation as a backstop, than we have a favorable risk/reward ratio.
Our time frame is typically 12-18 months, which has the unintended consequence of being tax advantaged with longer-term capital gains if the investment works. Our goal is to outperform the S&P 500 total return with a lower beta, and lower volatility.
Tell us a bit about the sector. What makes it your top pick?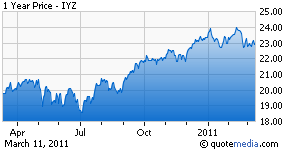 The telecom sector is one of the 10 GICS that make up the S&P 500. It is 35% below its 2007 highs versus the S&P 500 at only 15% below. On a price to cash earnings basis, telecom is 5.2x, or less than half the 11x the market trades at.
Since 1956 the median sector margins are 10%, but are currently at 6.5%. What is very unique is that eight of 10 GICS margins are above their 55-year median, but telecom is below. There is a huge upgrade cycle from traditional handsets to smartphones that plays into the telecom carriers' favor with increased data use. These smartphones have much higher average revenue per user (ARPU).
Are there alternative ETFs that could be used to capture the same theme? What makes IYZ your first choice?
Vanguard has the Telecommunication Services ETF (NYSEARCA:VOX), which differs from IYZ in greater concentration of the top holdings. VOX's top three holdings are 50%, while the IYZ top three holdings are 35% of the total. The VOX yields 3.6% versus IYZ yielding 2.8%. IYZ is two-thirds fixed-line and one-third mobile, while VOX is two-thirds fixed, one-quarter mobile and the balance alternative carrier.
Another alternative is First Trust's Smartphone fund (NASDAQ:FONE), which is one month old. It is a play on smartphones and the suppliers to these handsets and the enabling equipment that telco carriers purchase. It allocates 45% to handsets, 45% to software applications, and 10% to network providers. We have chosen IYZ for diversified pure exposure to the carriers.
AT&T and Verizon are big chunks of IYZ's holdings, more than 15% and 12% respectively. As you alluded to, their wireline businesses have been in sharp declines as their wireless businesses grow to take up the slack. I wonder whether a complementary investment here for handsets might be tech sector funds like MTK or XLK? (FONE seems too young to judge.)
Our position is 6%, so despite T and VZ being 15% and 12% respective positions in IYZ, our total exposure to those names is less than 1% (15% x 6 = 90 basis points).
Also, over the last six months the semi companies have outperformed the telcos by 27 points, so we like the RTM potential with the telcos and IYZ.
Does your view differ from the consensus sentiment on the telecoms?
Currently the group is struggling. It is only one of two GICS that are down on the year on a price basis. The prevailing attitude is that the telcos have to spend enormous amounts of money to keep their networks current and this has been depressing their margins, thus the below normal current margins.
We believe that the tables have turned on this. The carriers have been repricing their services up. Data used to be all-you-can-eat for a flat fee, but is now being tier-priced. As the number of smartphones accelerate, and the tier pricing rolls out, the carriers will have an incentive to spend as their return on invested capital (ROIC) moves north by northeast.
Two-thirds of Verizon's (second largest position at 12% in IYZ) revenues are high growth: wireless services, wireless data, FiOS (bundled Internet, telephone, and TV), and enterprise.
What catalysts, near-term or long-term, could move this area significantly?
There are 5 billion handsets globally. Last year 1.5 billion new handsets were shipped, with 300 million being smartphones, up from 50 million in 2009. The estimate is for 600 million-plus smartphones for 2011 (100 million shipped in the fourth quarter of 2010). Again, these phones hold higher ARPUs for the carriers.
We think IYZ can trade 20% higher and would still be yielding higher than the S&P 500. The sector is down 10% for the trailing three years, while the market is down 8%, so this group has not run relative to the market yet.
What could go wrong with your pick?
If domestic GDP were to trip up and come in well below the 3.2% consensus and we battled a double dip because the consumer was tapped with higher gas prices and fleeting job prospects, the sector will drop - but so will the market, and you have an extra 100 basis points of yield with IYZ to soften the blow.
Thanks, Kim, for sharing your ideas with us.
Disclosure: Long IYZ.
Read more Just One ETF interviews »
If you are a fund manager and interested in doing an interview with us on just one stock or ETF position you'd hold, please email us at Just One Stock.