When the market pulls back, it is often high growth small caps that get tossed aside in favor of the larger dividend paying titans, which are viewed as safe havens. However, when markets bounce back up, the tiny stocks with accelerating earnings are often the fastest ones to recover. (If you prefer to simply go defensive with big dividend stocks, here are 6 Graham-style picks.)
MWI Veterinary Supply, Inc. (NASDAQ:MWIV) and Chindex International Inc. (NASDAQ:CHDX) are bargains that you should consider buying right now, and especially if the market corrects further.
What makes these two stocks a screaming buy?
MWI Veterinary Supply Inc.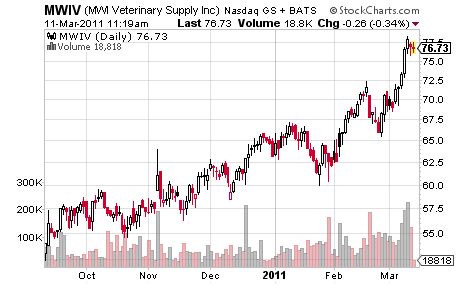 This company supplies animal health products to vets across the U.S. and UK. You can buy a range of products from toys and nail clippers to liver vitamins, adhesives, and digital x-ray machines. But what I really like is the company's earnings growth. Year over year earnings have improved at a lightning pace-- between 20 - 30%, depending on what averages you look at. Future growth is estimated at 16.5%. But what I really like is the large improvement in sales, which has a 3 year average growth of 20% and a 1 year growth of over 30%. Earnings made on the back of strong revenue are desirable.
What makes this a top pick to buy? Look at how resilient the prices are in the face of a market pullback. This stock has strong support that defies the general market drag. If this sees a small pullback to the 10 day moving average anytime in the near future, this is one hot stock to pick up. With a market cap of less than 1 billion and a float of only 10.21 million shares, I feel this can pop much farther. Quite likely, many of the shorts in the 7.8% shorted float covered if you look at the volume spike.
Is it overvalued? I prefer to use sales methods on smaller stocks which have higher volatility earnings. Price to sales has average 0.586 over the past 5 years, which is very low. Looking forward one year using the trailing sales growth trend of 20%, we could expect $132 sales per share x 0.586 = $77.71 per share. So while the current price is $76.62 and is a fair price, I'd like to see a little pullback to jump in at an even better valuation.
Chindex International Inc.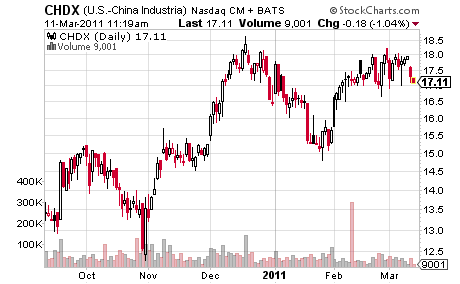 This American healthcare company operates in foreign markets such as China and Hong Kong. It provides both medical services and products. It too is a pick that would make high growth stock investors such as William O'Neil turn their heads with earnings that keep going up year after year. This company has a market cap of only 275 million and a float of roughly 11 million shares. Prices have gone soft after hitting $18 resistance, and the added pressure of the market can be helping.
What else do I like about this company though?
While revenue is not estimated to make a big jump, earnings are forecast to rise 25% per year over the next half a decade. I am sure that this growth, which means doubling the EPS in under 4 years with compounding growth, is not simply from improving margins. There is the joint venture deal with Forsun Pharma which is likely adding to the upside, and sales estimates may not have reflected this yet. But check out the agreement with Forsun, which included the rights on 1 million additional shares of CHDX at $15, to see if you like management's direction.
So if you look past the recent static sales growth, look to a longer term average of 15.5%, and forecast sales growth per share, you can come up with a range somewhere between today's price and over $20 per share for a good entry. That means if the market pushes this any lower, it could make a good buy when looking over the next 2 – 3 years.
Of course, earnings are just around the corner, so you may want to wait for that if you are overly nervous about the possibility of tepid earnings in a market pullback. Just don't wait too long and miss the train if it pops. Prices are treading dangerously near 52 week highs, which could give this little stock the news coverage it needs to really run if it goes up much farther. (Does big EPS growth always mean huge price advances? Find out!)
Some other popular stocks in the same industry as the two picks above are Patterson Dental Company (NASDAQ:PDCO), Henry Schein Inc. (NASDAQ:HSIC), Owens & Minor, Inc. (NYSE:OMI), and PSS World Medical Inc. (NASDAQ:PSSI). (You may also want to read if its advantageous to buy into the next 'hot' sector)
Are you buying into smaller healthcare stocks that are reaching new heights? Do you have another favorite pick to buy if the market corrects further? Let us know.

Disclosure: I have no positions in any stocks mentioned, and no plans to initiate any positions within the next 72 hours.