Back in our January 2011 article, I wrote the following:
I have been through enough semiconductor cycles to know that when analysts start using cheap P/E's as an argument to buy semis, that we are not far from the peak. Semis are cyclical. They trade in anticipation of the cycle. When growth rates start decelerating, which they are now doing, it's time to get out. We are currently short semiconductor stocks via the Semiconductor HOLDRs (SMH) ETF.
Given the violent correction in the semiconductor sector over the last few days, this article is, in part, my redemption song.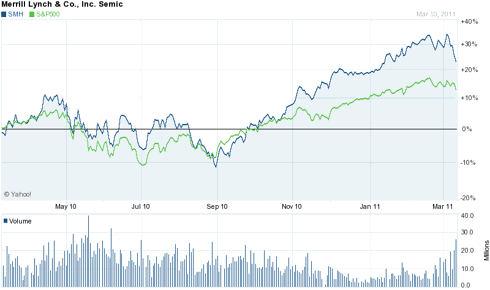 Some brokers called me late last week to say that their semi recommendations are different and will not continue to correct like the others. History says the opposite. The primary driver of semiconductor performance is the cycle. Stock-picking is secondary. Semiconductor stocks are highly correlated, especially on the downside.
Semiconductors are high-beta stocks. Most have variable earnings given high fixed costs (even in a fabless model). This had created a lot of relative outperformance over the last year (see chart) in anticipation of global economic recovery and related expectations for strong semi profit growth. But in the words of Jimmy Cliff, "the harder they come (rise), the harder they fall, one and all".
Usually semiconductor cycle upturns last for about eight quarters. We are now in the eighth quarter. Profit margins are well above-average. Revenue and profit growth rates may still be positive on an absolute level, but are decelerating. So the risk-reward for semiconductor stocks remains unattractive despite the recent sell-off.
Disclosure: I am short SMH.