International Business Machines Corporation (NYSE:IBM) was incorporated in the State of New York on June 16, 1911, as the Computing-Tabulating-Recording Co. (C-T-R), a consolidation of the Computing Scale Co. of America, the Tabulating Machine Co. and The International Time Recording Co. of New York. Since that time, IBM has focused on the intersection of business insight and technological invention, and its operations and aims have been international in nature. This was signaled over 80 years ago, in 1924, when C-T-R changed its name to International Business Machines Corporation. And it continues today: The Company creates business value for clients and solves business problems through integrated solutions that leverage information technology and deep knowledge of business processes. IBM solutions typically create value by reducing a client's operational costs or by enabling new capabilities that generate revenue. These solutions draw from an industry leading portfolio of consulting, delivery and implementation services, enterprise software, systems and financing.
The Story:
In Peter Lynch's seminal work 'One Up on Wall Street' he quipped, 'No money manager ever lost their job investing in IBM'. This was a backhanded compliment by Lynch. Lynch viewed IBM as a safe, but stodgy company. While it was true that IBM was a secure investment, no shareholder was getting rich by allocating capital to this tech juggernaut. IBM was the equivalent of investing in a low yield bond.
But over the last 7 years, IBM's fundamentals have been progressively improving. These improvements are due in large part to management's decision to focus on more profitable business segments. Unlike Dell (NASDAQ:DELL) and Hewlett Packard (NYSE:HPQ), IBM correctly identified the commoditization of the computer hardware market and quickly moved into higher profit margin spaces such as software and services. IBM summed this up perfectly at their recent shareholder meeting (click to enlarge):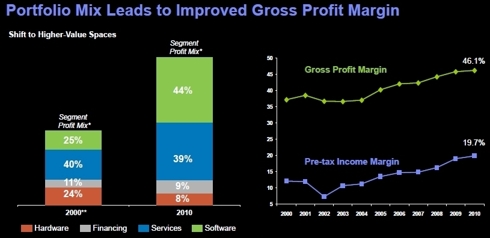 Click to enlarge

Here we see a 10% GPM increase as IBM shifts to higher-value spaces.
In addition to adjusting their business focus, IBM has continued its global expansion. As they state in their recent annual report:

A historic economic expansion is underway in the emerging markets of the world—as their populations join the middle class and their economies join the global marketplace. These markets are expected to achieve average GDP growth of 5 percent through 2015, more than double the projected growth rate of the developed world. In the largest of these emerging markets, such as China, India and Brazil, IBM is broadening its well‑established base of skills and capabilities, nearly doubling our number of branch locations. In less developed markets, such as Africa, we are leveraging anchor clients in sectors like communications and banking. Our recent partnership with Bharti Airtel to provide 21st century wireless telecommunications across 16 countries of Sub‑Saharan Africa is one example. Our Growth Markets Unit accounted for 21 percent of IBM's geographic revenue in 2010. We are aiming to approach 30 percent by 2015.
Clearly IBM is focusing on growth again, something that should make investors happy. Here is a graph of IBM's geographic revenue from 2009: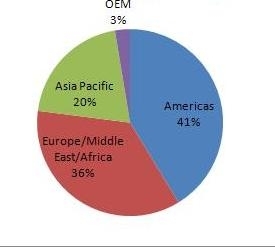 At a recent shareholder meeting, management laid out a case for IBM making over $20 per share by 2015. This is huge growth, especially for a company of IBM's size. With an average market multiple we are looking at a stock price of north of $250 in short order. For a company to forecast 3-5 years ahead in a sign of extreme bullishness from the management team. Again, here is a slide from the recent shareholder meeting (click to enlarge):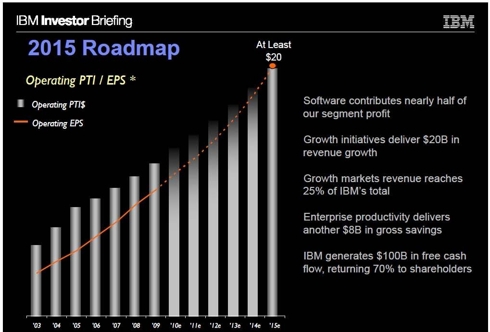 Click to enlarge

Returning Value to Share Holders:
International Business Machines Corporation (IBM) has a penchant for buying back shares. Over the last 10 years they have reduced common float by over 40%. With their 2015 roadmap they lay out a plan to buy back even more shares on the open market (click to enlarge):

Click to enlarge

Besides buying back shares, IBM has been on a recent tear of dividend increases. In fact they have raised dividend payments for 15 straight years. With a Dividend Growth Rate of over 21.8% and a payout ratio hovering around 18%, it's safe to assume this company should be offering attractive yields in the coming years.
The Fundamentals:
The fundamentals of International Business Machines Corporation (IBM) are simple outstanding. Using my standard 7 year averages, the numbers are unrivaled. Click to enlarge:


Click to enlarge

The ROE of over 45% is unbelievable as the American equity average hovers around 12%. The SGR of 37.1% is also nearly TRIPLE the average. Even with the recent run up in price the stock is still trading below its historical norm. This is a company I would be comfortable initiating a position in today.
Now what if we model IBM's 10 year earnings using its lofty SGR? Are the 2015 goals set by management reasonable? Click to enlarge:

Click to enlarge

Judging by these metrics IBM should easily reach its goal by 2013-14. Again, this stock is vastly undervalued.
Conclusion:
International Business Machines Corporation (IBM) is a fantastic company, with great management and compelling fundamentals. They have shown a penchant to returning capital to shareholders while continuing to invest in R&D. Currently the stock is fairly valued judging by historic PE ratios, still I believe the company has recently broken out to the upside and the market multiple will expand. This is a core stock that could find a home in any type of portfolio.
Plus, they have a clear succession plan at the CEO level. I hear Watson has applied for the job and will claim discrimination if he does not get it. SKynet is right around the corner.

Disclosure: I have no positions in any stocks mentioned, but may initiate a long position in IBM over the next 72 hours.